TikTok Vs Instagram
Share this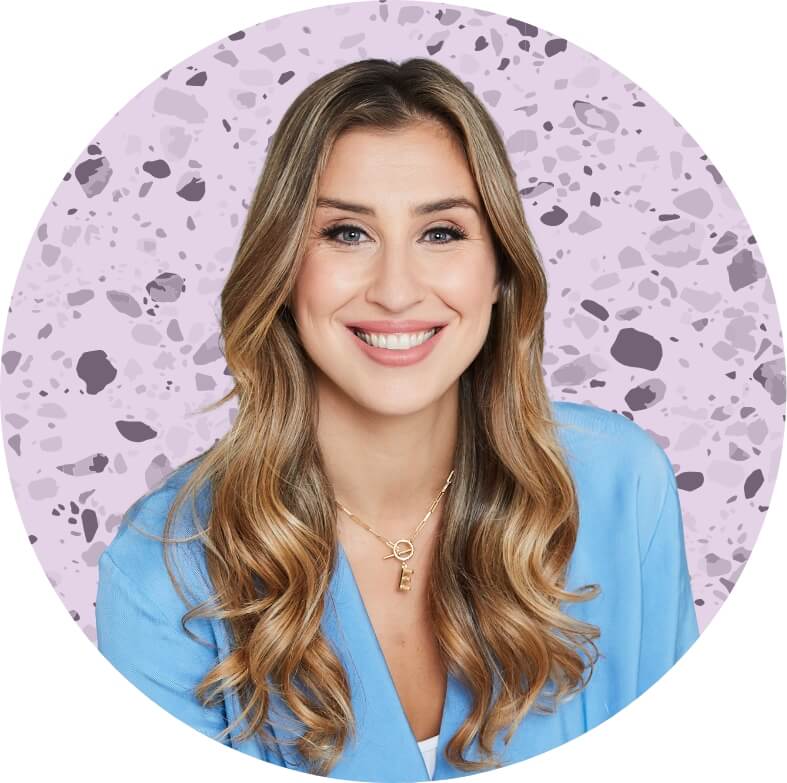 A student of mine recently posted this question in my private group about TikTok vs Instagram:

Is TikTok better than Instagram?
This is the question that's on everyone's mind these days…
In this post I'm diving into the real statistics on TikTok vs Instagram.
I'm looking at who's using each platform, how they're using it, and how easy it is to do business on each of these platforms.
And stay tuned until the end where I'm going to share with you how I'm using TikTok in my Instagram-heavy business today and whether I've seen any actual impact on my business from TikTok.
TikTok vs Instagram
Ah, the age-old question: Is TikTok better than Instagram?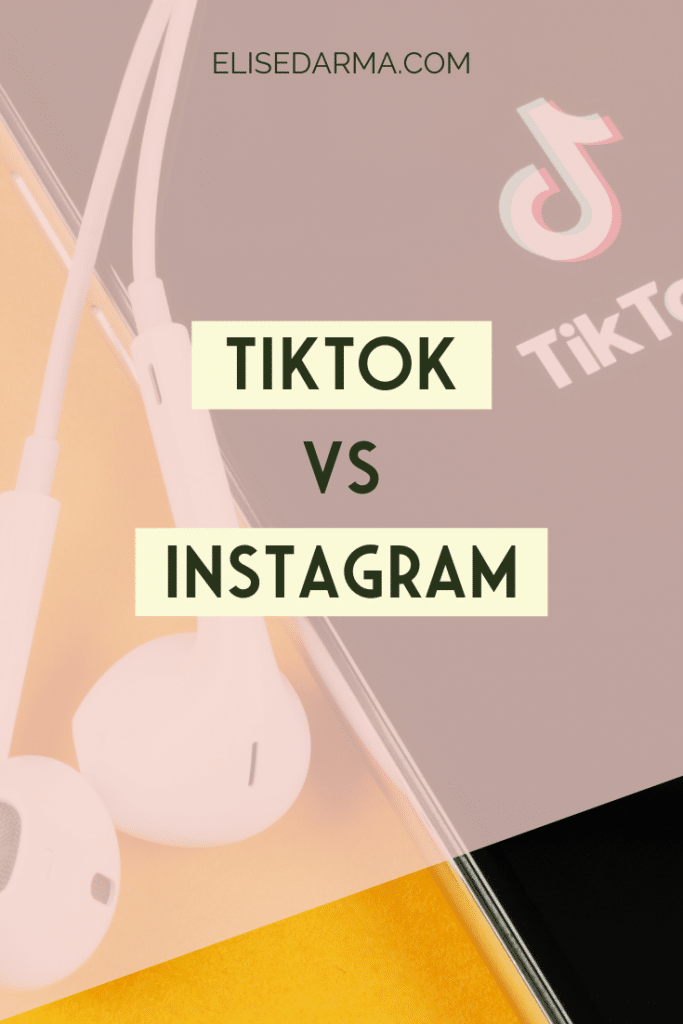 Well, the short answer is: it depends on what you want it to be better for.
Is TikTok better than Instagram for getting more followers?
Is TikTok better for brand exposure? Engagement?
Is TikTok better for local businesses?
Is TikTok better for personal brands?
Is TikTok more fun than Instagram?
I'm going to approach the question of whether or not TikTok is better than Instagram from the perspective of how it applies to a business.
It's really tempting to think that because you can grow so quickly on TikTok these days that it's automatically better than Instagram.
I'm not going to lie. It is fun to see a video get a lot of views really quickly on TikTok. This has happened to me a few times now and yes, it feels good to get that dopamine hit.
But does getting eyeballs on your TikTok videos automatically make it the better platform for your business than Instagram?
Quick Growth on TikTok
Before I dive into all the statistics I've found, I want to share my own little personal experiment.
A few years ago I posted some footage of mine from Fyre Festival on Instagram.
Check out this video if you don't know what I'm talking about 👇
View this post on Instagram
In three years, this Instagram post has received just over 100,000 views.
I posted the same Fyre Festival clip on TikTok, and after 3 months it has over 550,000 views. ⤵️
I share those numbers for some context: drastically more views on TikTok in a much shorter period of time.
TikTok vs Instagram: The Numbers
Monthly Active Users on TikTok vs Instagram
In terms of active users in the U.S., TikTok has 26.5 million monthly active users.
Compare that to Instagram where its monthly active users (worldwide) was last reported to be over 2 billion in 2021.
Age Range on TikTok vs Instagram
Let's talk about the adults who are using both platforms because in business usually it's the adults who have the credit cards and they're the ones buying products and offers.
Over one in eight adults have joined TikTok. 60% of TikTok's U.S. audience is between 16 and 24 years old. This means the remaining 40% of TikTok's U.S. audience is either between 13-15 years old (TikTok has a minimum sign up age of 13 years old), or are 25 years old+.
Compare that to 57% of 25-29 year olds use Instagram. So the majority of those in their mid- to late-twenties are on Instagram.
In addition, 47% of 30-50 year olds use Instagram, so just about half.
That's a lot of financial decision-makers on Instagram! 💰(Do you have your Instagram sales funnel set up yet?)
User Behavior on TikTok vs Instagram
90% of TikTok users visit the app more than once a day. Yes, I'm one of those people. 🙋
With Instagram, 63% of users login at least once a day. The average session for TikTok users is 4.9 minutes, which is longer than Snapchat or Instagram's. Instagram's average session is 3.1 minutes.
On TikTok, the average user spends 52 minutes per day on the app. I'm actually not too surprised. It's very addicting!
In 2020, the average Instagram user session is 28 minutes, so almost half of TikTok.
Getting Leads from TikTok vs Instagram
From TikTok, it's definitely not as easy to connect people to your other platforms. But people are still pulling this off!
One example is a TikTok vocal coach who commented on one of my YouTube videos. She said after her TikTok video went viral, it actually significantly increased the number of leads to her business. ⬇️

She grew to 18,000 followers on TikTok really quickly and today she's getting more leads on a weekly basis than ever before.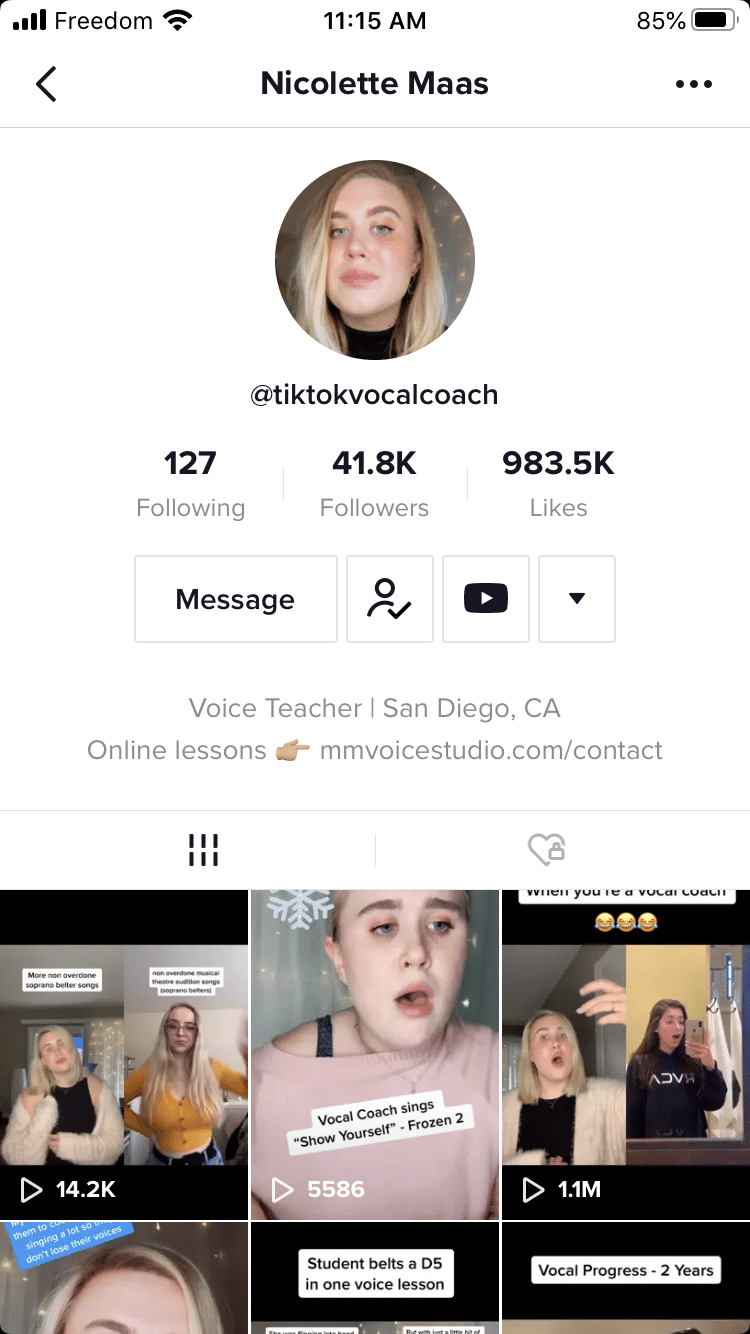 We looked at her profile and it says 'online lessons' and points to a URL. The link does lead you to a page where she can capture leads, but TikTok doesn't make it easy for people to tap on a URL. They have to manually type this in.
UPDATE as of March 2020: TikTok is testing out a clickable link in the bio. Yay! 🎉
With Instagram, you do get your one clickable link under your bio and the Link Sticker in your Stories.
So between Instagram and TikTok, Instagram definitely makes it easier for your followers to connect with you elsewhere.
---
The Bottom Line
It was clear in all of our research was that people love to see brands on social.
I know for business owners, we can get hung up on this idea of, "I don't want to be spammy or salesy on social media," but people love to connect with brands on social.
Of all the accounts on Instagram, 90% follow at least one business account. Most people say they see brands on Instagram as being popular, creative, entertaining and committed to building community.
Instagram is also really vital to the discovery phase of the typical customer journey. 83% of Instagram users have said they discovered new products or services through the platform.
So whether you prefer TikTok or Instagram, the fact that people clearly love interacting with brands on social media is good news.
So what am I, an Instagram marketer, doing with TikTok in my business?
Right now I'm in the experimental phase. I'm posting to TikTok purely as an experiment to see if I like it and if I am finding my target customer on TikTok.
Most importantly, I'm seeing if my ideal customers are finding my products and services on my website and sales funnels thanks to TikTok.
So far I am tracking anytime someone comes into my free Instagram workshop, chats with me or emails my team member, and I'm tracking and screenshotting every time someone says they found me on TikTok.
Like this 👇

⬆️ A message from someone watching my free Instagram masterclass.
That's where I'm at right now, experimenting and tracking.
---
Ready to Grow Your Biz Using Instagram Reels and TikTok?
Know you need to be showing up on video, but not sure what to post that will actually make a difference in your business?
Videos Vault is my answer to your question, What the heck do I post on Reels?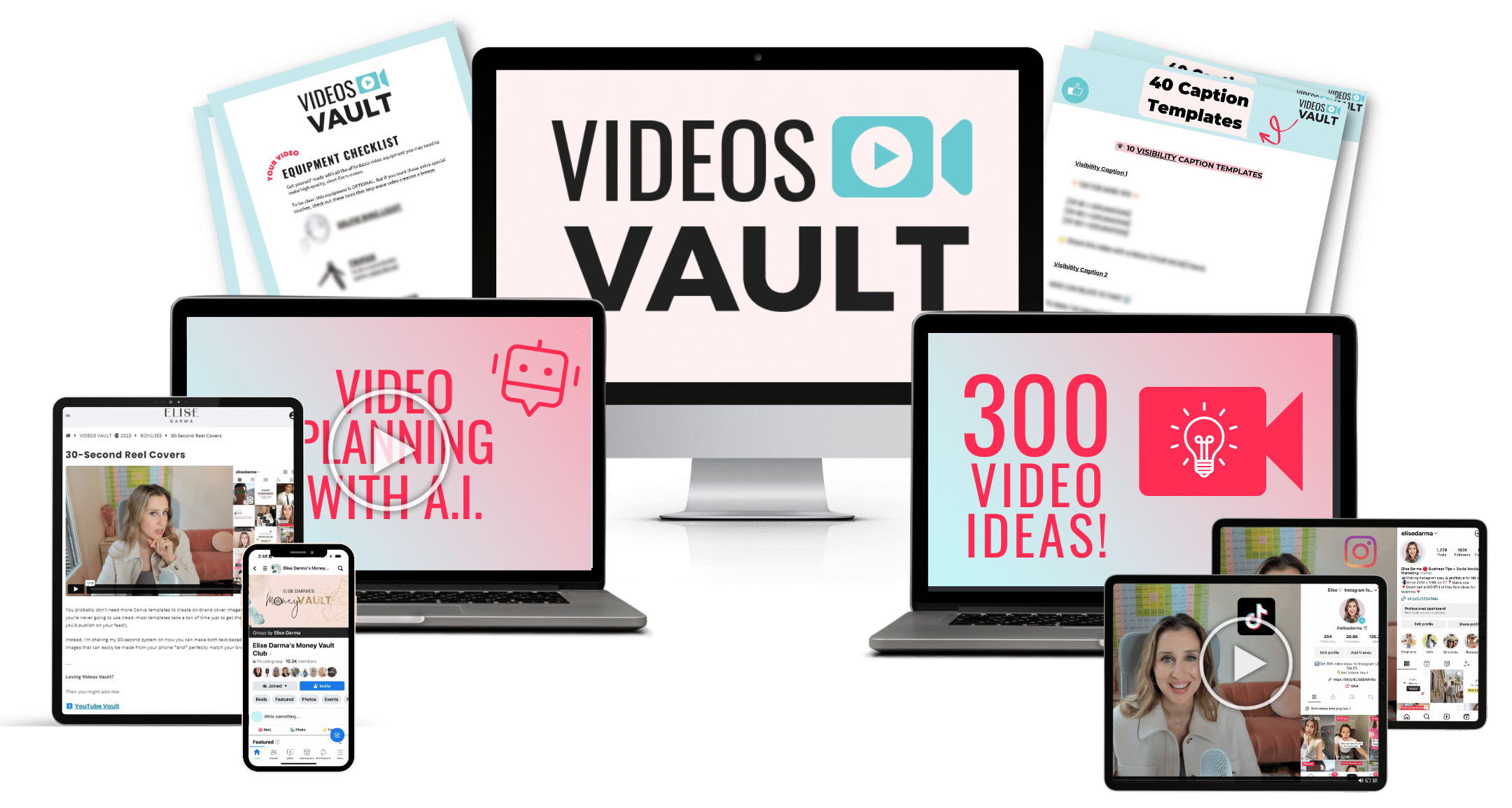 Videos Vault is a bank of 300 evergreen, short-form video ideas that you can use all year long, with the power to drive free traffic for weeks or even months after publishing.
Perfect for COACHES, SERVICE PROVIDERS and CREATORS, Videos Vault is the quickest and easiest way to grow your followers and organic traffic today.
With Videos Vault, you'll create videos to:
Get MORE visibility in your market

​Drive steady traffic to your videos and business, months after posting

Connect with your audience in a way that suits your personality – whether that's on or off camera!​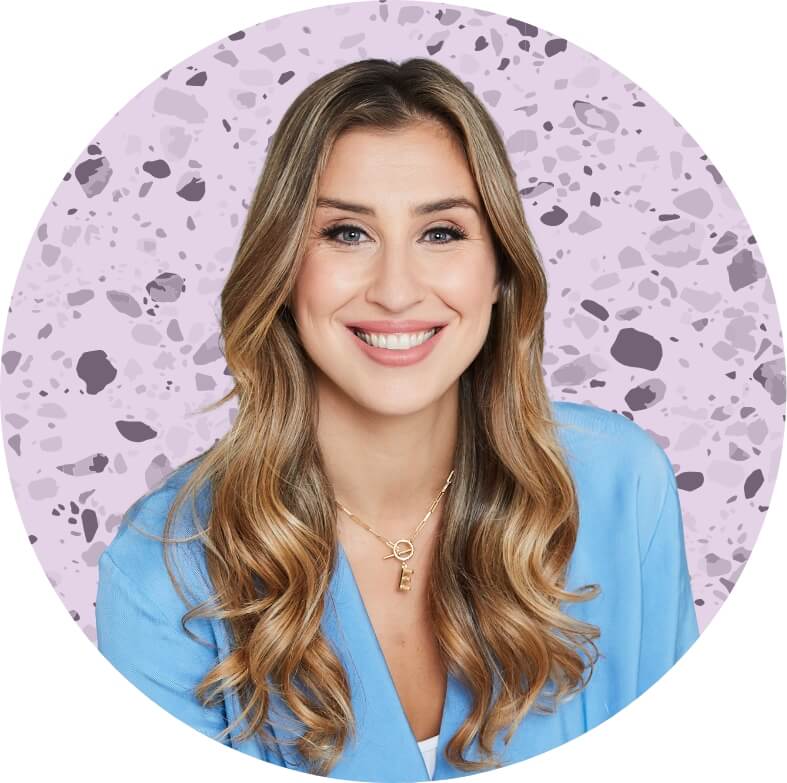 Hi, I'm Elise Darma!
I traded my 9-5 office cardigan for
that 7-figure entrepreneur life. But
I'm no overnight success. I've
experienced burnout, overwhelm
and ghosting Instagram for the
entire month of February 2019. I'm
probably the laziest Instagram
marketer you know, but if you want
to know how to sell more by doing
less – you're in the right place.
watch the free
Instagram Workshop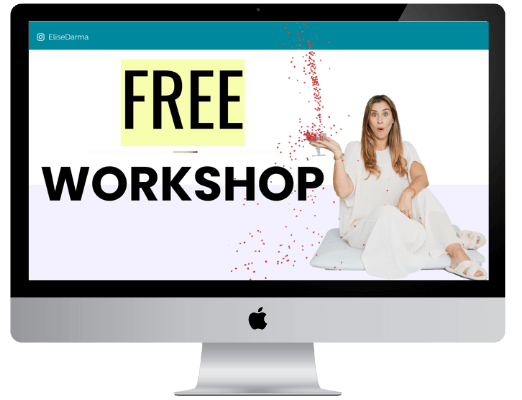 Get a weekly dose of what's
working in my business that you
can implement in yours.