How to Set Up An Instagram Shop: No Tech Support Required!
Share this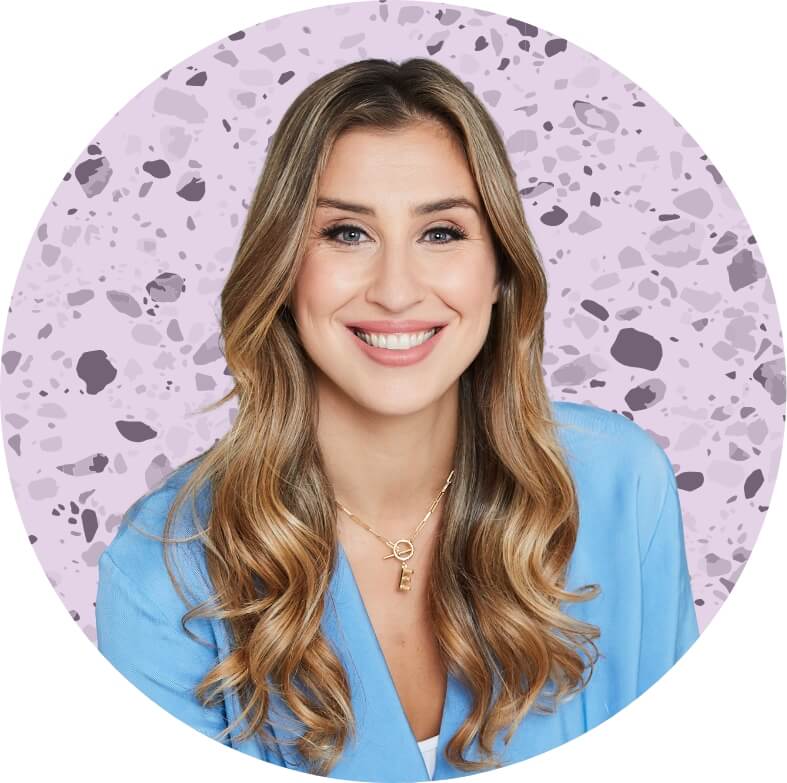 You know what I love? How easy Instagram is making it for product-based business owners to make money. 💰 Remember the 2010s?
There was no such thing as Instagram Shops.
Instagram Stories and its infamous "Swipe Up" feature were a distant Twinkle in Facebook's eye.
You didn't even have the link-in-bio feature.
*gasp* *shock* *horror*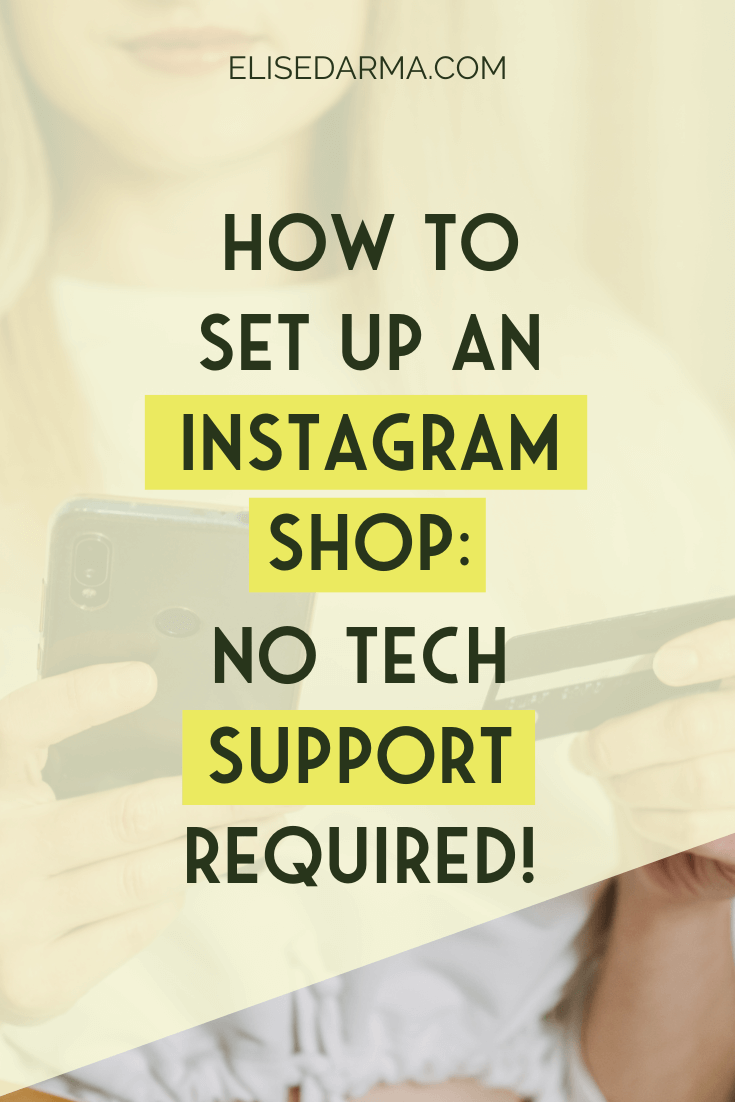 Luckily, social commerce has made massive strides over the last decade, and it's easier than ever to shop and grow your eCommerce biz on social platforms like Instagram, Facebook, or Pinterest. Today, the market is worth an estimated
$90 billion and is expected to hit $600 billion by 2027.
When you consider that
60% of Gen Zers in the U.S. use Instagram to discover new brands and products
and 48% of Americans between 18-34 have made a purchase from social media, the iron is hot, my friend. It's time to strike and set up your Instagram Shop.
What is Instagram Shopping?
Instagram Shopping is a feature that lets users shop directly from your photos and videos all across Instagram. Plus,
Instagram Live Shopping
streams are a thing too! Yup. You read the right!
Gone are the days of yelling "link in bio"
at the top of your lungs to get your followers onto your website. These days, you simply need to connect your Shopify or WooCommerce site to your 'gram, and your followers can shop your catalog without leaving the app. All you need to do is add a product tag, and bam! You can promote your products on Feed Posts, Stories, in the Explore tab, and on the Shop tab in your profile. …But wait… there's more! Instagram Shop lets you create Collections, allowing you to curate a custom shopping experience and remove the friction of online purchases, making it easy for users to shop up a storm and easier for you to make sales.
Shoppable Posts Sound Great…But What About IG Reels?
I'm glad you asked. Instagram recently rolled out
Instagram Reels Shopping
. 👀 If you've been following me for a while, you'll know how passionate I am about video content. I mean, I have an
entire
Videos Vault
about how to create Reels that grow your following and attract new clients to your online biz.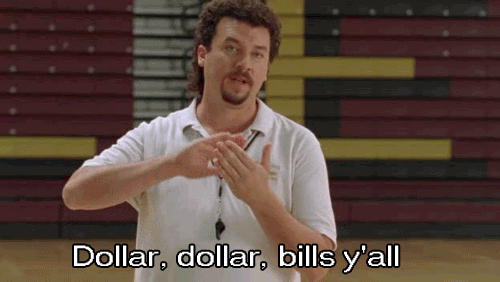 There is no better time to open an Instagram Shop if you have a product business.
Reels
is the feature getting the most reach right now, giving you the best opportunity to reach new potential customers. Now that
two of Instagram's most powerful features have joined forces
, you're leaving serious money on the table by not taking full advantage of product tagging and raking in those sweet, sweet sales.
How to Set Up an Instagram Shop
Don't have an in-house I.T. department? No worries. You don't even need to beg your younger tech-savvy cousin to help you out. Setting up an Instagram Shop is easier than you think and requires no hair-pulling or keyboard-bashing temper tantrums to complete. Simply follow these exact steps, and you'll be selling on Instagram in no time.
Step 1: Are You Eligible to Set Up a Shop?
Before you can start tagging products and setting up your catalog, you need to meet Meta's requirements.
You need to live in a supported market. If you're located in regions that aren't on the list, you won't be able to submit your shop for review and approval.
You're selling an eligible product from listings available for direct purchase on your website.
Provide Meta with proof you own your domain by completing the domain verification process.
Your Instagram account is trustworthy and has an authentic, established presence.
Your business must agree to comply with Meta's Terms of Service, Community Guidelines, Seller Agreement, Commerce Policies, and Ads Policies.
Step 2: Connect Your Instagram Account to a Facebook Page
Before you can set up your Instagram Shop, you need to do two things.
Switch to a business profile or a creator account. You can do this by going to your profile and tapping Settings > Account > Switch Account Type.
Connect your Facebook Page to your Instagram business account. This requires more steps but takes only a few minutes to complete.
Go to your Instagram Profile and tap on "Edit Profile."
Under "Profile Information" tap on "Page."
Select your Facebook Page that you want to connect to your profile or create a new Facebook Page.
Step 3: Start Uploading Your Products
To add Shoppable Products to your feed, you'll need a product catalog.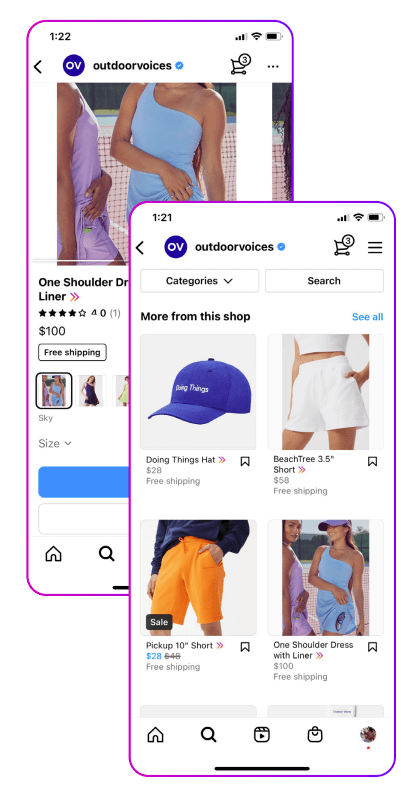 What's that?
It lists all your product inventory, item descriptions, and pricing. There are two methods you can use to connect your product catalog to your Instagram account:
Certified Ecommerce Platform Partner:
It's a set-up integration from a certified partner (like Shopify, WooCommerce, or BigCommerce) that will import all the information Meta needs.
Catalog Manager:
A more manual method that requires you to set everything up yourself inside Facebook Business Manager.
Step 4: Submit Your Account for Review
Woo-hoo! 🎉 You're thiiiiis close to having an active Instagram Shop account. There's only one final hurdle left,
submitting your shop for approval.
I know, it sounds intimidating, but don't sweat it. You have nothing to worry about if you meet all the requirements (see Step 1 above). To submit your account for review, hop back onto Instagram and follow these steps:
Step 1: Tap on "Settings"
Step 2: Tap "Creator" or "Business," depending on the account type you have
Step 3: Tap on "Set up a shop" and tap "Get Started" to sign up.
Step 4: Follow the on-screen prompts to submit your account for review.
What's next?
A waiting game.
The review process usually takes a week to get approved, depending if Meta requires any additional information. You can always check the status of your application by tapping on "Business" or "Creator" in your "Settings" menu.
Step 5: Activate Your Exclusive Shopping Feed
You did it! Instagram has approved your account, and you can finally turn on shopping features. Alexa, play "Money" by Cardi B.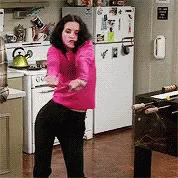 Once your obligatory booty shake is over, it's time to complete the final step.
Open Instagram and navigate to Settings > Business/Creator > Shopping. Select the product catalog you want to connect to Instagram, and tap "Done."
That's it.
You officially have a Shoppable Instagram profile, and it's time to make some moolah! 💰
How to Connect Your Business Product Catalog to Shopify
Raise your hand if you love admin!
*crickets* Okay, I know it can feel like the most boring part of running an online biz, but you need a strong backend to set yourself up for success. So while Meta is busy approving your Instagram Shop, you can connect your Facebook products to your sales channel, whether that's Shopify, WooCommerce, or one of the other official partners. It's the *final* tech set-up of this entire process.
I promise.
Scouts honor.✌️
Ready to give the I.T. department a run for its money? Here's how to connect your Shopify account to your Instagram Shop.
Step 1: Log into Your Shopify account as an admin.
Step 2: Click on "Settings" at the bottom of the left-hand side menu.
Step 3: Select "Sales Channels" from the Settings menu. This is where you can manage the channels you sell your products on.
Step 4: Click on the green "Add sales channel" button.
Step 5: Scroll down and select "Facebook" from the pop-up menu.
Step 6: Select "Start Set-up" for Instagram Shopping and follow the prompts to connect your Facebook Business Manager, Facebook Page, and Instagram Account to Shopify.
Step 7: Select "Create a New Facebook Commerce Account" from the menu. Shopify will automatically create it, allowing you to sync your products between the two platforms.
Step 8: Click "Finish Set-up," and your store is submitted for review on Shopify. Like Instagram, it will take a few days to get approved.
How to Tag Products in Your Instagram Posts
The tech set-up stuff is over. Yay! 🥳
Now, it's time for the fun part:
tagging your products in posts on Instagram.
Once everything is approved on Instagram and Shopify (or your sales channel of choice), you'll see a "
View Shop
" button appear on your profile page. Tap on it, and the products from your catalog will appear.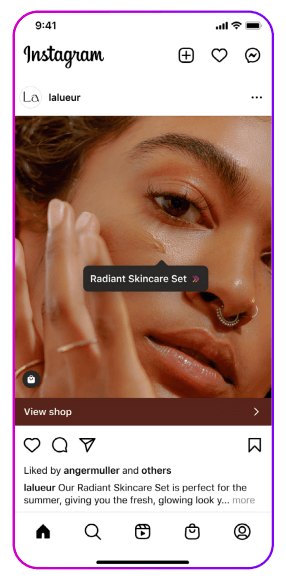 🚨A word of caution 🚨
Don't freak out if you don't see anything or not everything on your first visit. It does take a while to populate and pull through all the items. When all your products appear, you can select which items you want to add to your Instagram Shop by tapping on the blue "Add" button.
Okay, now you're ready to start tagging!
Adding Product Tags to New Feed Posts
To create a new shopping post, follow the usual steps. When you get to the "Write a Caption" screen, you'll see a new option, "Tap Products."
Tap on it, tap on the product you want to tag in the photo, and search for it in your product catalog. When you've selected all your products, tap "Done" and post.
The image or video will now have a shopping bag icon on your feed.
When a user taps on the post, an option to view products will appear. Shoppers will see all the products tagged, as well as your shop and other items you're selling. Tap on a specific product, and Instagram will direct you to the product detail page. Here, shoppers can read the product description and complete the sale by visiting your Shopify store or completing the purchase in-app (depending on the check-out option you select in your sales channel).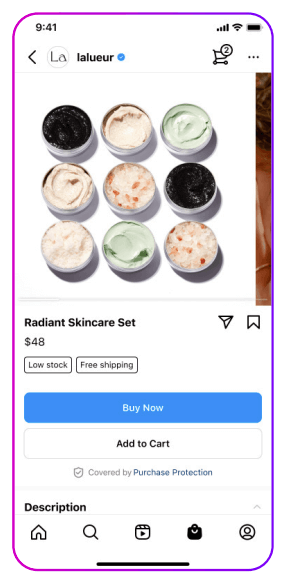 Adding Shopping Tags to Existing Instagram Posts
What's great about the Instagram Shop feature is that it allows you to go back and
turn your old posts into goldmines.
All you need to do is:
Tap on a post and the three dots at the top right-hand side of the page.
Tap on Edit and select the people-tagged icon
Tap "Tagged Products"
Tap on the product you want to tag, find it in your product catalog, and tap "Done" to save.
Adding Shopping Tags to Instagram Stories
Head to Instagram Stories and upload the image or video you want to use.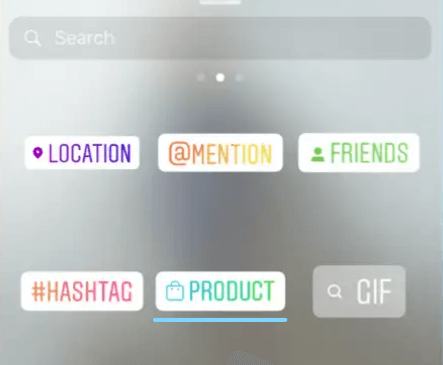 Next, tap the
Stickers icon
and select the Product Sticker from the menu. All the products connected to your digital storefront will pop up. Select the one you want to use, and a Shoppable link will appear in your Story.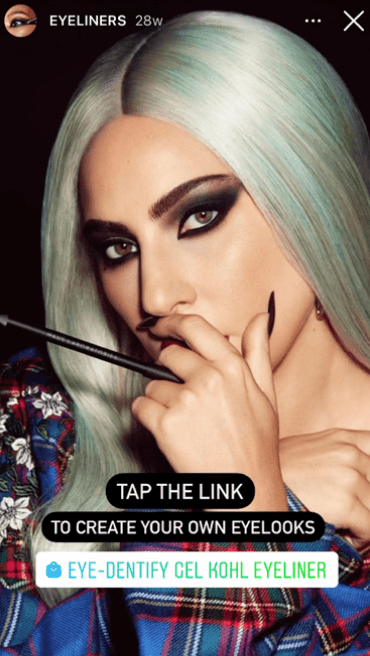 For a stronger call-to-action (CTA), you can edit the default product name and tap on the Sticker to change the look of it.
See, I told you.
Setting up your Instagram Shop is easy peasy.
You don't need I.T. support. You've got this. 💪
---
Free Workshop: Sell more on Instagram by doing less
If you loved this blog post and want even more how-to tips on making sales through your Instagram account,
join me for my FREE hands-on workshop.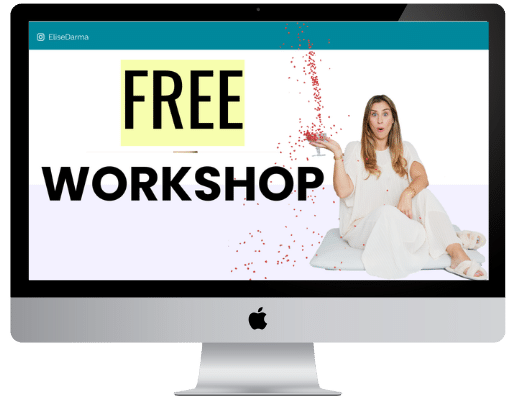 In this co-working style workshop, we'll check off:
What your best Instagram strategy is – even if you're new in business or are just starting to use Instagram for your business (PLUS, we'll give your profile and bio a total makeover)
What your current season of business is, and which features you should focus on to get the most results for your efforts
How to navigate making reels for your business, especially if you feel silly pointing or dancing on camera (PLUS, we'll generate 80 content ideas for your next posts – yes, 80!)
Future-proofing your account for inevitable changes that are coming to Instagram (including an evergreen formula that'll never go out of style)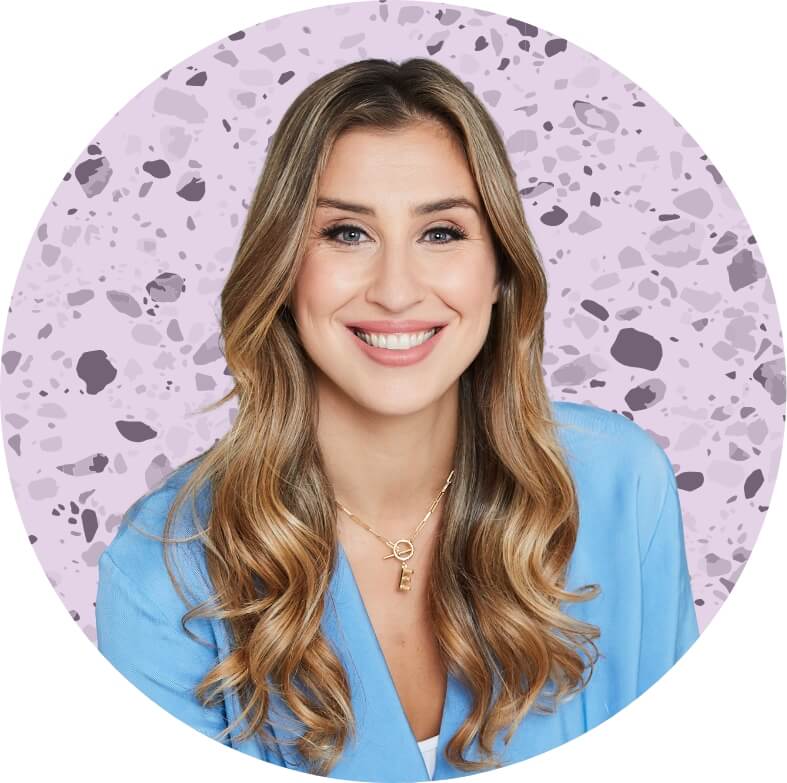 Hi, I'm Elise Darma!
I traded my 9-5 office cardigan for
that 7-figure entrepreneur life. But
I'm no overnight success. I've
experienced burnout, overwhelm
and ghosting Instagram for the
entire month of February 2019. I'm
probably the laziest Instagram
marketer you know, but if you want
to know how to sell more by doing
less – you're in the right place.
watch the free
Instagram Workshop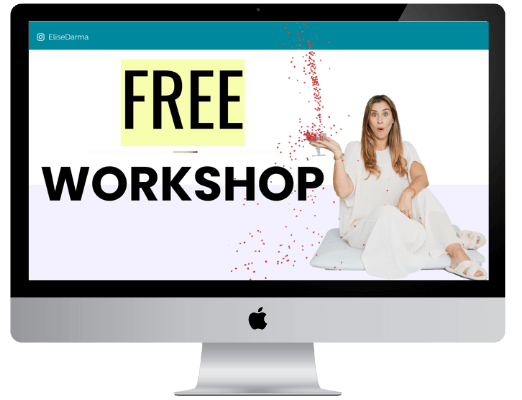 Get a weekly dose of what's
working in my business that you
can implement in yours.