How to Create an Instagram Profile That Attracts Your Ideal Customer And Turns Visitors Into Followers
Share this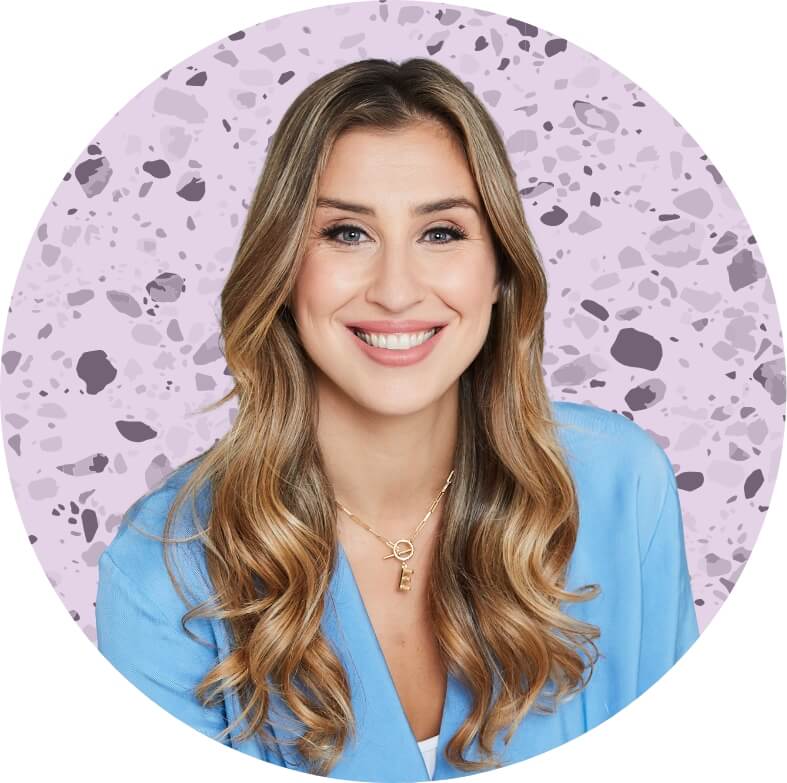 *Updated December 21st, 2021
With Instagram being projected to reach 120.3 million monthly active users in the U.S. in 2023, it's safe to say that your customers are likely on Instagram.
Now, before you dismiss it as just another social media platform where users are mindlessly scrolling, here's why this actually matters for your business:
200 million Instagram users visit at least one business profile daily
81% of people use Instagram to help research products and services
130 million Instagram users tap on shopping posts every month
So, what's the best way to make sure your business is included in those stats?
Create a killer Instagram profile that attracts your ideal customer and keeps them coming back for more.
Prefer to watch video instead?
Check out my video HERE 👆
What Your Instagram Profile Is And Why It's So Important
One tenth of a second.
That's how little time you have to make a great first impression and turn a visitor to your Instagram profile into a follower.
It's also why your profile needs to be on point because it's not only about getting more visibility – it's about getting in front of the right audience and clearly communicating your value so they have a reason to stick around.
When it comes to seeing success on Instagram as a business owner, it's about quality over quantity.
In fact, I've seen it time and time again with my students who have successfully monetized their Instagram – even with less than 1,000 followers.
Tips for Creating an Instagram Bio that Connects and Converts
1. Keep your username simple and easy to remember
The best way to test if your username is simple and easy to remember?
Think about it this way…

Imagine you're at a party, making connections and networking, when someone says, "Hey, I'd love to follow you. What's your username on Instagram?"
"Sure! Let's connect I'm @shesgot_style842."
Do you think this person would be able to easily look you up and find you afterwards?
Or would they be racking their brain trying to remember what numbers you tacked on, whether it was an underscore or period, or find 15 other accounts with a similar username?
Tips for Picking a Great Username
Keep it simple and memorable.

Pick a username that's as close to your brand name as possible.

If your brand name is taken, add a short word before or after.

For example: "the," "your," "visit," or "shop."

If your brand name is taken, you can also add punctuation to break up the words.

Avoid long, complicated, or hard-to-comprehend letter and number combinations

If possible, use a keyword you want to be associated with your brand in your username.
Take Action: Brainstorm as many iterations of your business or brand name as possible and pick the one that works best.
2. Don't make your profile name the same as your username
This is a mistake that I see a lot and it's understandable.
But here's the thing…
The name field is a golden opportunity to drop in a targeted keyword or two that your ideal followers are ALREADY searching for!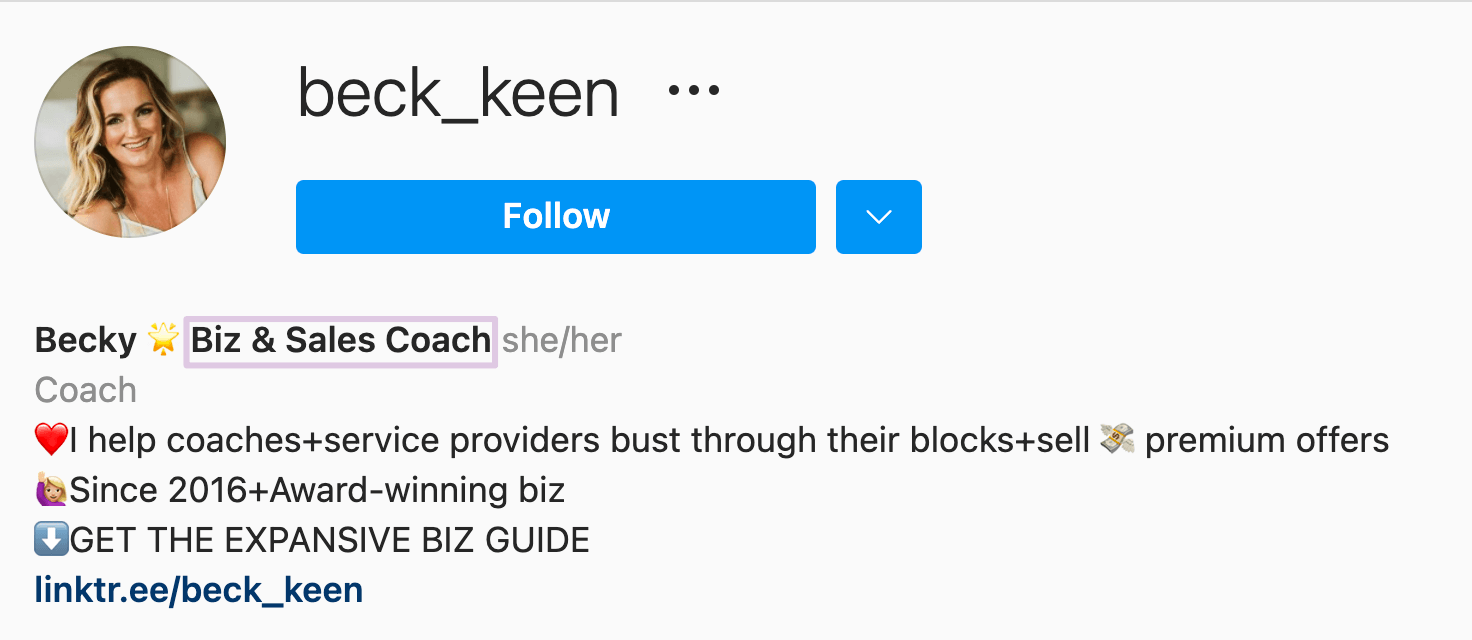 Not sure what keywords your target follower is using?
Ask yourself:
What

NICHE

is your account in? Travel, fashion, business, etc.

What is the PURPOSE of your account?

WHO is your ideal follower?
For example:
The NICHE for my

@EliseDarma

account is "Instagram marketing for business."

The PURPOSE of my account is to help business owners make sales from Reels (without dancing)

My IDEAL follower is a business owner who is struggling to see results from their Instagram marketing strategy.
From there, think through what your IDEAL follower might be looking for or searching for if they were trying to find someone like you to help them with their problem.
You only have 30 characters for this field, so take your time finding the best search-friendly keywords.
Take Action: What's the #1 keyword you want to rank for on Instagram? Add it to the name section of your Instagram profile and incorporate it into your username, if possible.
3. Use an eye-catching profile picture
You know what they say…
…a picture is worth a thousand words.
That's why your profile picture is a crucial part of your Instagram profile and online presence.
If you follow me on YouTube, Facebook, or Instagram, you'll notice I use the same photo for every platform.
Why?
It creates brand recognition and consistency.
This is crucial to any business because it builds brand awareness and is the first step in your marketing funnel. People need to know your brand and recall it to buy from you.
So, here are some tips for choosing an Instagram profile picture for your business:
To logo or not to logo?
For the most part, I don't recommend using a logo as your profile picture (unless you're a major brand) because it can feel too impersonal and logos tend to be illegible at such small sizes.
If you're a coach or service provider, you want people to see your face. Remember that brand recognition we spoke about? Your face is your brand and at the end of the day, people do business with people.
If you're a product-based business, I would suggest a really great lifestyle image of one of your best-selling items.
Make your profile picture pop
For the most part, people are accessing Instagram from their mobile phones, which means you have a teeny tiny space to work for your profile picture.
To make sure your image stands out on such a small screen, you'll want a clear difference between you and the background, like mine below.
That's why you'll want these colors to be complementary, on-brand, and eye-catching so that your picture stands out.
Take Action: Use a clear photo of you facing the camera and crop it from the shoulders up. To make it really pop, either take the photo against a colored background or change the background to a dazzling color with a program like Canva.
Get even more tips on how to create an eye-catching profile picture here👇
4. Write a Compelling Bio
Let's face it – writing an Instagram bio can feel daunting!
It's a lot like an elevator pitch, except you only have 150 characters to make a lasting impact and convince someone to hang around.
(Oh, and you're also competing with millions of other people who are trying to catch and keep that same person's attention.)
That's a lot of pressure.
Luckily, I've developed a winning bio strategy that you can use for your account.

First line of your bio: Who you help and how
When someone lands on your page, they need to know right away if your account is for them or not.
Let's say you're a stay-at-home mom looking for a money mindset coach.
Which profile would you follow?
Option 1: I teach stay-at-home moms how to create wealth and secure their financial freedom
Option 2: Taurus. Cat lover. Financial Planner
The first one, right?
The bio speaks to a specific audience and tells you exactly what to expect from this page.
Being clear on who you serve and how is the best way to get the right followers.
Action Step: Fill in the blanks below to craft the first line of your bio.
"I help/teach [your target audience] how to [do/achieve/accomplish what they want].

Second line of your bio: Show off your expertise
The second line of your Instagram bio is the place to show off. Don't be afraid to brag a little bit here because people want to know more about you and specifically º why they might want to work with you now or in the future.
You can share things like:
Your education or background

Awards or accolades you've received

Your length of time in business

Tangible and numerical results you've helped clients and customers achieve, like pounds lost or dollars earned

Interests or personality traits that people remember you for
Take Action: What makes you stand out from your competitors? What results have you achieved for your business and clients? Have you been featured on Forbes or other big-wig publications? Choose your best accolades and authority-builders to add to your bio.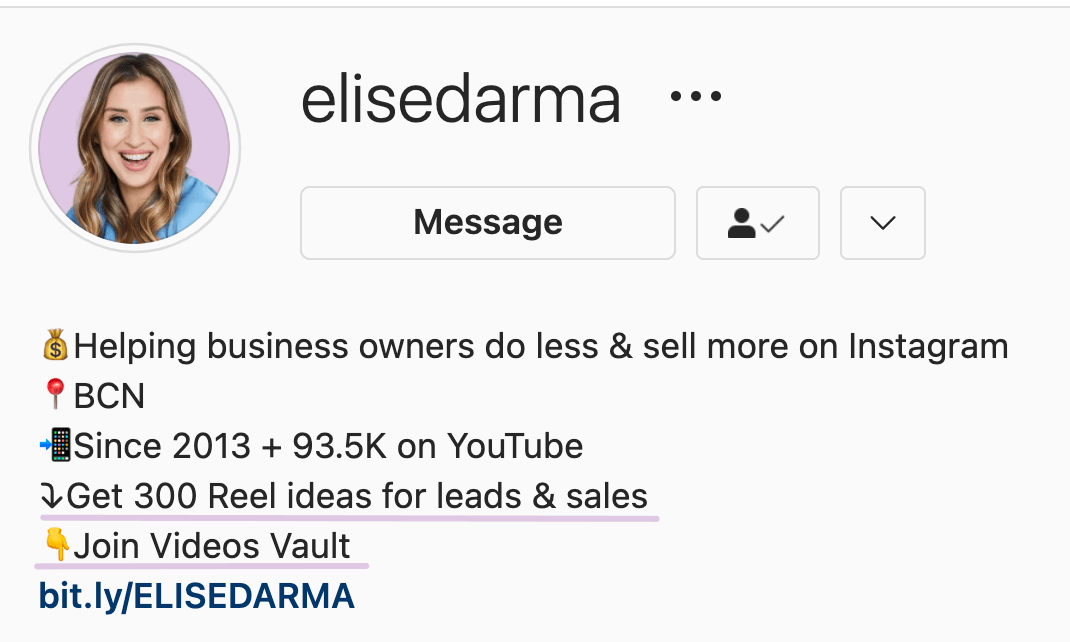 Third line of your bio: Call-to-Action (CTA)
The last line of your bio needs to tell people WHY they should click on the one link you're given to share on your profile.
You'll want to go beyond "sign up" or "click here."

What benefit does it provide to your follower?

What are they going to learn or get by clicking on this link?

What's in it for them?
Take Action: Think about what link you're going to use on your Instagram bio and write out a value-driven reason why they should tap or click on the link.
Want even more examples on how to build a bio? Check out this video here 👇
How to Show Up in Instagram Search
Now that you've given yourself a profile makeover, let's take one more pass at it.
Why?
Because I want you to see if there are any places in your Instagram profile where you can up your odds of showing up on Instagram search.
Instagram recently revealed how it ranks accounts in search results and here are your best practices to get your content to show up at the top of the list.
How to Get Your Profile to Show Up in Instagram Search
Tip #1: Use keywords in your username and profile name.
The trick here is to use keywords that your target audience is actually searching for – not just what resonates with you.
For example, you may refer to yourself as a "Black magic woman" or "spiritually charged," but your ideal customer likely isn't looking for words like this. They're much more likely to be looking for terms like "tarot reading" or "spiritual teacher."
Remember: clear over clever.
By using this simple trick, your profile is more likely to show up higher in Instagram's search results – thus bringing more traffic to your account.
Tip #2: Use relevant keywords in your bio.
Leave the Pinterest quotes and emoji-only write-ups for your finsta. Your bio is important real-estate and it's yet another opportunity to show the world (and the search engine) what you're all about.
Tip #3: Add your location.
Running a cupcake shop in NYC? Based out of Barcelona? Tell Instagram all about it!
If your business model is location-specific, meaning you either have a brick and mortar shop or offer services in a certain area, you'll want to let people know in your bio.
Sharing your base of operations in your bio will make it easier for people in your area to find you – and that means more sales!
---
Ready to Monetize Your Instagram Followers?
Now that you have your profile in place and you're attracting all the right people, I'll bet you're eager to turn those new followers into raving fans that are excited to buy your offers.
If you loved this blog post and want even more how-to tips on making sales through your Instagram account, join me for my FREE hands-on workshop.

In this ~co-working~ style workshop, we'll check off:
What your best Instagram strategy is – even if you're new in business or are just starting to use Instagram for your business (PLUS, we'll give your profile and bio a total makeover)

What your current season of business is and which features you should focus on to get the most results for your efforts

How to navigate making reels for your business, especially if you feel silly pointing or dancing on camera (PLUS, we'll generate 80 content ideas for your next posts – yes, 80!)

Future-proofing your account for inevitable changes that are coming to Instagram (including an evergreen formula that'll never go out of style)
Join me at this FREE workshop now ⬇️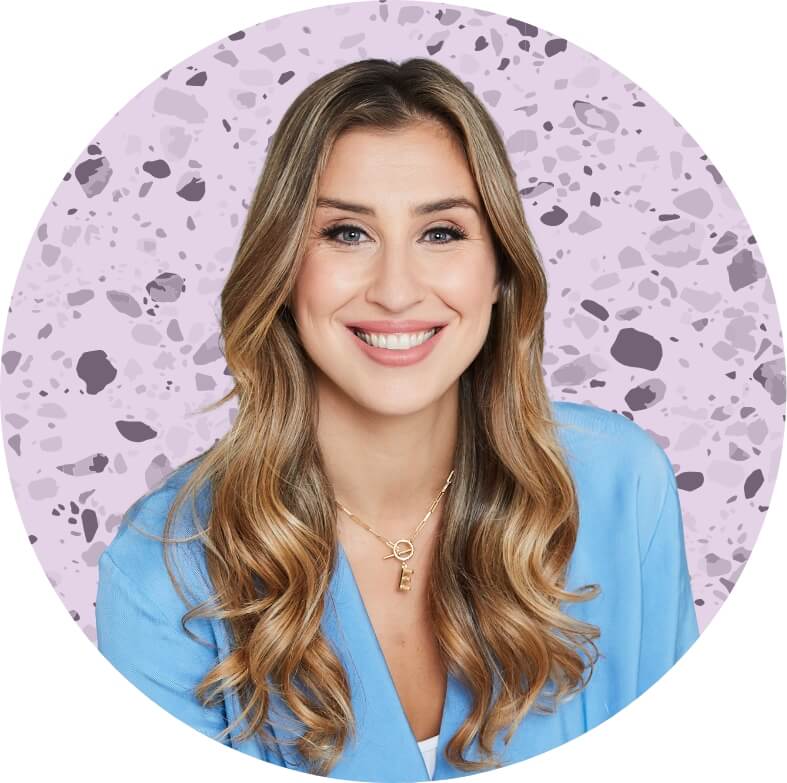 Hi, I'm Elise Darma!
I traded my 9-5 office cardigan for
that 7-figure entrepreneur life. But
I'm no overnight success. I've
experienced burnout, overwhelm
and ghosting Instagram for the
entire month of February 2019. I'm
probably the laziest Instagram
marketer you know, but if you want
to know how to sell more by doing
less – you're in the right place.
watch the free
Instagram Workshop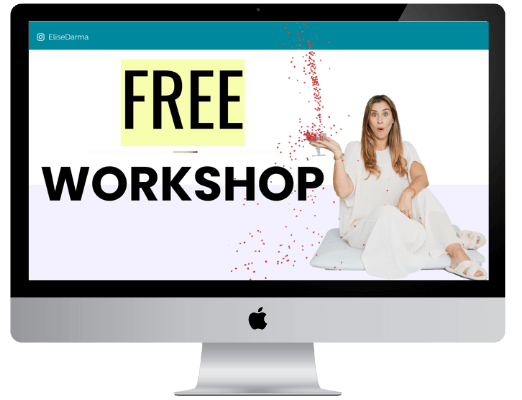 Get a weekly dose of what's
working in my business that you
can implement in yours.