How to Sell Products on Instagram
Share this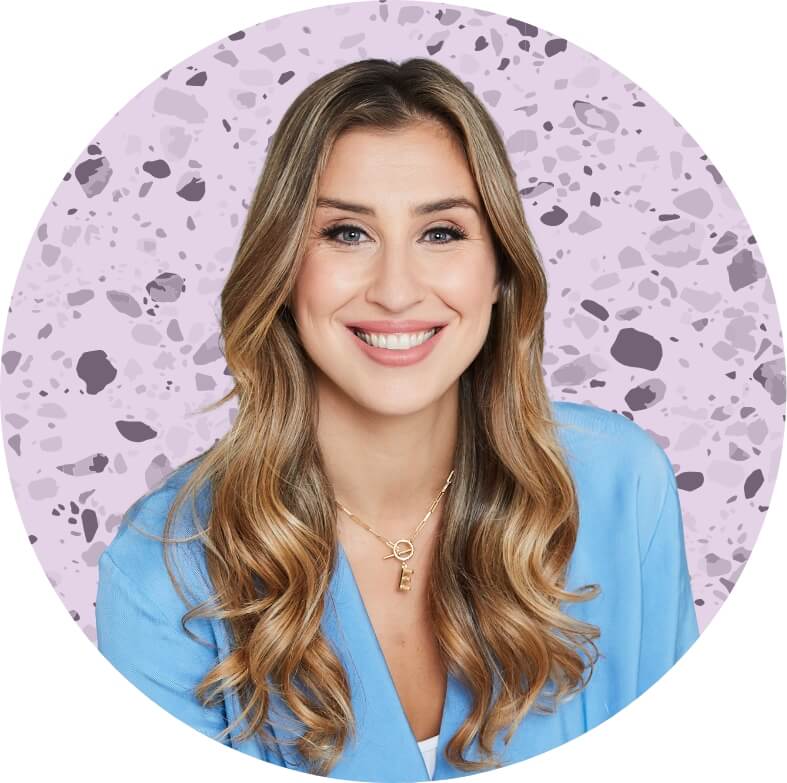 How to sell products on Instagram continues to be one of the hottest topics out there for business owners (regardless of their niche).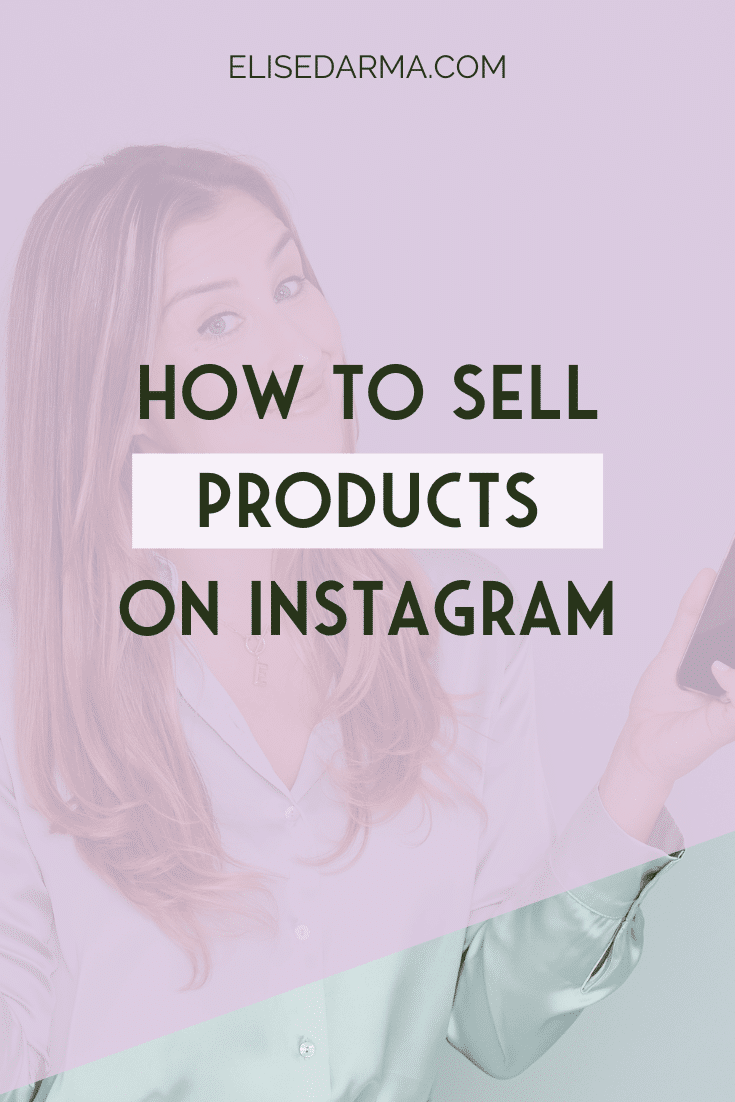 And the truth is, it comes up time and time again for good reason… Over 130 million people tap on Instagram shopping posts every single month. On top of that, 80% of people use Instagram to make buying decisions. With those numbers, it's no wonder that some variation of this question lands in my DMs nearly every day. So in today's post, I am answering it once and for all. Be sure to read to the end where I'll share what you can do if you sell a ~digital~ product (because selling a physical and digital product are two very different things).
Prefer video? Watch this training here ⬆️
Give Your Profile A Makeover
This sets you up for success in every way!
To get started, let's talk about creating a bio that attracts the right follower, who will become a customer. Now, for an in-depth video on this topic, I want you to check out this video right here. ⤵️
But for now, I've pulled up an example of a product-based business and its bio so you can see what key things it has, that you should have too.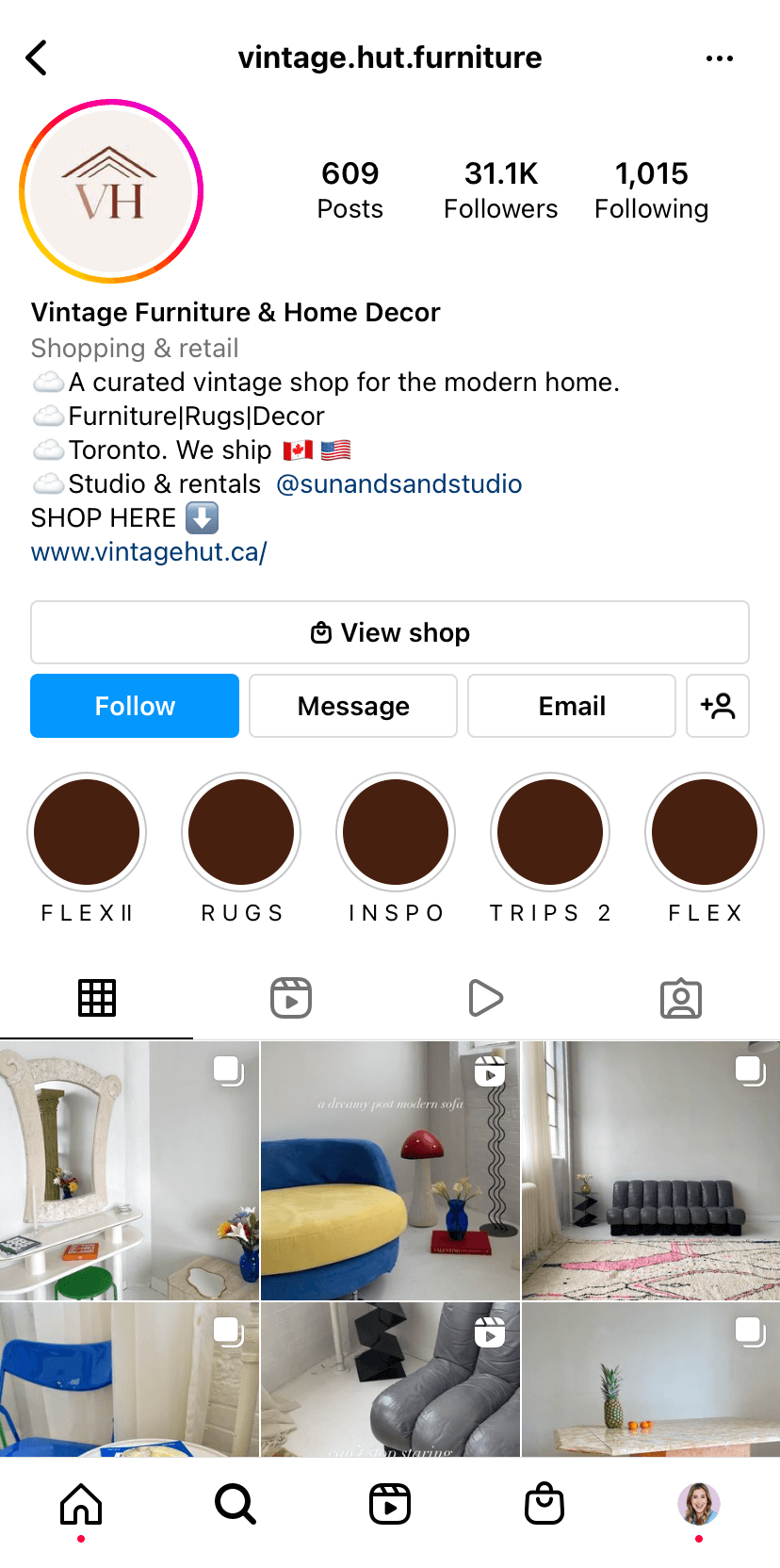 Customized name field
Delivery information
Built-in Shop feature from Instagram
That last one is KEY for making the buying journey easy for your customers. To set up Instagram shopping, you do need to have a business profile and connect it to a Facebook page so that you can actually build a catalog of products. Once this is set up and approved by Instagram, you'll then be able to tag your very own products in your posts and in your Stories so that your followers can shop and buy directly within the app. Learn how to set up an Instagram stop here:
How To Sell Products On Instagram
Oh, let me count the ways…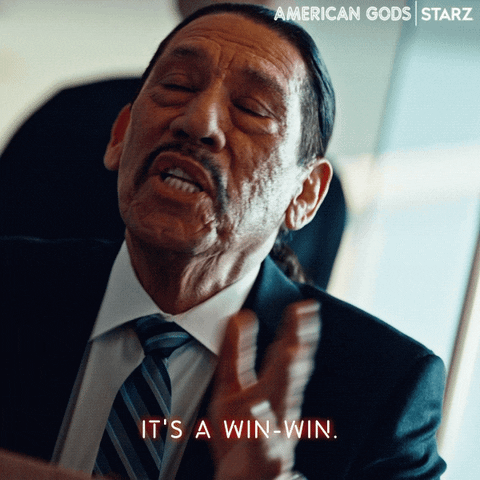 Remember, Instagram WANTS you to make money on their platform so that you'll stick around and create content that causes other people to stick around. So they make it as easy as possible for you to sell products on Instagram.  Here are some ways you can increase your sales:
The Instagram shop page. Did you know that that exists? You find it by heading over to your Explore tab and then tapping on Shop there. You will find a collection of shops that you can explore and products you can buy.
The product detail page. This is a product-focused page that shows all the details of your product, including pricing, descriptions, and options that your product offers.
Shopping tags. These tags allow businesses to highlight products from their catalog, either in their Stories or in their feed so that people can browse and buy now. To take it a step further, if you are a US-based business with the Checkout feature, you can also highlight your products either in your captions or in your bio.
Ads with product tags. Yep, you can turn your shoppable post into an ad so that it gets in front of even more people! Your ad can drive people to your own website or the Checkout feature on Instagram, which at this time of recording is only available for US-based businesses.
LIVE shopping. Did you know that you can go live and actually sell products while running an Instagram Livestream? Check out how @yokafashions does it. She goes LIVE (typically on a Friday night) and models the clothes from her shop. Then, her customers will request sizes or some of her other products directly in the comments. Based on the comments, there are a lot of sales being generated from this format.
The product launch feature. This gives brands the ability to launch an upcoming product and be able to involve their followers who can follow reminders so that they are the first in line to buy.
The shopping from Creators feature. It's now possible for Creators to promote brands and products that they love and for their followers to shop directly in their feed without ever leaving the app.
All right, I know that's a lot to digest, even for myself… But it just goes to show that Instagram is creating so many built-in features so that you, the product-based business, can sell more of your products directly through the app. Now, what if you are a digital product creator? In fact, that's the category that I fall under. What features can you use on Instagram to sell more of your digital products?
How To Sell Digital Products On Instagram
Don't worry, there are a TON of options just for us…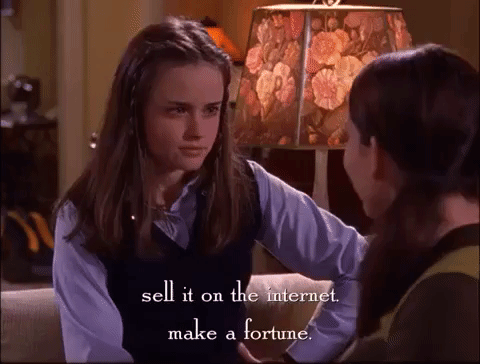 We might not have as many built-in features as physical products do, but if you are a digital course creator or digital product creator, you can still use all the features of Instagram to sell.  In fact, that's exactly what I do! I use Stories, highlights, Instagram lives, and DMs to sell my digital course products. I also do a few things to help my digital product feel more tangible:
Create a mock-up of the product as if it were a physical product. My team and I will mock up an image of the product as if it's sitting right in front of you and you're looking at it on your computer screen.
A "peek inside" video. I love to create videos where I actually walk my viewers through what it's like to be a student or a customer inside of this product.
Again, with both of these ideas, the whole goal is to make a digital product feel more tangible.
---
Next Steps For Selling On Instagram
If you're feeling inspired, here's what to do next…
Now you know how to sell products on Instagram, but what do you actually POST to let your customers know what you have to offer? That's where Story Vault comes in.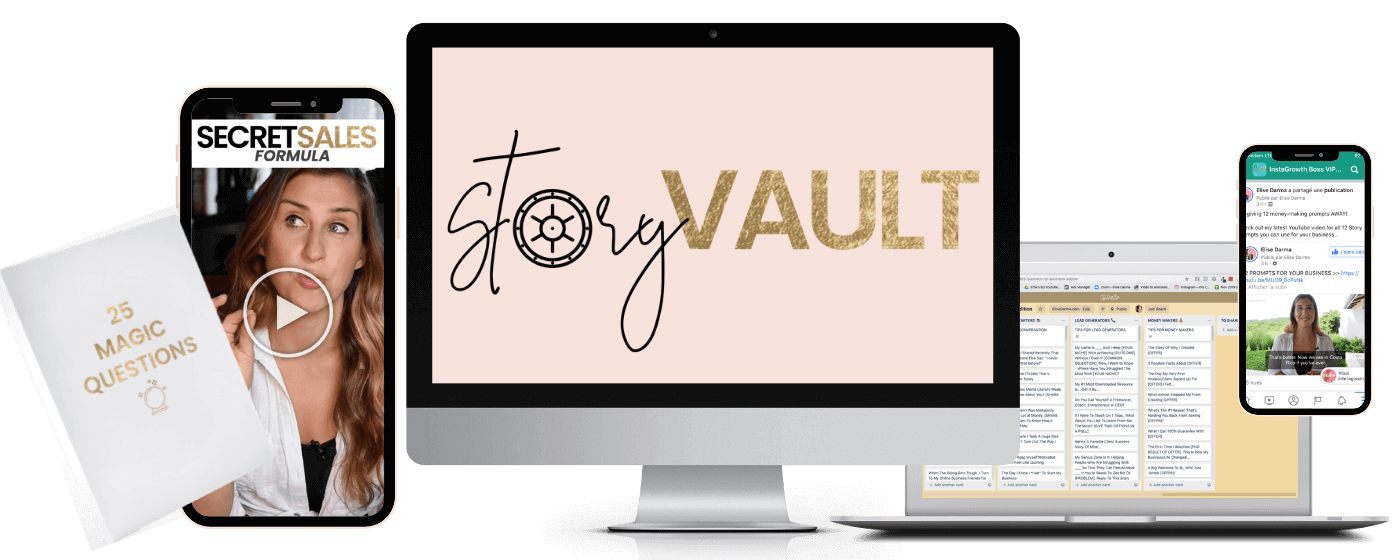 Story Vault is my answer to your question, What should I post today? It's time to stop wondering how others are locking in clients, leads, and sales from social media. 💰 Imagine dramatically reducing the time you're spending on social media, but seeing a 2x or even 5x return on your effort… Story Vault is a curated collection of 800 strategic Instagram Story prompts covering the four seasons of business growth:
Get visible in your market… so you go from being invisible and unknown to "OMG I love watching your Stories!"
​Boost your engagement… so you never get a "crickets only" response to your Stories again
​Get qualified, ready-to-buy leads so you can build up your email list or book out your call calendar
​Lock in chart-topping sales to your programs, products, and offers (so you can STOP aimlessly posting on social media and actually see a return from it!)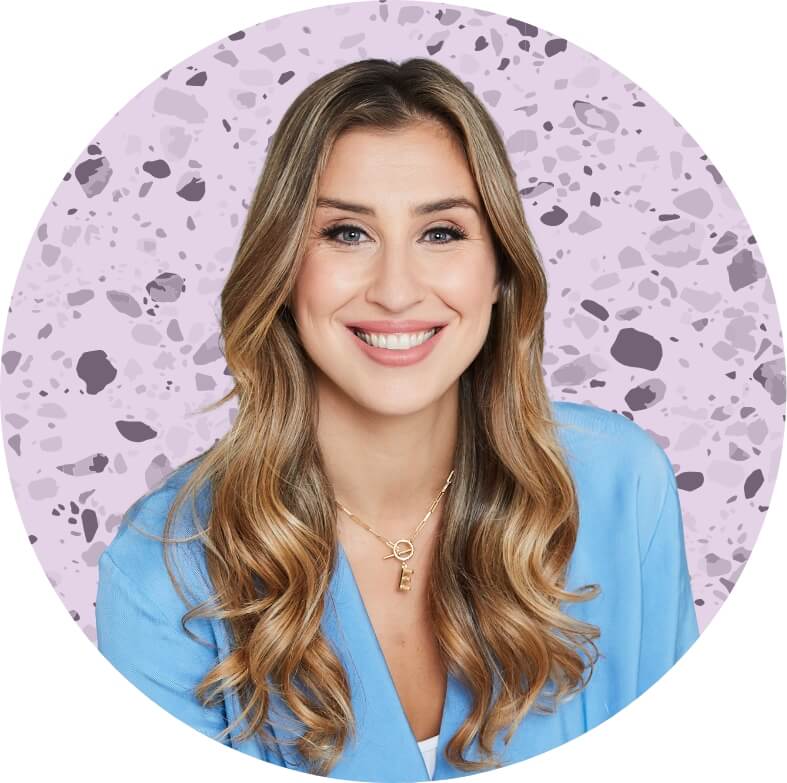 Hi, I'm Elise Darma!
I traded my 9-5 office cardigan for
that 7-figure entrepreneur life. But
I'm no overnight success. I've
experienced burnout, overwhelm
and ghosting Instagram for the
entire month of February 2019. I'm
probably the laziest Instagram
marketer you know, but if you want
to know how to sell more by doing
less – you're in the right place.
watch the free
Instagram Workshop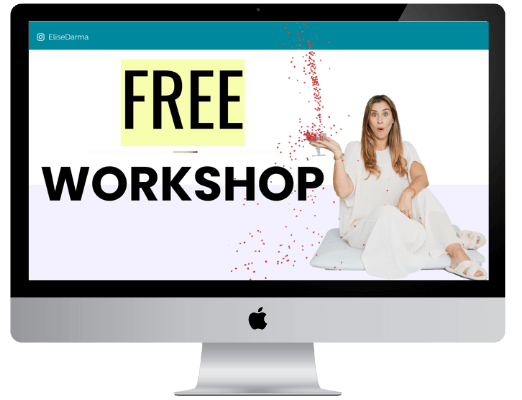 Get a weekly dose of what's
working in my business that you
can implement in yours.