8 ways to make money with a side hustle
Share this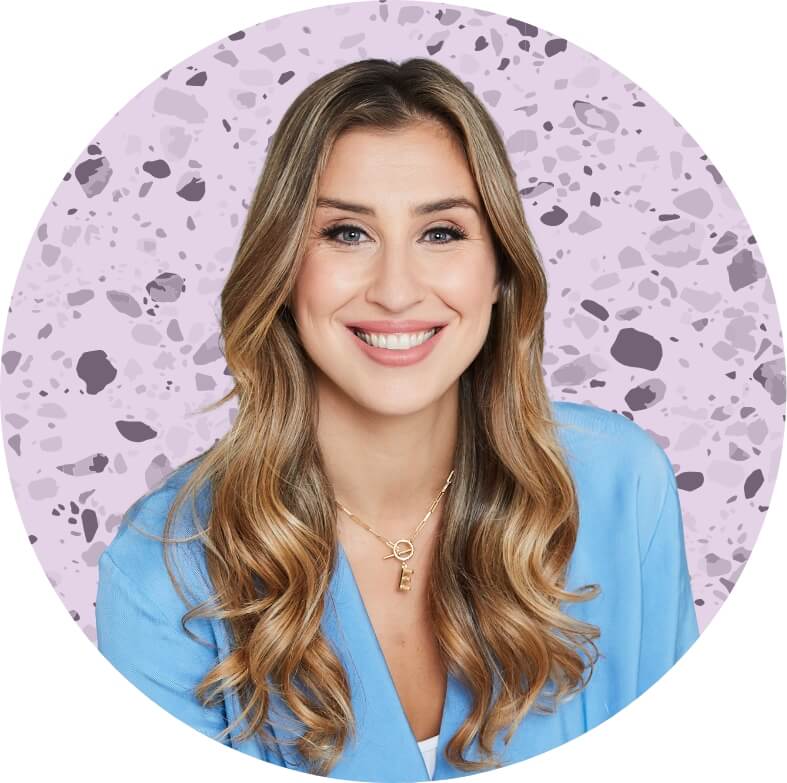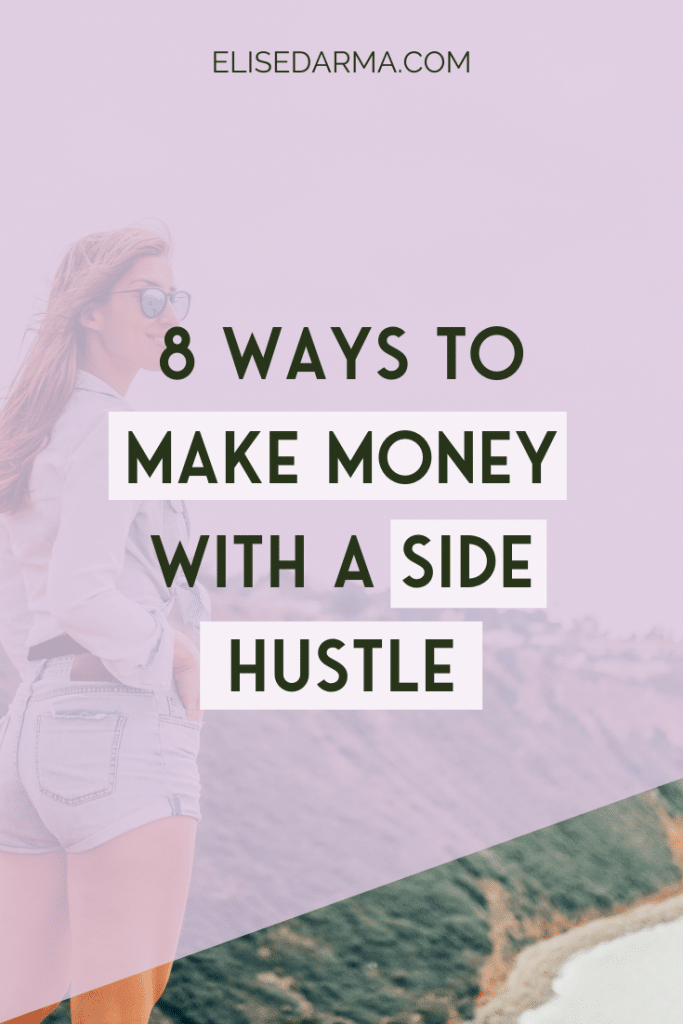 Side hustles are the bread to my butter.
Simply put: If I hadn't taken the opportunity to make more money on top of my full-time salary way back in 2013, I wouldn't be running a multiple six-figure business today.
What started as a simple idea to have extra cash for my Europe trips has led to me traveling the world as a digital nomad for over 100 days each year, creating highly-rated courses that get students REAL results, and helping hundreds of people around the world achieve their business goals.
Whether you want extra cash each month to pay off student loans, treat yo' self to a tropical vacation or save towards a down payment for a house or car – you need a side hustle.
Here's why:
You get to be your own boss (and see what kind of employee you make 😉)
You decide your working hours
You control how much you get paid (time to raise the rates? OKAY)
You create a life and career that you're 100% passionate about
And that beats working any part-time job at the mall on the weekends.
Here are 8 money-making side hustles you can start today… without quitting your full-time job.
1. Grow Your Instagram and Work With Brands as an Influencer
Psst… do you have a passion for Instagram? Turn it into a business by monetizing your Instagram account.
All you need to do is create a community that LOVES your content.
From travel to fitness inspiration or even something super niche like your Disney obsession – you can earn some decent dough all through the free app we know as Instagram.
The good news: You don't even need over 10K followers to start working with brands.
I have Social Bank students with account sizes much smaller than 10K who have landed paid gigs with brands or received free product.
Alina, one of the girls who came to my last digital nomad retreat, has just shy of 1K followers – and she is also already collaborating with brands!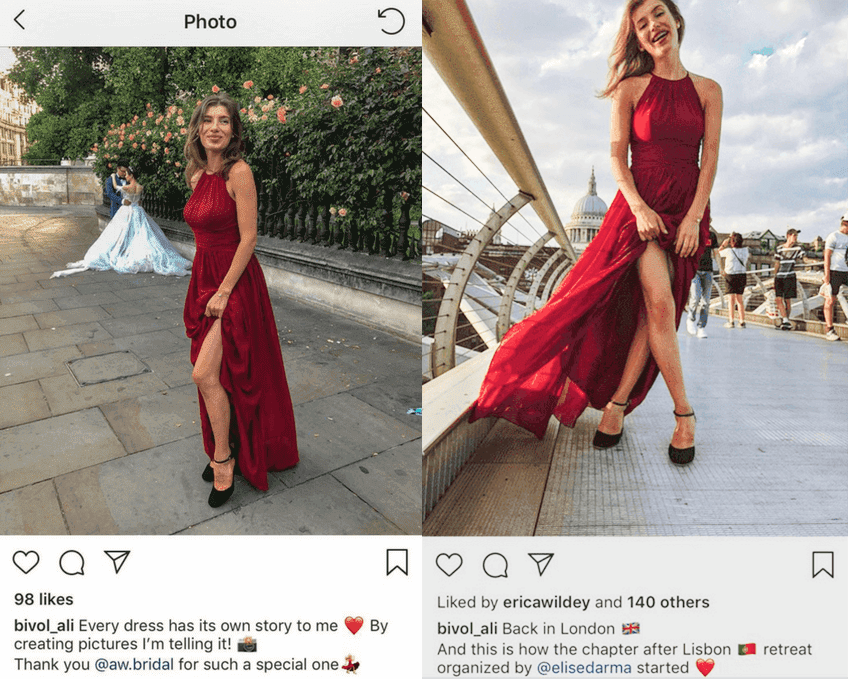 The key is knowing your unique value proposition and articulating to brands how you can help them reach their goals.
If you have a niche audience and you know they'll love a brand's product – reach out.
Creating brand awareness is extremely valuable to any product-based brand, and it's an excellent way to monetize the audience you've created.
2. Create a Physical Product Your Audience Will Love and Sell It Online
You can make big money selling a physical product online.
If you're artsy – whip out your crafts and launch your one-of-a-kind creation on Etsy.
But if you're more business-minded than creative, you can have a profitable side hustle by importing products from Alibaba and reselling them online.
From finding trustworthy suppliers to avoiding scams and figuring out all the steps to get started – check out this super detailed guide from the Start-Up Bros.
Will Mitchel will walk you through how to set up your online store without quitting your day job and how to avoid the mistakes he made when starting his e-commerce empire.
3. Master the Art of Affiliate Sales
You know what my favorite kind of income is?
PASSIVE income.
I love the idea of making money while I literally sleep.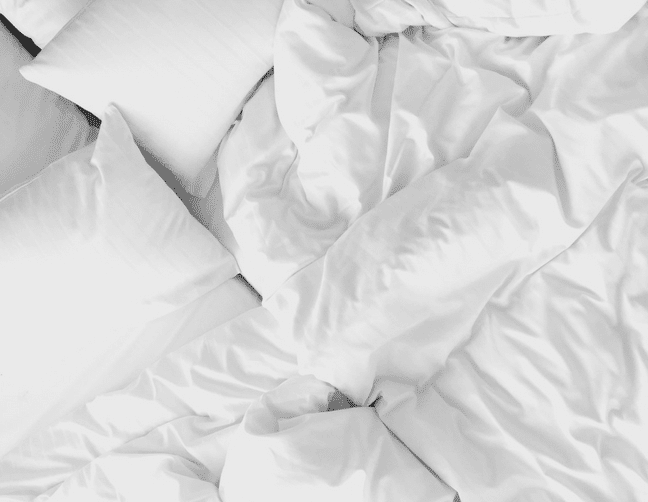 Affiliate marketing is the best way to stop trading time for cash and to build a side hustle that will give you financial freedom – without selling your soul.
To do this, all you need is an audience that is primed to buy.
You can set up affiliate income streams on your blog, through your monthly email blasts or with your social media posts.
How you share your affiliate links is up to you, but research is KEY.
Pay Flynn from Smart Passive Income helped me kickstart my passive income goals. After listening to his podcasts and combing through his blog posts, I identified the best affiliate networks for my business.
It wasn't long before I started receiving affiliate payouts, and it's an aspect of my business that I'm continuing to focus on more and more.
4. Offer Online Services Based On Your Unique Skillset
Most small to medium-sized companies don't have the budget for a full-time social media manager or graphic designer.
Use this to your advantage and set up a 'done-for-you' service-based business.
It's how I got started as a freelancer and eventually led to me founding my agency business, Canupy.
I started out with one social media client and 9 months later, scaled my side hustle to the point where I was able to quit my day job.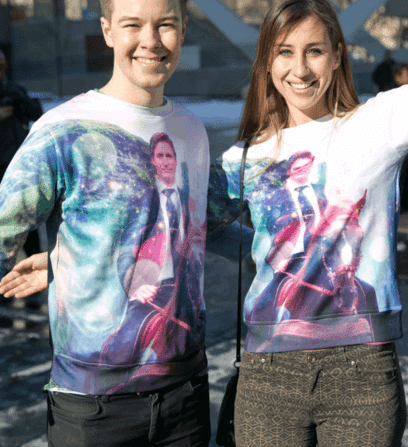 The best part about starting an online service-based business is the minimal upfront costs.
You don't even need a website to land your first paying gig.
You can use job sites like UpWork or leverage Instagram to attract your ideal customer.
5. Offer One-On-One Consulting
Are you super knowledgeable about a specific topic?
Are you able to critically assess, and develop strategies and recommendations?
Can you teach people how to achieve their goals?
Set up a one-on-one consulting business.
There is a major demand for specialized services, and you can meet the needs of the market while making some serious side hustle cash.
There are consultants for personal style, sports psychology, business organization, confidence and even navigating life itself.
To land a consulting gig, you need proof of your expertise.
Put together a portfolio that shows off your best work or client testimonials, and start pitching to potential clients about what you can do for their business, health or life.
6. Level Up and Offer a Group Coaching Program
Want to scale your 1-on-1 services or consulting business and boost your bottom line WITHOUT working more hours?
Start offering group coaching to your clients.
Group coaching gives your clients a more affordable way to tap into your knowledge, while establishing you as an expert that can solve their business problems.
With this model, you are no longer constrained to helping one client at a time. Now, you can reach more people at the same time, and you can use this type of business model to grow your income in other ways.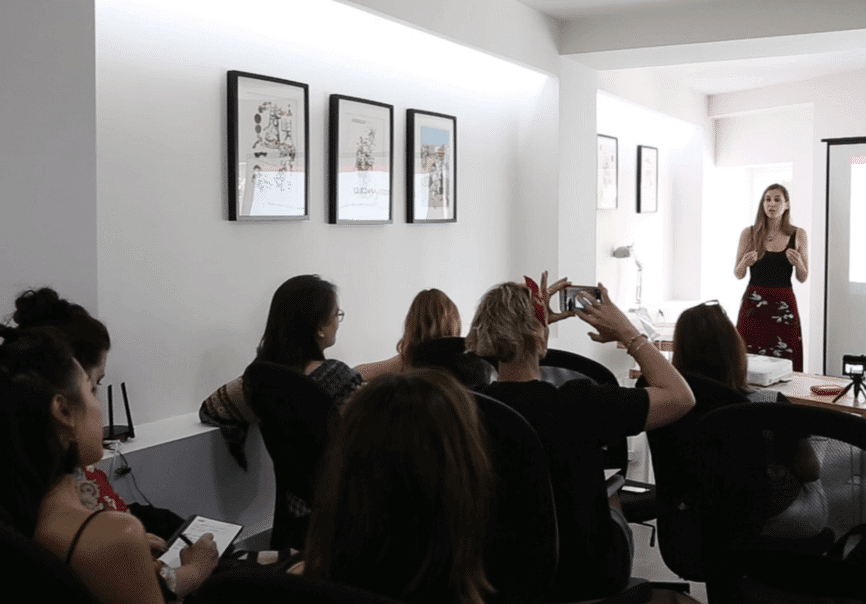 During your group sessions, you can up-sell other products, whether it's ebooks, courses, retreats, or more personalized one-on-one coaching.
7. Launch Digital Products That Bring Value to People's Lives
If you don't have the time to run coaching services, create a digital product.
You only have to put in the hours ONCE, and you'll reap the financial benefits for as long as you make the product available.
Plus, digital products have grown to a billion dollar industry.
Remember: there IS a demand for your knowledge in the form of digital products. All you have to do is create it and sell it.
Here are a few examples of profitable digital products that you could be selling:
eBooks
Stock photos or Lightroom presets
Online courses
WordPress themes
Printables or other similar templates
Unlike physical goods, you don't need to source suppliers, packaging or worry about shipping. Offering digital products is one of the easiest side hustle you can start with a low cost of entry, too.
8. Create and Sell a Digital Course
One of my biggest sources of business revenue is my Social Bank online course.
While it took quite a bit of time to set up in the beginning, it's now an aspect of my business that runs relatively smoothly and is one of my main revenue generators.
With the e-learning market expected to double to $325 billion by 2025, there is no better time to share your expertise with the world – in the form of an online course.
It's also SO easy to set up a professional and easy-to-use school, thanks to services like Teachable. You don't need to hire a designer to create your site or stress about hosting – phew.
Teachable helps you create a profitable e-course with all the bells and whistles you need in one place. Once you've made the course, you can start selling seats to your course in no time.
---
Hire me as your coach for $0.00!
If you loved this blog post and want even more how-to tips on making sales through your Instagram account, join me for my FREE hands-on workshop.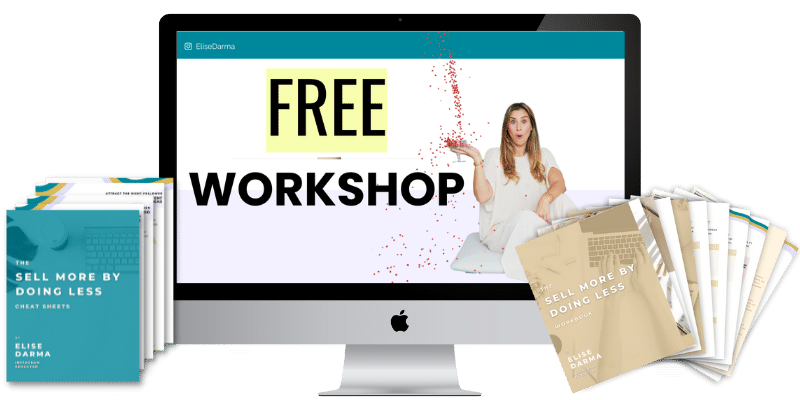 In this ~co-working~ style workshop, we'll check off:
What your best Instagram strategy is – even if you're new in business or are just starting to use Instagram for your business (PLUS, we'll give your profile and bio a total makeover)

What your current season of business is and which features you should focus on to get the most results for your efforts

How to navigate making reels for your business, especially if you feel silly pointing or dancing on camera (PLUS, we'll generate 80 content ideas for your next posts – yes, 80!)

Future-proofing your account for inevitable changes that are coming to Instagram (including an evergreen formula that'll never go out of style)
Join me at this FREE workshop now ⬇️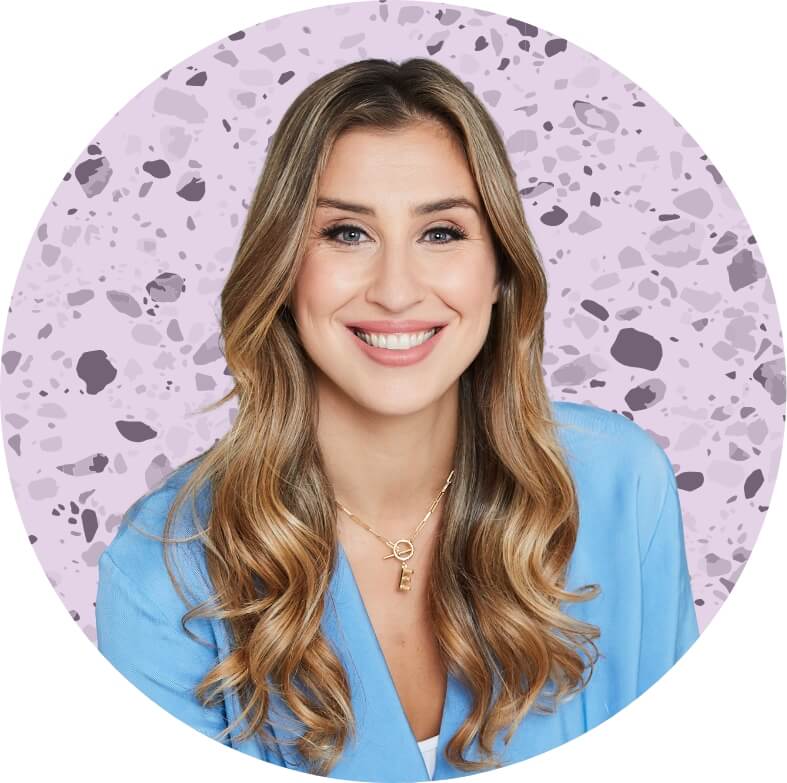 Hi, I'm Elise Darma!
I traded my 9-5 office cardigan for
that 7-figure entrepreneur life. But
I'm no overnight success. I've
experienced burnout, overwhelm
and ghosting Instagram for the
entire month of February 2019. I'm
probably the laziest Instagram
marketer you know, but if you want
to know how to sell more by doing
less – you're in the right place.
watch the free
Instagram Workshop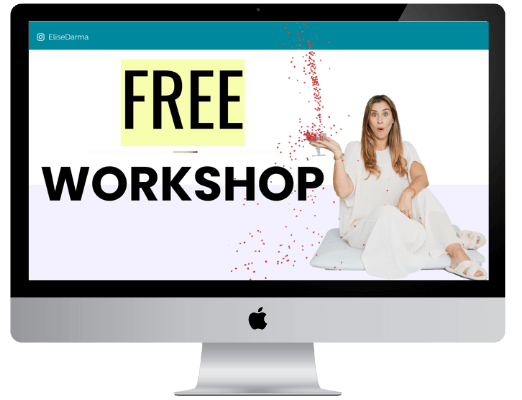 Get a weekly dose of what's
working in my business that you
can implement in yours.