Instagram Marketing Strategy for 2020
Share this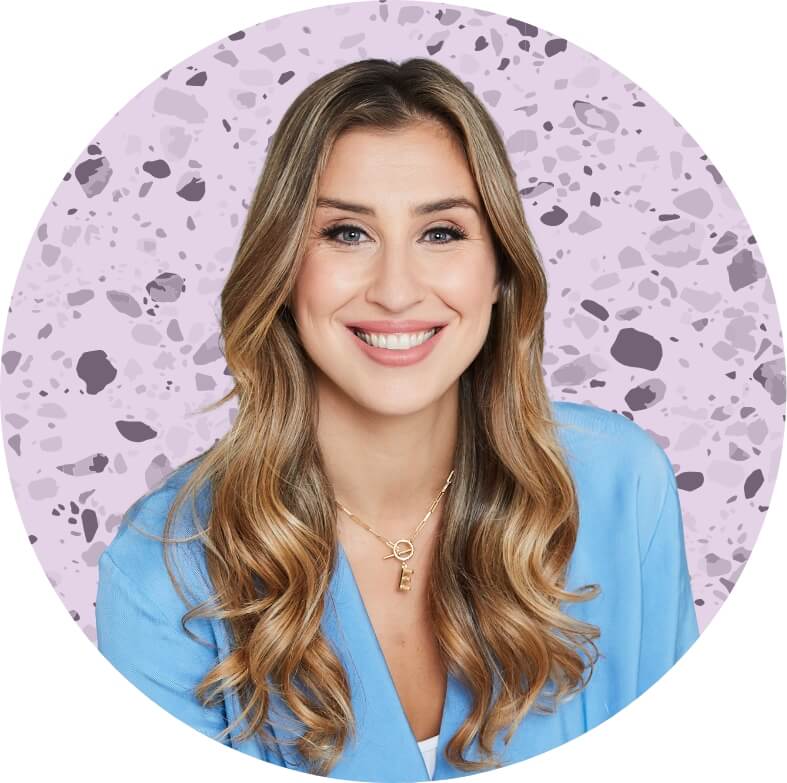 Wanna take a behind the scenes look at my Instagram marketing strategy for 2020? 👀
Isn't there something so satisfying about going behind the scenes of someone's business and understanding the strategy behind their business growth?
If you like all-access details as much as I do, you're in luck because today I'm sharing behind the scenes of my Instagram marketing plan for 2020…
Instagram is the bread and butter of my business.
I've been an Instagram marketer since 2013, so it's kind of important I have a solid Instagram strategy, don't you think?
I'm going to share with you all of my thinking, and I'll also share with you how I've grown 10,000 followers so far this year alone.
Plus – to make your life even easier – I'm going to share with you one of my favorite resources to find even more content to repurpose for your Instagram.
Let's get started ⤵️
My Instagram Marketing Strategy for 2020
1. Know Your Instagram Growth Goals
First things first: with any marketing strategy, for any platform, you have to know your goals.
In January of this year, I actually publicly shared my goals in the caption of this post right here.
In this caption, aside from my big income goal, I shared with you other number-y type of goals, including how many YouTube subscribers I want, email subscribers and Instagram followers.
In 2020, it's my goal to hit 100,000 followers on Instagram.
But what is important to note about the caption above is that I actually show you my plan of how I'm going to get to 100,000 followers.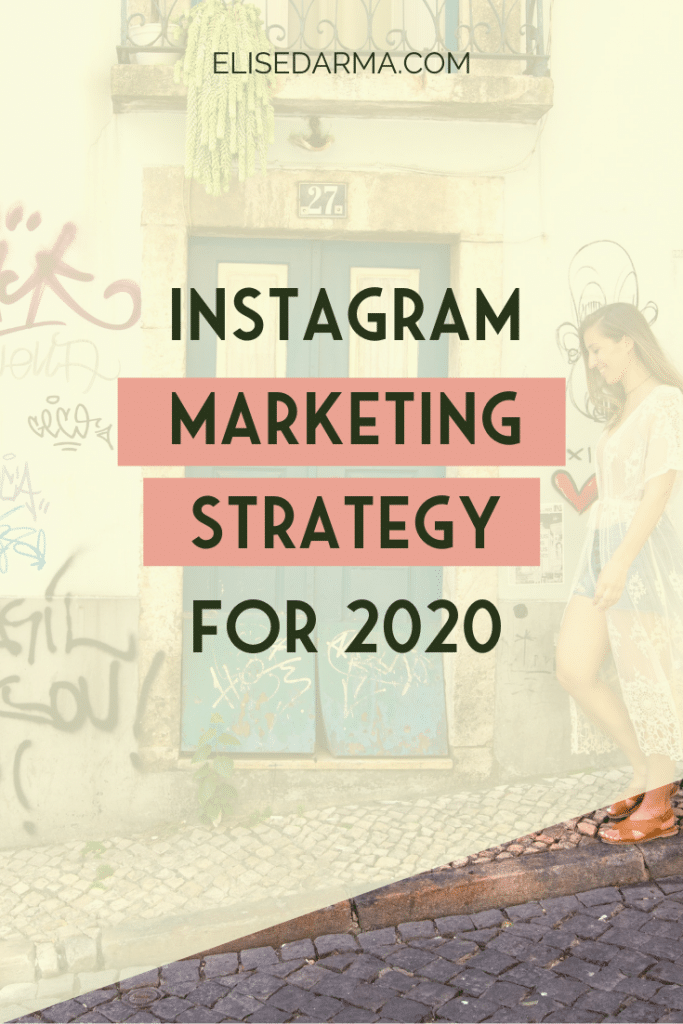 Let's take a closer look at my goal:
As an example, as of this writing, I am 22,500 followers away from hitting my goal of 100,000 followers.
That means I'm aiming for 1,875 a month or 433 followers a week or 62 new followers per day.
Notice how I broke it down into tangible numbers.
So, what's my plan to make this happen?
Using Later as my scheduling tool, I'm going to post to my feed three times a week. ✅
I'm going to repurpose my YouTube content to my Instagram feed or IGTV. ✅
And finally, I'm going to post to my Stories three times a day. ✅
Yes, I set pretty lofty goals, but I also broke it down backwards to figure out how I was actually going to achieve those goals.
That's exactly what you need to do for your own Instagram marketing strategy for this year.
For example, if you have a goal to hit 10,000 followers so that you can finally use the Swipe Up feature:
How many followers do you need per month?
How many followers do you need per week?
How are you going to achieve that?
Here are my suggestions for a few quick things you can do today because we all know growing on Instagram takes time, especially when you're focusing on quality over quantity…
Quick things you can do right now to grow your following and engagement as part of your Instagram marketing strategy for 2020:
1. Delete any purchased or fake followers
The first thing you can do is go into your followers and delete any purchased or fake followers, because they're not going to help your engagement.
Or, if you feel like you have bot accounts following you, you can delete them as well.
To remove specific followers, pull up your Instagram profile, head to where it says your number of followers, and tap on that number.
You're going to see a list of people who are following you.
Beside each of your followers, you will see a 'Remove' button.
Hitting this button allows you to actually delete this follower from following you.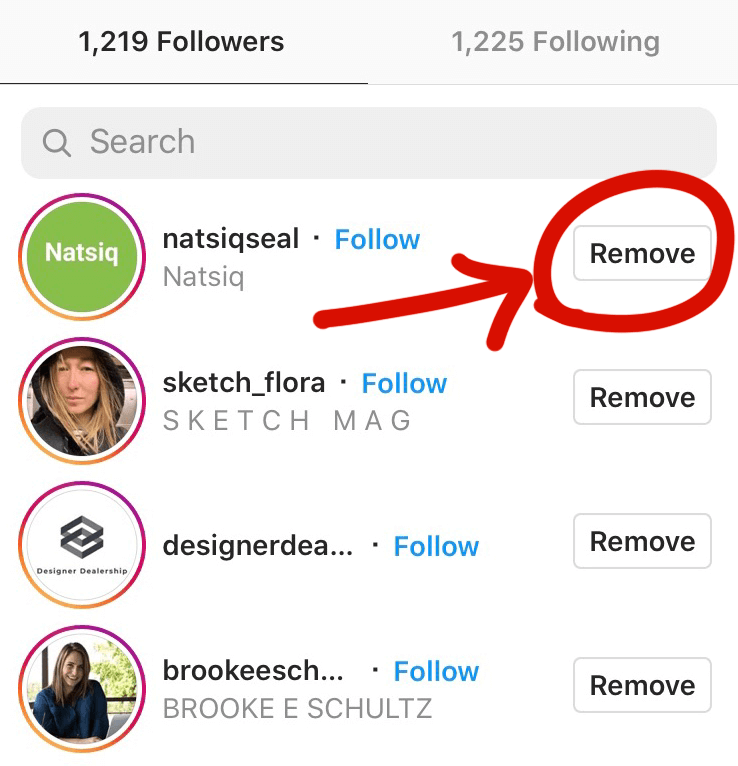 So go ahead and scroll through your followers, and if you've ever purchased followers or you think there are fake accounts, go ahead and remove them directly.
2. Leave any comment pods you're in
The second quick thing you can do is to leave any comment pods you are in.
Common pods were a really popular strategy in 2016 and 2017, but Instagram has fully come out and said they know about this strategy and they can actually tell from the activity in your account that you're in a comment pod, and they do not see this as high-quality engagement.
So what Instagram's algorithm does is likely lower the reach of your posts.
It knows that the same 20 people are commenting on your post.
Yes, from an outside perspective, it might look great that your posts gets so many comments so fast, but the Instagram algorithm is smart.
It knows what you're doing.
Instagram has fully said that the machine learning behind the algorithm can pick this behavior up.
Check out their announcement for yourself right here. ⬇️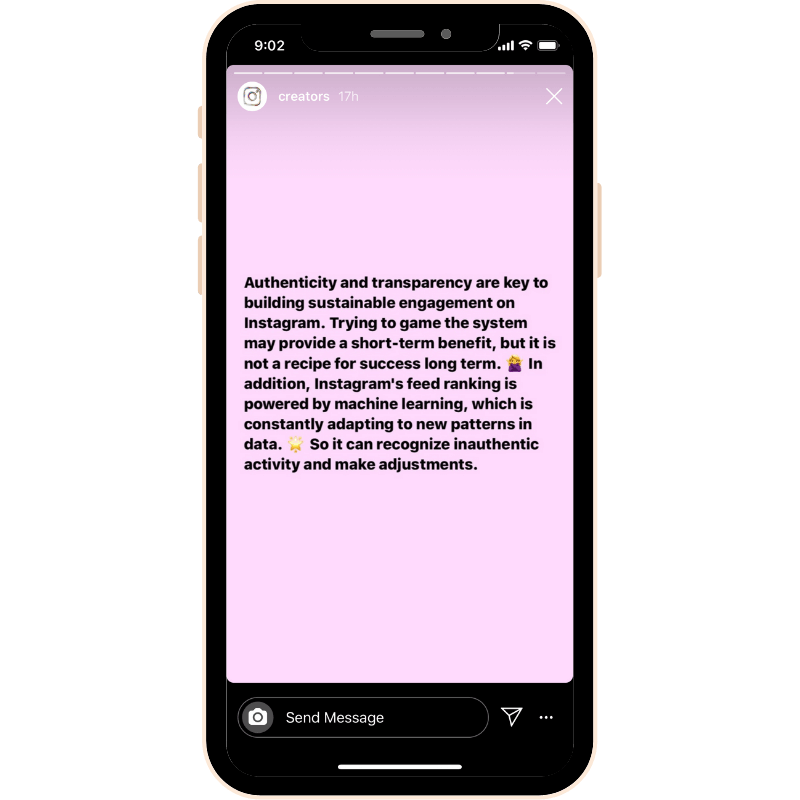 I know you might not get as many comments after leaving comment pods, but at least you will know that your comments are going to be real, genuine and authentic (and you won't be penalized by Instagram!).
3. Engage First
Another quick thing you can do today as part of your Instagram marketing strategy for 2020 is to engage first.
Don't post anything.
Don't post to your Stories.
Don't post to your feed.
Before you do anything, I want you to engage first.
Sometimes I see business owners a little sad about their engagement. Sometimes they're complaining about it a little bit, but I have to ask – are you taking the time to engage with others?
Or are you sitting back waiting for engagement to come to you?
Instagram is a two-way street and the Instagram algorithm loves when two accounts have a relationship where they both genuinely interact with each other, by following each other, sending each other Direct Messages, responding to each other's Stories…
The algorithm loves this.
So in 2020, you can't be passive and sit back and wait for the comments to roll in.
Your best bet is to engage first.
If you're not sure how to engage first, what I recommend is to watch some people's Stories and go ahead and reply to those Stories.
This is going to create a direct message thread between the two of you.
Now, I love DMs because of their sales power.
And I've taught more on this topic right here in this video. ⤵️
2. My Instagram Content Strategy for 2020
Let's dive into my Instagram content strategy for 2020.
Now, if you're following me on Instagram (hint, hint), then you have probably seen that I'm posting a whole lot more video – and that's for good reason.
Followers generally find videos to be a whole lot more engaging. Often I see a lot more engagement and a lot more views on my video posts than my photo or quote card posts.
Now, Instagram has said that the algorithm doesn't actually favor video, it's just that people find it more engaging, so the app will decide to show them more engaging content.
Anytime someone watches your video for three seconds or more, it's considered a view.
Here's another great thing about video: videos actually show up on people's Explore page, and they are four times larger than regular image posts.
See for yourself ⤵️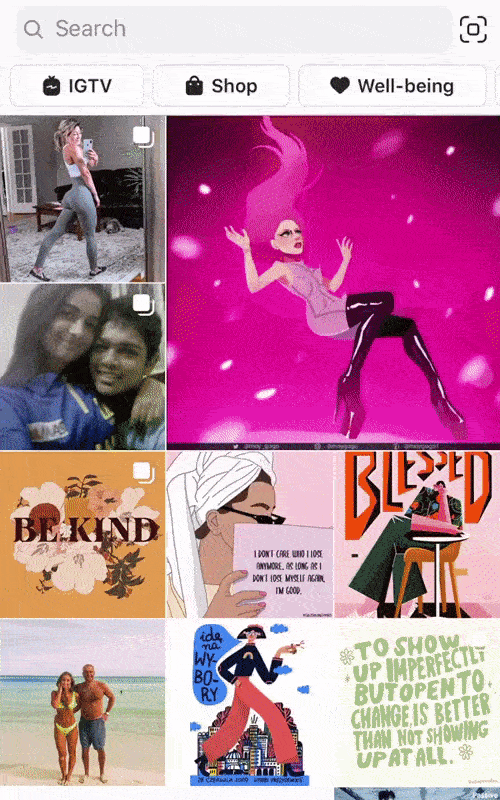 This makes videos a great way to boost your visibility and get in front of people who aren't yet following you.
Now, if ever you're making a video that's over 60 seconds, you're going to want to post it to your IGTV channel.
The second part of my content strategy is that I'm going all in on community-based content.
This is a term that I've made up, but it just best describes what it is.
It's not just a regular quote card. It is a quote card that's designed specifically for my community, meaning it's not about me.
As a metaphor, it is like the bumper sticker that my community would be happy to put on their car.
I see crazy engagement and shares when I create community-based content.
Community-based content generally consists of the things that my community is thinking or feeling, but maybe they haven't articulated into words yet.
So when I articulate it and they see it in their feed, they're like, OMG, that's exactly it. I need to share this. I need to save it.
And the engagement for those posts are usually off the charts.
3. Instagram Marketing Strategy for 2020: Re-purposing Content
Repurposing is saving me so much time.
Even just the act of sharing my YouTube videos on my IGTV channel, instead of keeping them only on YouTube, has been so helpful.
People are busy – they don't see every piece of content that you put out on every platform.
So I have felt no guilt in repurposing my YouTube content over to my Instagram.
In fact, some big people in the industry have discovered me because of my IGTVs.
Repurposing content is a game-changer.
Now, if you're not a YouTuber like me, you can still repurpose content from other channels.
For example: do you like to tweet your thoughts? Why not turn your tweets into quote cards?
Now, what's my current favorite resource for repurposed content?
➡️ TikTok. ⬅️
My Instagram followers don't always find my TikTok content funny, but my tip-based TikToks do really well as posts in my Instagram feed.
As you might know, TikTok videos are short – usually less than 15 seconds.
This makes TikTok videos perfect for your Instagram feed.
Just like this video right here.
This is a TikTok of mine that did okay, but then I shared it to my Instagram feed and it did a whole lot better.
4. Doubling Down on Instagram Stories
Last but not least in my Instagram marketing strategy for 2020 is a huge focus on Instagram Stories.
Instagram Stories are a majorly powerful way to connect with your ideal customers, and are key for growing your business on Instagram.
Your customers are spending more and more time on Instagram with an intent to buy.
If you're not showing up strategically in your Stories to help people move through your customer journey, you are leaving money on the table.
If you want to succeed with growing your business using Instagram in 2020, there's nothing more important than an authentic, human connection on Instagram, and Instagram Stories are the best way to create that connection.
---
Ready to Grow Your Biz Using Instagram Stories?
Know you need to be showing up in your Instagram Stories, but not sure what to post that will actually make a difference in your business?
Story Vault is my answer to your question, What should I post today?
It's time to stop wondering how others are locking in clients, leads and sales from social media. 💰
Imagine dramatically reducing the time you're spending on social media, but seeing a 2x or even 5x return on your effort…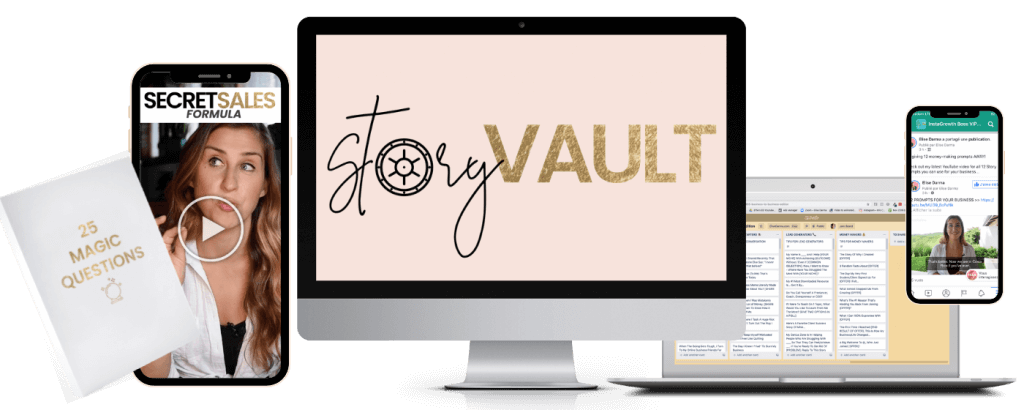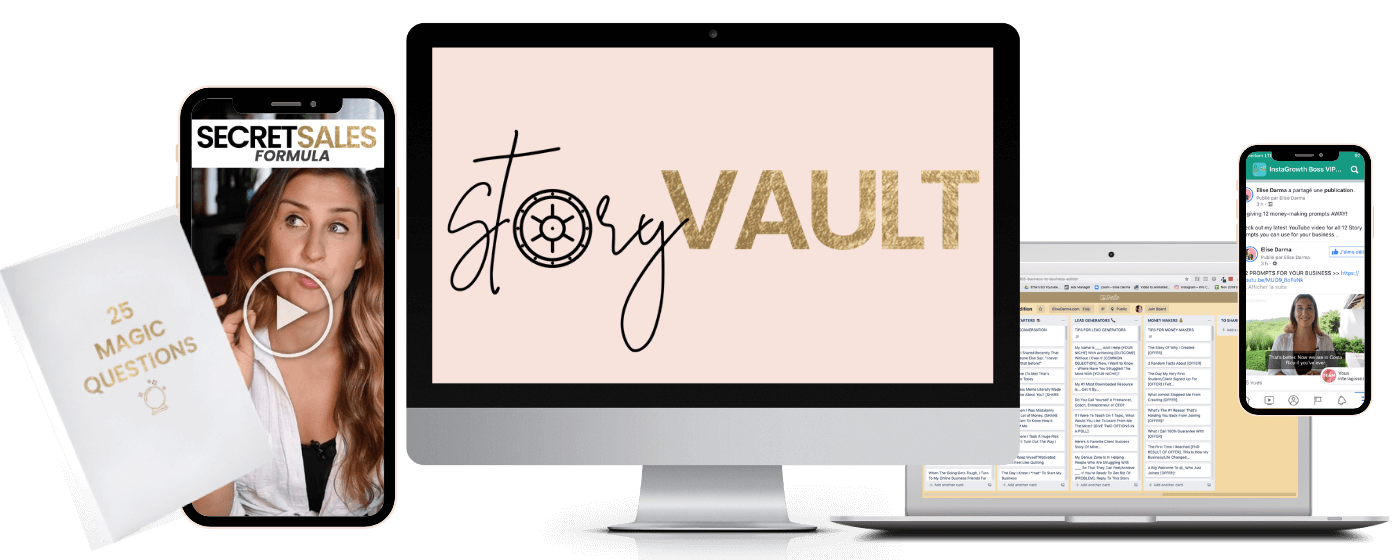 Story Vault is a curated collection of 800 strategic Instagram Story prompts covering the four seasons of business growth:
Get visible in your market… so you go from being invisible and unknown to "OMG I love watching your Stories!"
​Boost your engagement… so you never get a "crickets only" response to your Stories again
​Get qualified, ready-to-buy leads so you can build up your email list or book out your call calendar
​Lock in chart-topping sales to your programs, products and offers (so you can STOP aimlessly posting on social media and actually see a return from it!)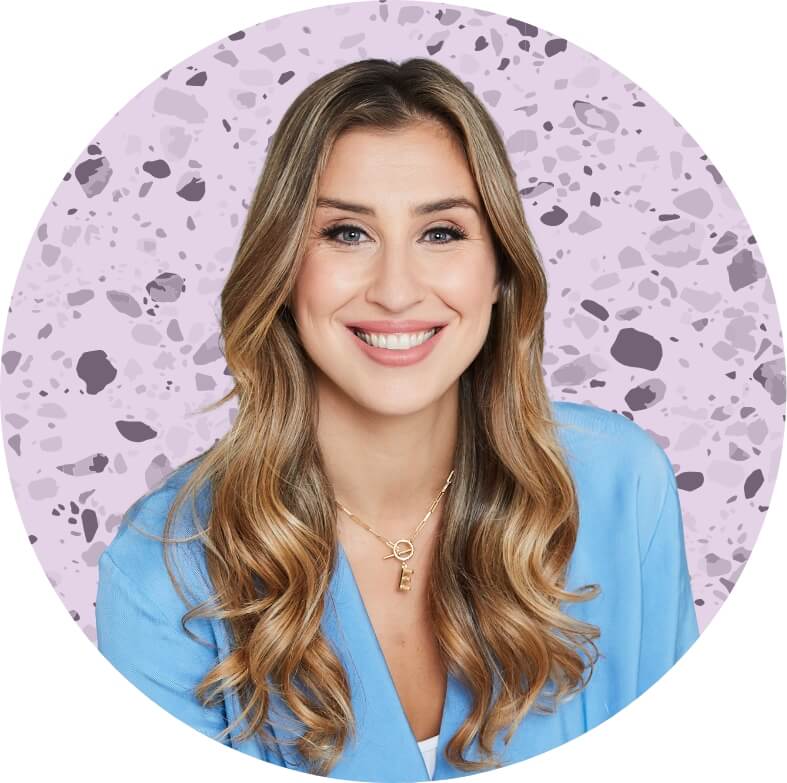 Hi, I'm Elise Darma!
I traded my 9-5 office cardigan for
that 7-figure entrepreneur life. But
I'm no overnight success. I've
experienced burnout, overwhelm
and ghosting Instagram for the
entire month of February 2019. I'm
probably the laziest Instagram
marketer you know, but if you want
to know how to sell more by doing
less – you're in the right place.
watch the free
Instagram Workshop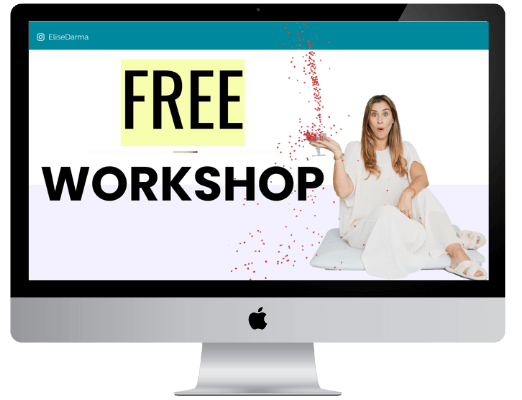 Get a weekly dose of what's
working in my business that you
can implement in yours.