How I used freebies to get over 53,837 leads into my email list
Share this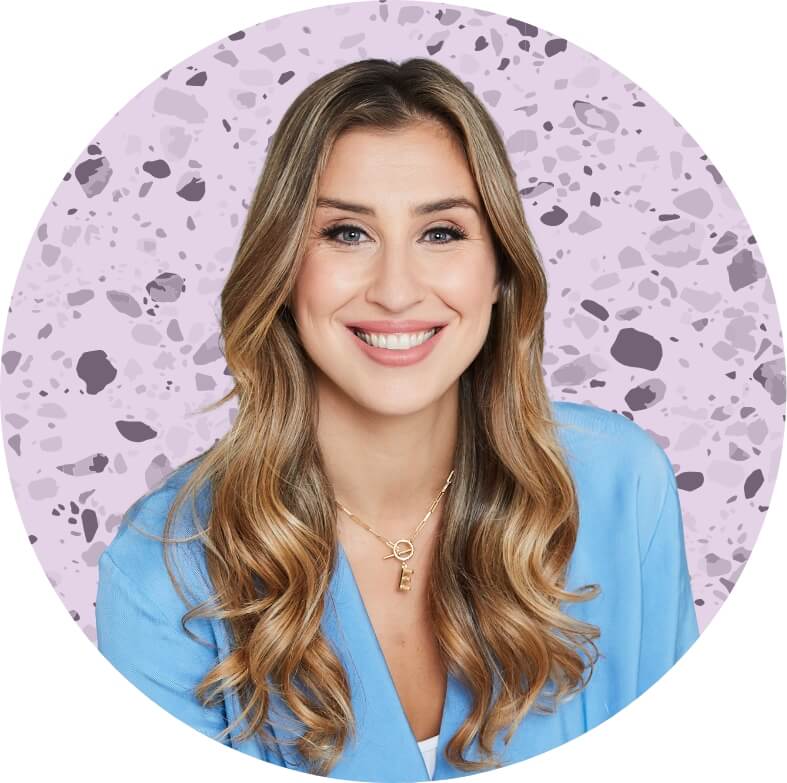 Free stuff sells.
I repeat: free stuff sells.
Yeah, yeah, I know. That doesn't *technically* make sense.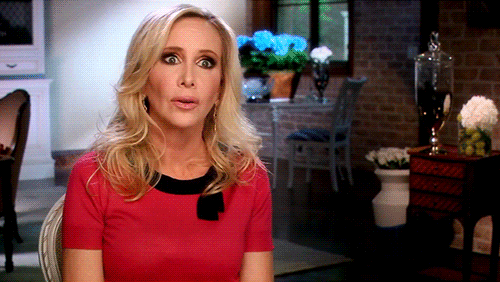 Lemme clarify.
People like free stuff. Especially free stuff on the internet. And to get their hands on that free stuff, people are usually pretty willing to do something in exchange.
Have you ever signed up for a newsletter just so you could get free shipping on, let's say, some cute romper you saw on Instagram?
That's what I'm talking about.
You got the promo code for free shipping. The cute romper seller got permission to email you on the regular — in the hopes of selling you another fabulous one-piece outfit.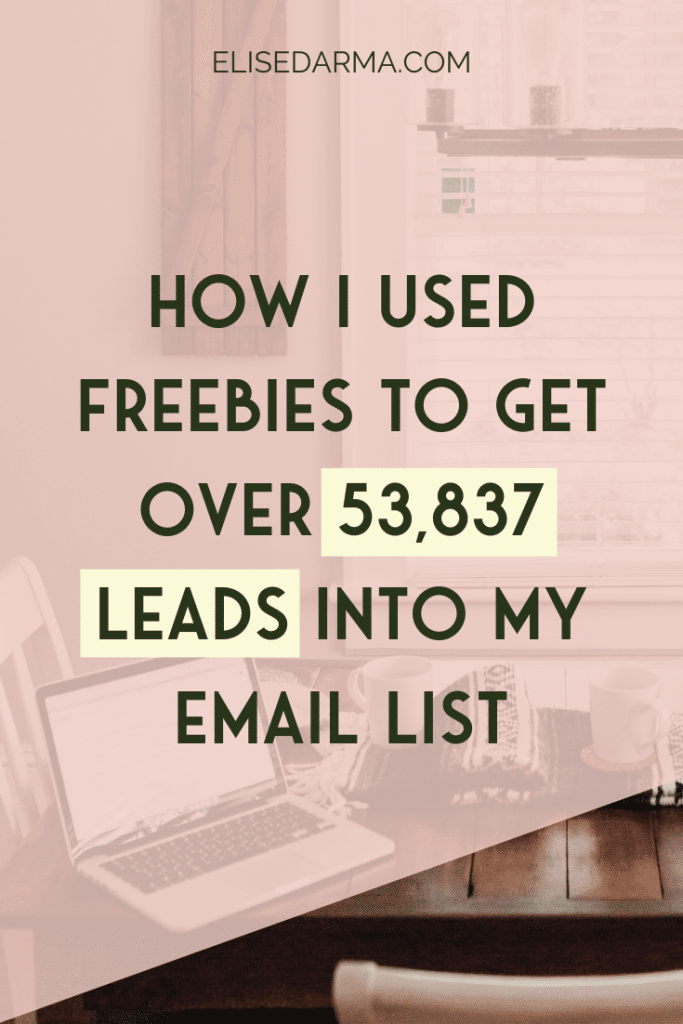 When I say free stuff sells, I mean that giving away something for free helps sell something else down the road.
Welcome to the magical world of freebies (aka content upgrades, lead magnets, or opt-ins)! ✨
Freebies are a powerful way for online business owners, freelancers and entrepreneurs to grow their email lists AND grow their businesses.
I'm a huge fan of freebies.
I've used these babies to generate over 53,837 warm leads for my business, and I strongly (strongly) believe that these magical things should be an essential part of every online entrepreneur's toolkit.
Your own subscriber list will thank you for it! (And you'll thank your subscriber list when it brings in leads and sales. 🙏)
This is your official guide to creating freebies to grow your email list (and your biz).
Wait — back up, what are 'freebies' or 'lead magnets' exactly?
In the online biz world, a freebie generally describes anything you're offering for free, in exchange for something from your audience. That 'something' is usually their email address and permission to send them emails.
Because the internet loves itself some jargon, you might know this whole freebie concept by a different name.
Liiiike, lead magnet or opt-in. Or content upgrade.
Same same.
Why online business owners NEED freebies
I get it. The idea of giving something away for free seems counterintuitive.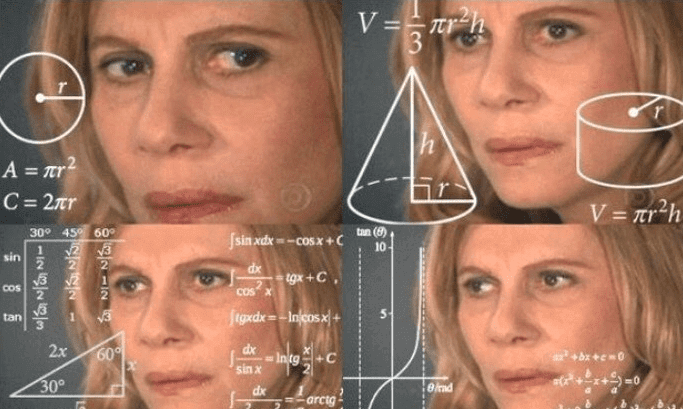 But trust me here: online business owners need opt-in freebies, for these four reasons:
😇 Freebies make you look good. When you give something away for nothing, you look nice. When that something is valuable, you look authoritative and trustworthy. Win-win. Freebies help your audience trust you as an expert in your field.
📈 Freebies drive traffic. You'll promote that freebie all over your socials. But your audience will have to head on over to your website to take advantage. Hello there, website traffic boost.
💌 Freebies grow your email list. An opt-in freebie requires, you know, opting in. Each opt-in is a new subscriber on your email list. And not just any new subscriber, but someone you actually want to target — because your freebie is designed to appeal to your ideal client.
👋 Freebies invite people into your world. Once they've grabbed your free goodie, you're essentially welcoming them into your world; your world of content, of your value, and of your unique expertise. Now it's up to you to show 'em what you've got and how you can help them.
Sold? Thought so.
The different types of freebies you can create
At the start of this guide, I used an example of a romper company giving promo codes for free shipping to new subscribers.
The promo code is just one kind of freebie. There's a whole wide world of freebie types out there. I'm talking…
Workbooks
Quizzes
Checklists
Guides
Calendars
Quick tutorials
Cheatsheets
Templates
Masterclasses
You don't have to stick to just one kind of lead magnet. You can experiment and see what works.
Personally, I have a few different varieties of freebies in my arsenal: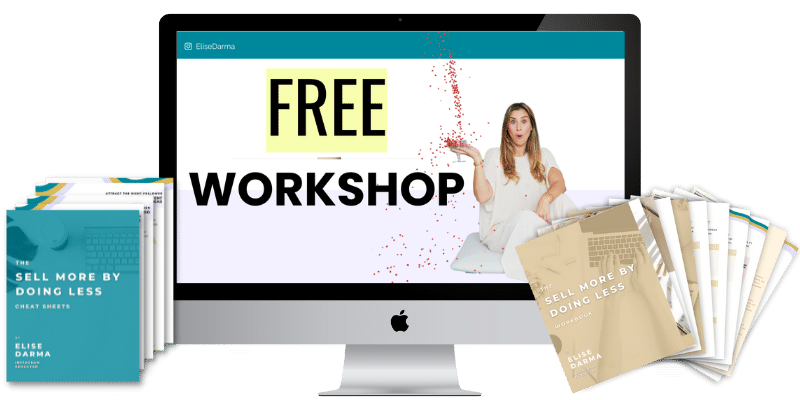 ⬆️ This is my baby, and my star freebie. This free co-working session delivers a few of my top strategies and tips for using Instagram to grow your business.
Over 60,000 people have gone through this masterclass. Amazing, right?
Biggest lesson learned about offering a free class? If you only share value, people want and are excited to be on your email list.
Click HERE to catch this masterclass for yourself.
THE TEMPLATES: 12 FREE Instagram Captions for Business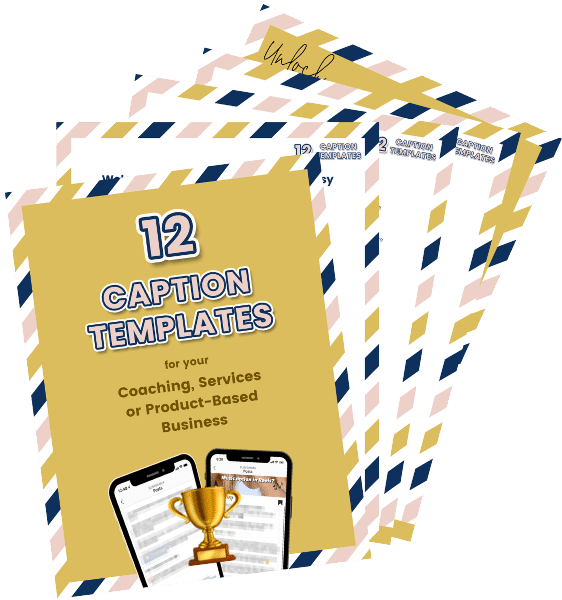 Ah, another pride and joy. I created this download to share free caption templates for service providers, product businesses, and coaches.
I figured I wasn't the only online biz owner who is sometimes at a total loss for something witty and original to say on Instagram. It was a good hunch, because this baby has generated over 8,600 subscribers to my email list. It's the gift that keeps on giving.
Click HERE to grab this free guide.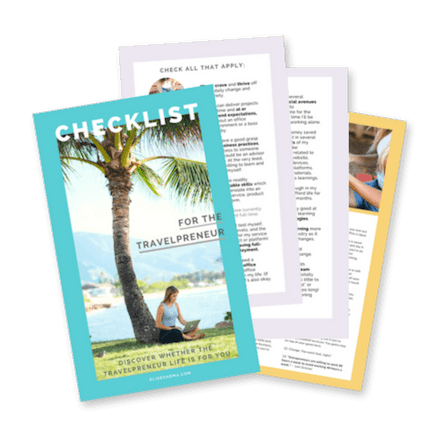 My third highest subscriber-earner is this checklist, which I made as a way for potential travelpreneurs to see if they have what it takes (and what to do if they don't).
This one got me more than 800 new email subscribers.
Click HERE to grab this free checklist.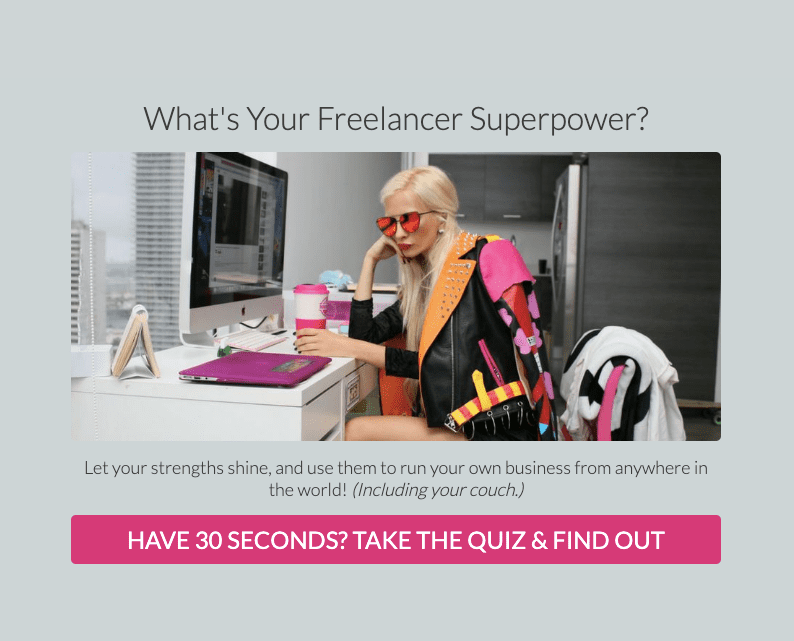 I whipped up this self-discovery test to help my entrepreneurship-curious followers figure out what kind of business they're best suited to run.
Subscribers gained: 200.
Fun had: infinite.
P.S. My favorite tool for making quizzes? The program, Interact!
Click HERE to take this free quiz.
Freebies are a personal thing. What works for my biz won't necessarily be winner-winner-chicken-dinner for yours.
Which brings me to my next point…
How to figure out the best freebie topic for your biz
For a freebie to be successful — AKA, what your target audience is willing and eager to give up their email addresses for — it needs to be two things:
Something your audience finds valuable. Keyword being your. Your freebie has to offer your particular audience something that they can't easily get elsewhere. Namely, your expertise in the form of a guide/webinar/cheatsheet/whatever.
Something related to your biz offering. Your goal is to build up your email list with people who you'd love to become a client or customer. There needs to be a fit. If you offer business coaching, a free guide to the best dog food is probably not going to attract the right leads for your particular biz.
You can probably make a few educated guesses about what your target audience wants. But honestly, the most foolproof way to make an effective freebie is to straight-up ask your existing followers what they want and need.
Instagram Stories is the easiest and best way of asking. Use the Instagram question sticker to ask a Q like "What part of running your online biz do you need help with?"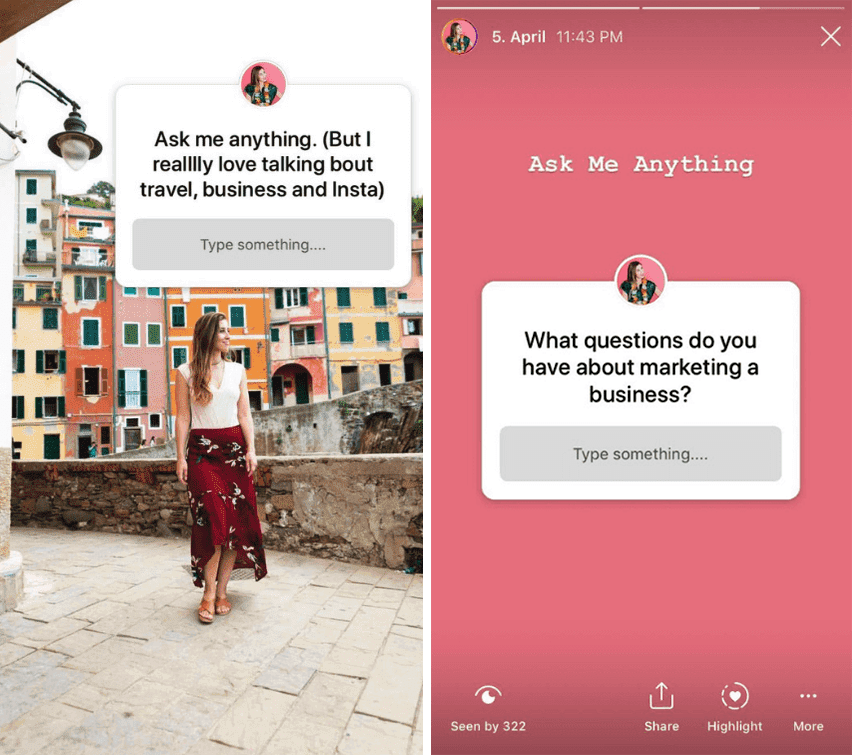 Aside from using your ask-the-audience lifeline, there are a few other ways to get a sense of what topic might make the best freebie for your biz:
Look at your top blog posts. If you've got a couple of posts that are top traffic-earners, even way after their original publication date, chances are those topics would make for a super clickable freebie.
Do some Facebook creeping. In groups, I mean. Pay attention to the most-discussed topics or questions in your own Facebook group or groups that you and your target audience belong to.
Google Trends. This free tool lets you search keywords and check out their performance over a period of time. If you've got a few freebie ideas up your sleeve, use Google Trends to see whether you're tapping into a buzzing topic.
How to create a lead magnet for your biz
I promise that you don't have to have wizard-like graphic design skills to make a cool freebie for your biz.
You just need to use the right tools. 🛠
Apple Pages, Google Docs and Microsoft Word are all legit programs for turning the content you write for your freebie into the final product.
Incorporate your brand colors and fonts, use headings and tables to keep everything neat and tidy, then save it as a PDF.
Personally, I like writing the content for my freebies in Google Docs and then using Canva to make it all fancy.
Canva has all kinds of graphics, images, and templates that you can use to format your content and dress it up. It takes a little bit longer to use, since you have to copy-and-paste everything in, but the huge range of design and formatting options makes it worthwhile.
Check out how I use Canva to make killer Instagram Stories.
Before you click "Publish" on your shiny new freebie, follow this checklist to make sure your content and formatting are good to go:
✔️ Title is catchy and click-worthy
✔️ Features your brand colors, voice and tone
✔️ Includes a brief intro to who you are
✔️ Text is easy to read
✔️ Includes your name, logo and website URL
✔️ Zero spelling mistakes and grammar errors
✔️ Includes a clear call-to-action (CTA) at the end
How to deliver a freebie
You've got your beautiful, value-filled, on-brand PDF. Now what?
Time for the most important step of creating a freebie: delivering it.
Dun dun dun.
Just kidding. It's not that intimidating. Lemme break it down for you into a few easy steps.
Host your freebie. Your freebie has to live somewhere other than your desktop, so that your new subscribers can access it. The easiest solution: upload the PDF to your Google Drive and make sure the sharing permissions are set so that anyone with the link can view and download it.
Create a landing page. This is a dedicated page on your website that's all about your amazing freebie and why your audience should opt in to get it. It has its own descriptive URL and, most importantly, a big, obvious way to sign up. Check out the landing page for my free Instagram for business workshop as an example.
Promote, promote, promote. In your Instagram Stories. On Twitter. In your Facebook group. With a Pinterest pin. And by adding a link and CTA to existing blog posts.
Deliver via email.Once someone successfully signs up for your freebie (🙌), you gotta get the thing into their hands. Each new subscriber should automatically receive a friendly email from you, with a link to download the freebie.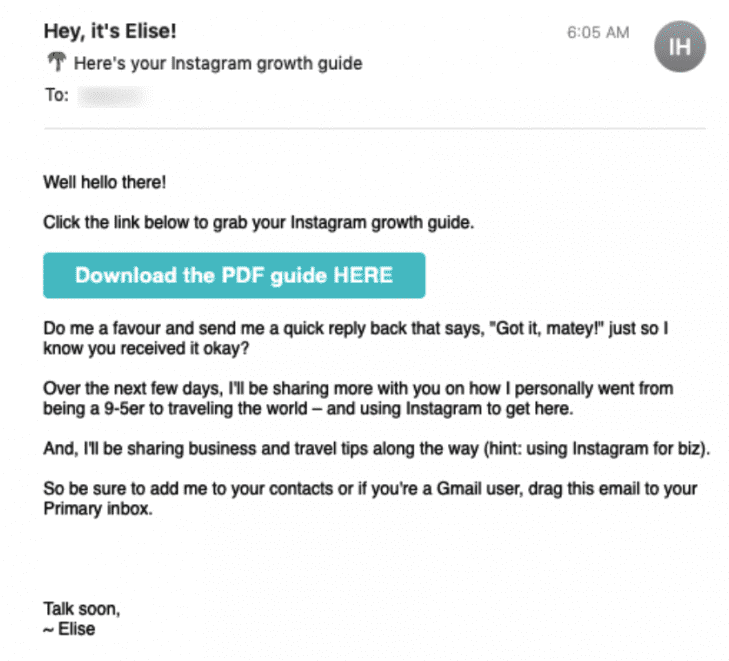 Want some help with getting more people onto your email list? Keep reading; I may just have a special (free!) surprise 🎁 for you below…
---
Sell more by doing less in my free Instagram workshop!
If you loved this blog post and want even more how-to tips on making sales through your Instagram account, join me for my FREE hands-on workshop.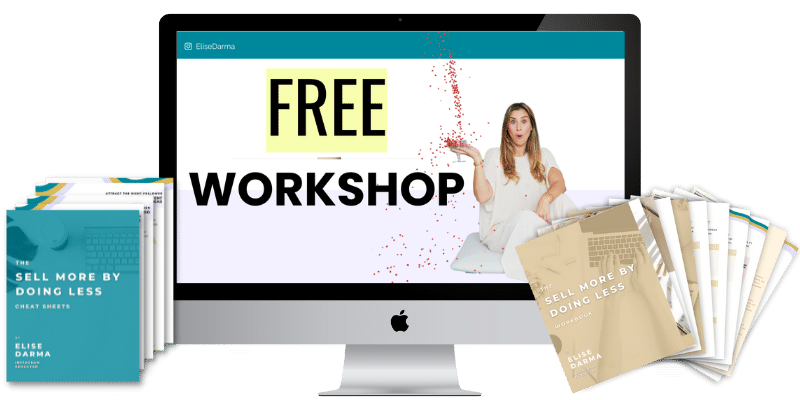 In this ~co-working~ style workshop, we'll check off:
What your best Instagram strategy is – even if you're new in business or are just starting to use Instagram for your business (PLUS, we'll give your profile and bio a total makeover)

What your current season of business is and which features you should focus on to get the most results for your efforts

How to navigate making reels for your business, especially if you feel silly pointing or dancing on camera (PLUS, we'll generate 80 content ideas for your next posts – yes, 80!)

Future-proofing your account for inevitable changes that are coming to Instagram (including an evergreen formula that'll never go out of style)
Join me at this FREE workshop now ⬇️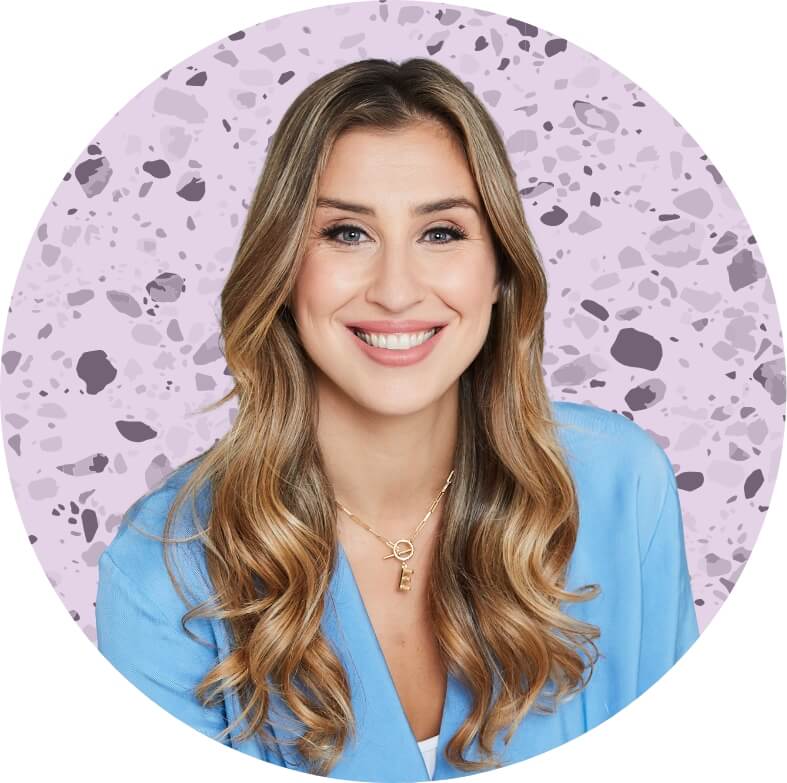 Hi, I'm Elise Darma!
I traded my 9-5 office cardigan for
that 7-figure entrepreneur life. But
I'm no overnight success. I've
experienced burnout, overwhelm
and ghosting Instagram for the
entire month of February 2019. I'm
probably the laziest Instagram
marketer you know, but if you want
to know how to sell more by doing
less – you're in the right place.
watch the free
Instagram Workshop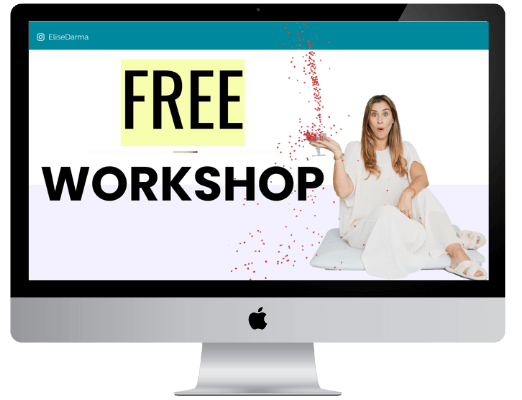 Get a weekly dose of what's
working in my business that you
can implement in yours.