How to use Instagram Stories to grow your business
Share this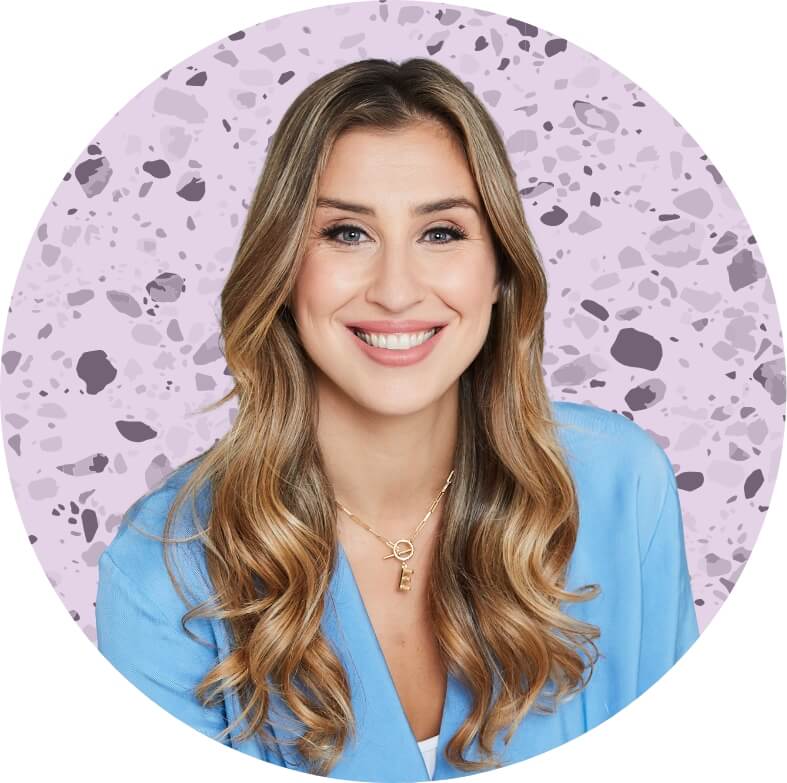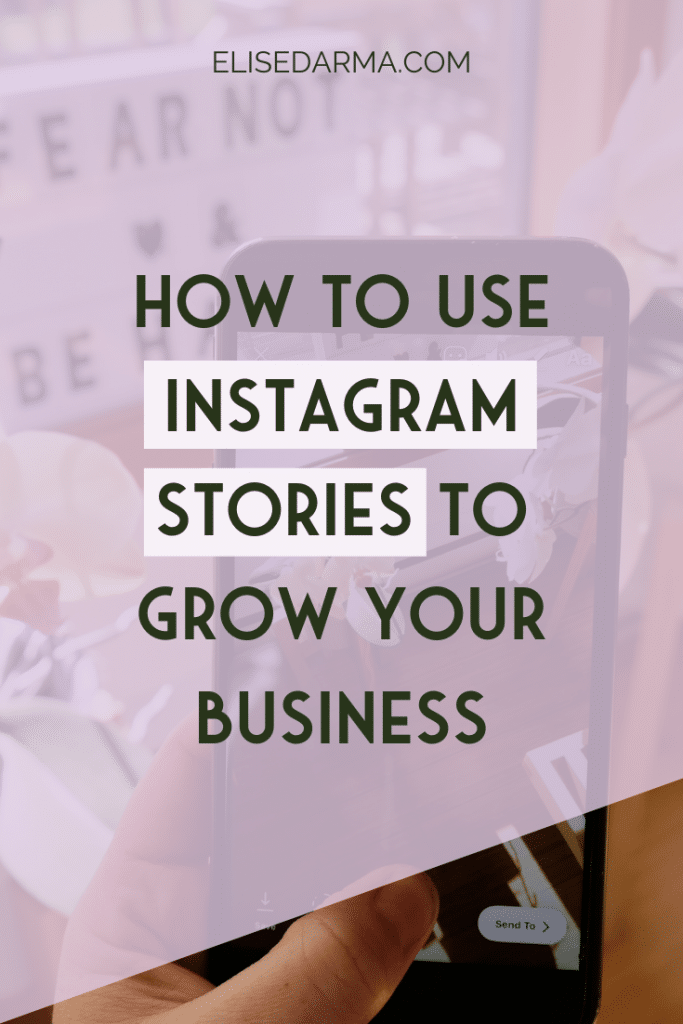 Did you know that more than 500 million people use Instagram Stories every day? Or that for every five Stories shared, business accounts receive *one* direct message?
That's a hot lead reaching out to YOU.
No annoying cold calls or emails required!
If you're not carving out some time in your schedule to use Instagram Stories to grow your business — I hate to say it, but you're missing out.
Instagram Stories are a great way to boost your engagement, build brand awareness, drive traffic to your website and – yes – make some sales.
Not sure where to start? I've got you covered.
Here's how I use Instagram Stories as a business owner and how you can copy my success, step by step.
Instagram is the Reality TV Show of Your Business
Your Instagram feed is the polished, "magazine version" of your brand.
It's a virtual portfolio where you share your best photos and curate your content to attract your ideal customer.
Instagram Stories, on the other hand, is where you get to peel back the layers of that picture-perfect look of your feed.
It's a chance to show your followers the real you — yes, even make-up free, hair running wild, lounging on the couch in your PJs on a Sunday afternoon — and give them a glimpse into the realities of what goes on behind your feed.
By taking five minutes to share something in your Stories, you'll start to create a deep rapport with your audience that'll turn them into loyal and paying customers.
If a follower isn't ready to buy from you today, you want them to think of you as soon as they need your products or services.
Just imagine: who are they going to think of first?
1) An ad in their Facebook feed?
2) Or someone they have been following for a while and trust?
WHAT TO SHARE ON INSTAGRAM STORIES
Here are some ideas of what you can share with your followers:
1. Behind the Scenes of Your Business
Take them into the day-to-day activities of running your business.
You can share your unique tips on how you stay organized or how you manage to keep your remote team happy and motivated.
2. Sneak Peeks of New Products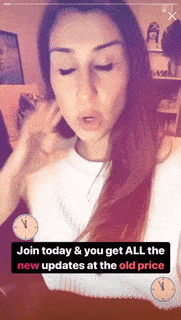 It's a great way to tease new services or products and get people hyped before the launch.
When you are ready to share your new project with the world, there will already be demand, making it easy to sell and hit your targets (believe me on this one!).
Above, you can see one of my Instagram Stories teasing a revamp of my signature Instagram course, Social Bank.
3. Your Journey
Use your Instagram Stories to show people the journey of your business. Whether it's the challenges you come across your way or fun wins like signing on a new client, it makes your brand much, much more relatable.
4. Real Talks
Don't be afraid to get real with your audience.
If you need to vent, pick up your phone and ask your followers for advice. It helps you come across as vulnerable, shows your audience that you're human just like them and that you don't have all of the answers.
People may like or briefly admire those that have it all together and have picture-perfect lives, but people love and remain loyal to those that are three-dimensional, those that share both the good and the bad, and those that are genuine, honest and unique.
Instagram Story Tips for Business Owners
Here are my top tips for preparing and sharing Instagram Stories. Whether you're a personal brand or an e-commerce business, you can use the same process to start telling a more compelling (and profitable) story.
1. SHARE CONSISTENTLY
Ideally, you want to share an Instagram Story in the morning, afternoon and evening.
By spacing out your Stories, you'll stay at the top of your followers' feed throughout the entire day.
This will result in higher engagement, more eyes on your content and if done right, a few DMs in your inbox. 📫
2. SET UP CONTEXT
One of the biggest mistakes I see online business owners make on Instagram Stories is that they share something with zero context.
The follower doesn't know why they should care or what they should do with the information, and end up exiting the Story.
If you want to keep your audience engaged, you need to set up your Stories in a way that introduces what you're about to share.

Follow this step-by-step framework each time you post:
Step 1: Introduce what you're about to share with your followers.
Step 2: Share all the content related to the story.
Step 3: End with a call-to-action (CTA) like a question or a poll.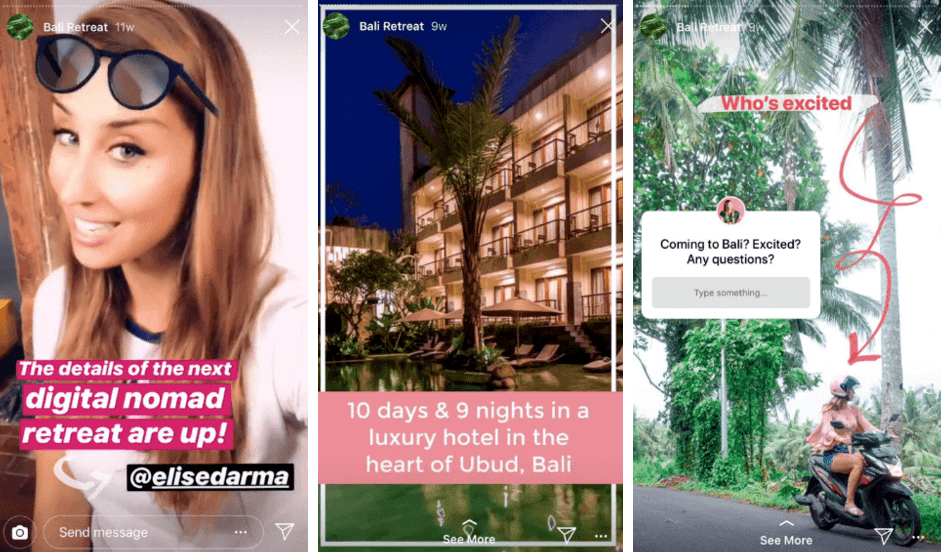 Step 1: I introduced what I would be sharing about.
Step 2: I shared all the retreat information.
Step 3: I ended with a CTA asking those who had questions to DM me.
Instagram loves it when people are inspired to take action after watching your Stories.
By encouraging people to DM you or answer a question, you'll boost the chances of more people seeing your Story at the top of their feed.
3. KEEP IT RAW AND REAL
Not all of your Instagram Stories have to be related to your business.
Instead, keep it raw and real to create a solid bond with your audience that surpasses just 'business talk.'
Think of it this way: you wouldn't really enjoy hanging out with a friend who was always talking about their business and sales, would you? So why would a follower enjoy listening only to business talk?
Solution? Mix it up a little!
For example, I'll often start my day with an IG Story of me sippin' on my morning cup of joe and sharing some early morning ramblings.
Next, I'll keep my followers in the loop with what's going on in my life by sharing a quick vid of my gym activities (or lack thereof, hehe 😛).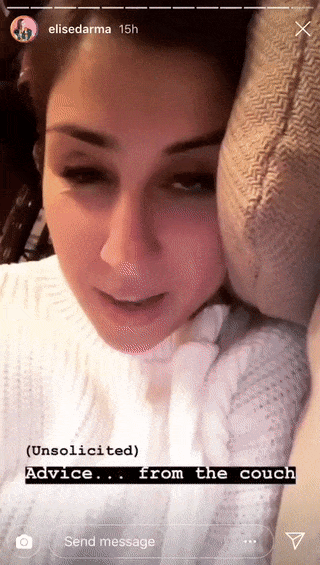 For my last Story of the day, I'll share something interesting that's happened – whether it's burning my hand by accident or talking about some questionable comments I got on one of my Instagram ads.
(Both true stories, by the way. Follow me on Instagram to keep up to date with all the adventures that come along with being Elise.)
I also always share about my entrepreneurial journey, both the ups and the downs that happen on a day-to-day basis.
Instagram Story Topic Ideas for Business Owners
Drawing a blank on what to post? Here are some Instagram Story ideas you can use to keep your account active and poppin':
1. GO ON A RANT
You don't need to pick up your phone and yell at the screen, but don't feel scared to have a strong opinion on a topic. Use Instagram Stories to call out your industry on things you don't agree with.
While some people will love what you have to say, there will be others who don't. However, don't let that reaction discourage you. It's much better to stand for something and be remembered for it — even if people disagree with you.
2. BE TRANSPARENT
When was the last time you got real with your audience on what it's actually like to run a business? One of my favorite ways to do this is by sharing my income reports on a monthly basis.
I want to share the reality of being an online entrepreneur and that it's not all about sipping on cocktails on a beach in Bali.
Set aside some time to brainstorm ideas that you can share.
It doesn't have to be the nitty gritty financial stuff, but maybe it's a new marketing tactic you tried out that got you some new leads.
3. SHOW YOUR REAL LIFE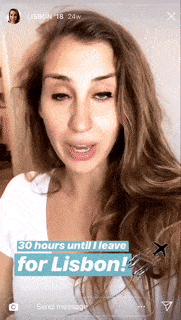 People like doing business with real people.
Let your followers see that you're just like them by sharing snippets of your unfiltered and unedited personal life.
Let your hair run wild and free as it normally does; there's no need to look flawless and super polished for Instagram Stories. (No one can relate to that, anyway!) 😬 👉
Feel free to share totally casual content as well! It can be simple stuff like going to the movies with friends, meeting up for drinks with your family or taking your super adorable little dog to the park.
(I think a lot of us would be very happy to see more dogs in our Instagram Stories feed. 🐶)
4. GIVE YOUR FOLLOWERS ACCESS TO THINGS THEY DON'T HAVE
As a business owner, you'll get to attend conferences and events, but most of your followers won't be there.
Take them along for the ride by sharing interesting snippets from talks, your meetings with industry thought leaders, or your own thoughts on top industry trends.
If you're meeting up with another business owner for coffee – let your followers know, too! Ask them to send in questions and use the time to create a meaningful conversation.
---
Free, hands-on workshop – you and me. Meet ya there?
If you loved this blog post and want even more how-to tips on making sales through your Instagram account, join me for my FREE hands-on workshop.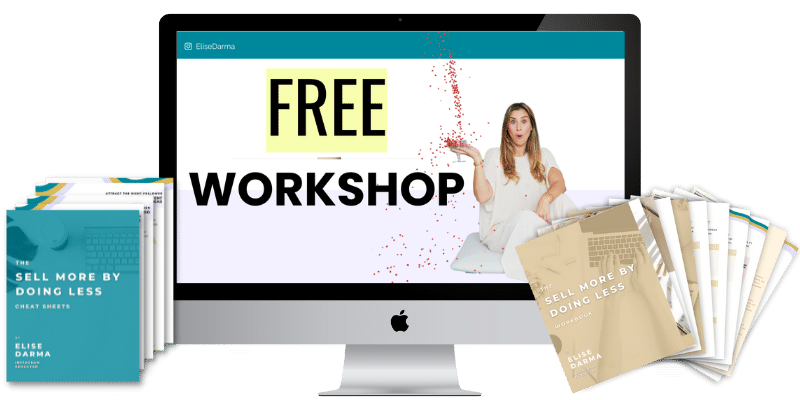 In this ~co-working~ style workshop, we'll check off:
What your best Instagram strategy is – even if you're new in business or are just starting to use Instagram for your business (PLUS, we'll give your profile and bio a total makeover)

What your current season of business is and which features you should focus on to get the most results for your efforts

How to navigate making reels for your business, especially if you feel silly pointing or dancing on camera (PLUS, we'll generate 80 content ideas for your next posts – yes, 80!)

Future-proofing your account for inevitable changes that are coming to Instagram (including an evergreen formula that'll never go out of style)
Join me at this FREE workshop now ⬇️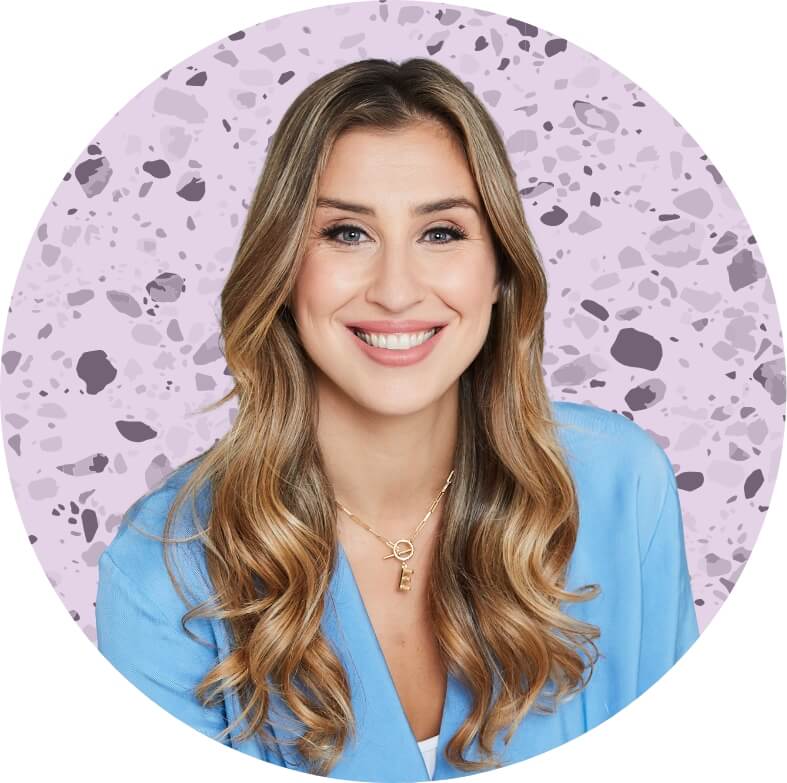 Hi, I'm Elise Darma!
I traded my 9-5 office cardigan for
that 7-figure entrepreneur life. But
I'm no overnight success. I've
experienced burnout, overwhelm
and ghosting Instagram for the
entire month of February 2019. I'm
probably the laziest Instagram
marketer you know, but if you want
to know how to sell more by doing
less – you're in the right place.
watch the free
Instagram Workshop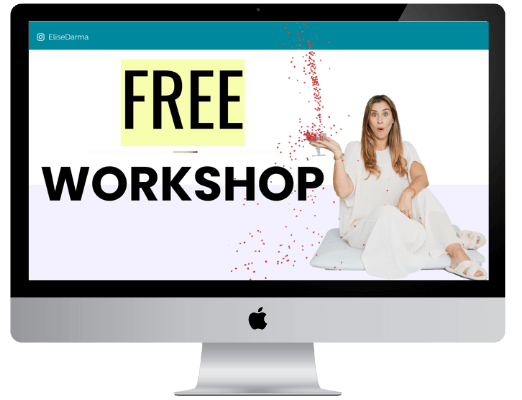 Get a weekly dose of what's
working in my business that you
can implement in yours.