5 tiny niches you could dominate on Instagram
Share this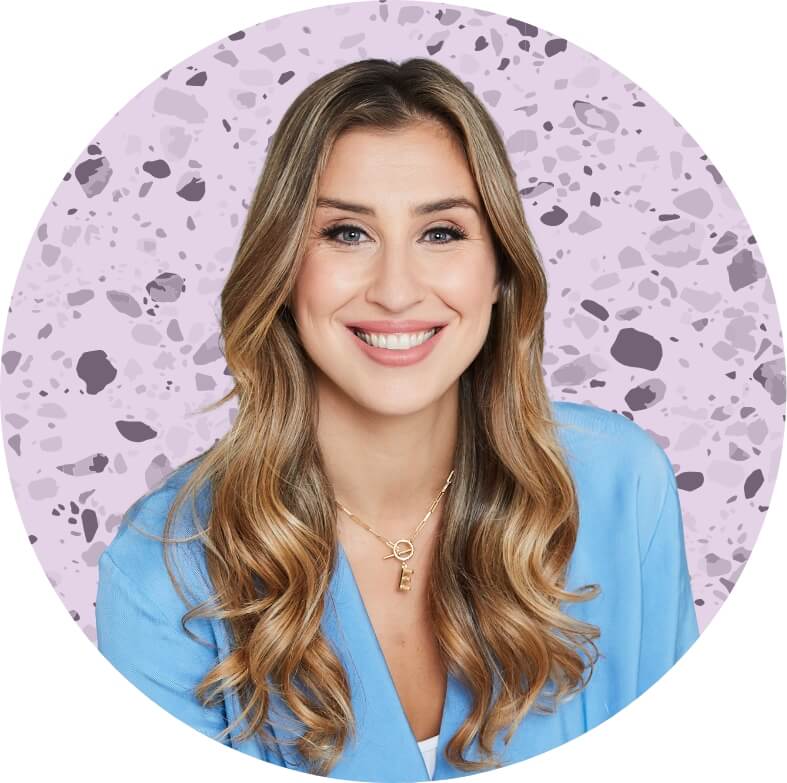 Are you the type of person that's into really obscure fandoms?
Do you geek out over things that leave most people scratching their heads?
You can turn your passion into a profitable Instagram account.
You might feel like the big niches on Instagram are already oversaturated, and there's no room for your growth.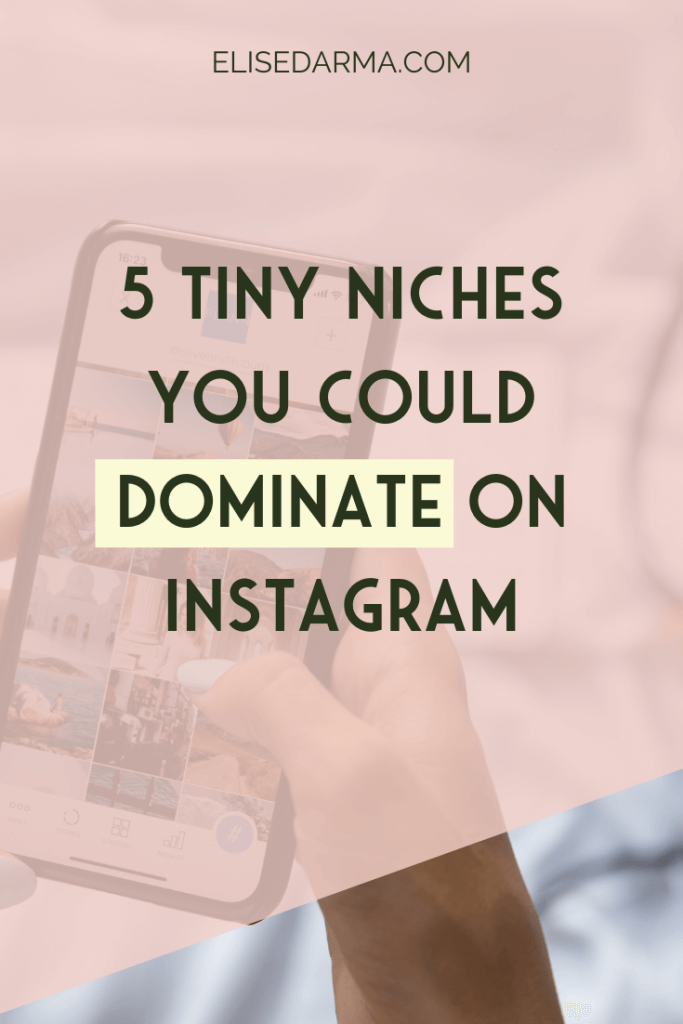 Well, you don't need to be a travel blogger, fitness instructor or makeup artist to build a community and make a living off of Instagram.
Even the smallest niches can bring home some extra cash on the side.
Plus, the tiny niches on Instagram have the most untapped potential.
While they might not amass followings of 100K+, these tiny niches can be highly potent with fans and highly profitable.
Read on to discover five tiny Instagram niches that you can still dominate, and how you can tap into my Insta secrets for free.
1. Big Data Niche
Think Instagram is just a place for picture-perfect selfies?
Lillian, who runs @bigdatagal and is one of my Social Bank (formerly InstaGrowth Boss) students, has proven that an atypical niche on Instagram can grow to almost 70K+ followers.
Plus, be very profitable.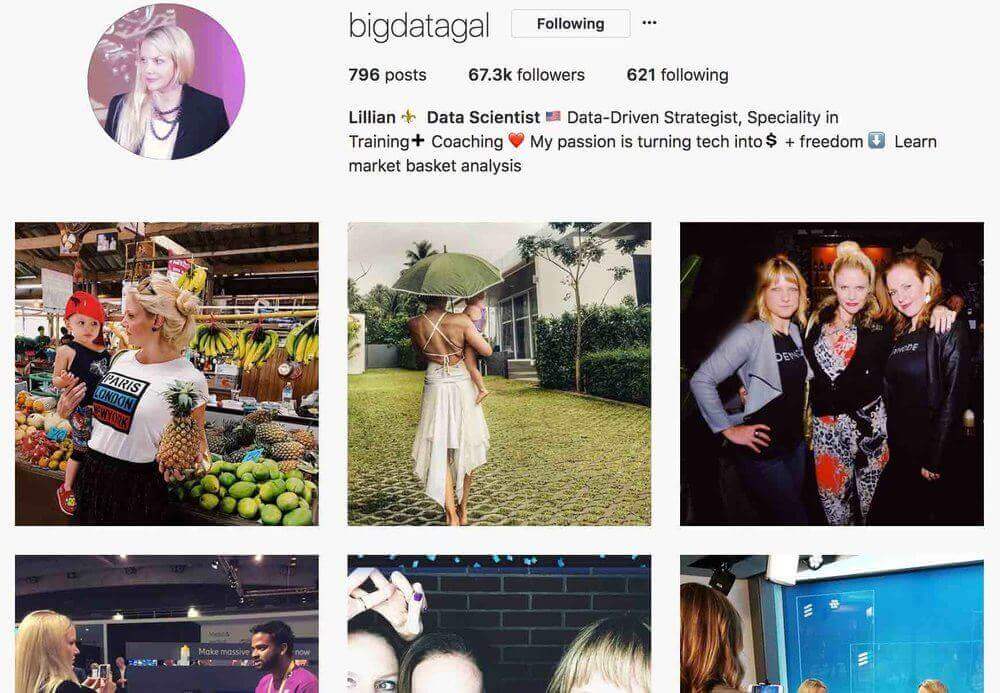 So far, Lillian has received a feature in Glamour Magazine, booked in paying clients, and has locked in several paid brand deals – all from her growing Instagram account.
Her niche? Big data.
Big what?
"Big data is an evolving term that describes any voluminous amount of structured, semistructured and unstructured data that has the potential to be mined for information." Source.
In a niche that most people have never heard of, Lillian gets over 2,000 likes per photo and almost 100 comments.
That's AUTHENTIC engagement, my friend.
You don't need to follow the trends and aim to grow an account in a niche that isn't your passion.
Instagram can help you find your ideal customer – even if that person is in a tiny, specialized niche.
2. Search Engine Optimization (SEO) Niche
Everyone wants to be on the front page of Google.
Is your superpower helping others win that coveted #1 spot?
Then Instagram can help you find clients who are in need of a search results boost.
Claire from @conqueryourcontent does just that, and it's helped her client-based business attract new bookings.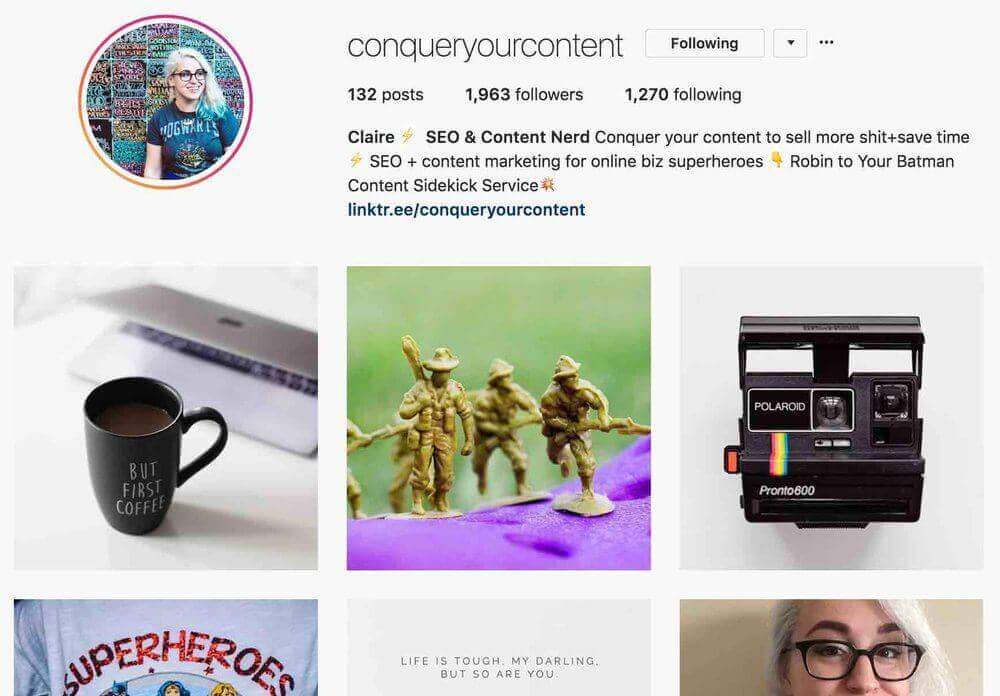 She doesn't have a following of over 10K, but that doesn't mean that what she's doing isn't working.
At the end of the day, as long as you're getting quality leads and converting them into PAYING clients, you don't need 100,000+ social media lurkers who do nothing to help you reach your business goals. 🏆
3. Copywriting Niche
Do you know how to give copy – A.K.A. written words – some damn personality?
Take a page out of Laura Belgray's (@talkingshrimpnyc) book, and use your way with words to get rid of boring copy on the Internet – one client at a time.
Laura uses my favourite Instagram grid technique: the checkerboard pattern.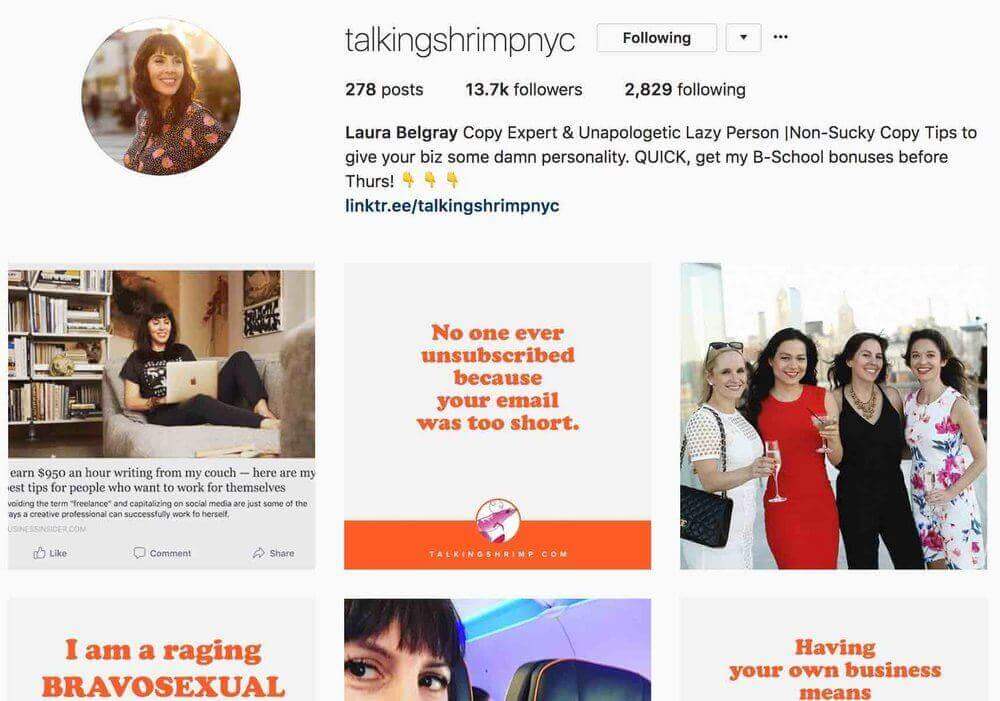 She shares funny, inspiring and motivating quotes, alongside photos of her kicking butt in real life.
As a fellow copywriter, I can confirm that not too many people are wooing followers with their words in their bio, calls-to-action, and captions.
I mean, just check out Laura's link and see how long you can resist clicking on one of her compelling headlines.
There's a reason she's amassed 13K+ followers – in a tiny, untapped niche.
There is power (and profits) in words, and if copywriting is your superpower, you should be on Instagram to meet even more potential clients.
4. Disney Niche
Okay, I know what you must be thinking:
"Disney? Elise, I just got onto your small niche train, but I wasn't expecting this turn to Crazyville. How the heck can you make money from a Disney-themed account?!"
Kait Killbrew is one of my favourite examples of how to make a profitable Instagram account around one of your obscure obsessions.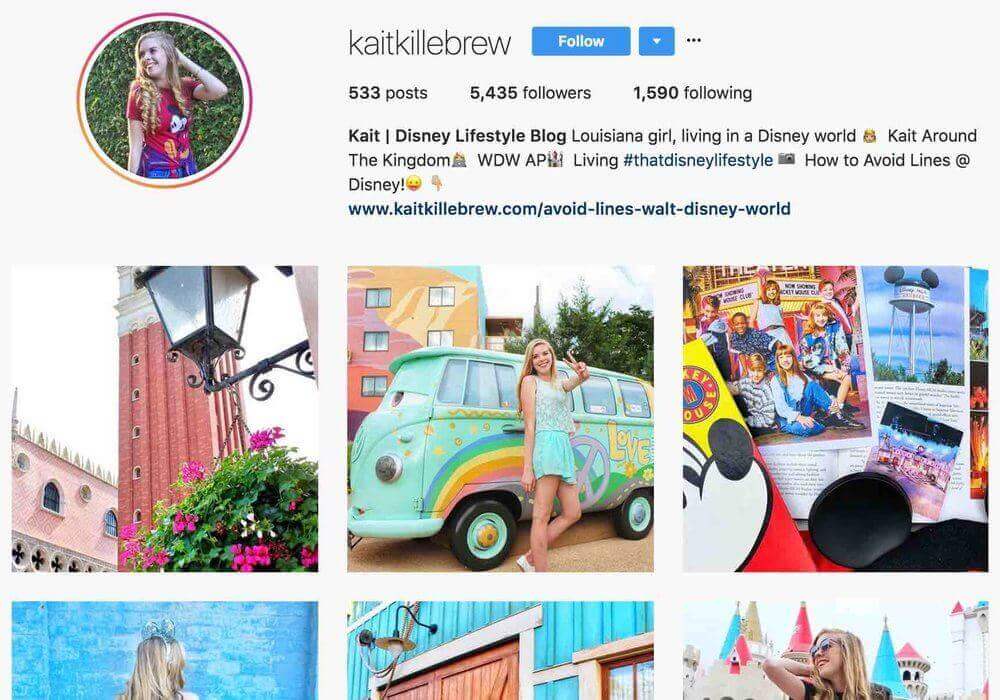 Instead of starting another broadly-themed travel or lifestyle blog, Kait decided to focus all her energy on creating a community around Disney.
And it's paid off!

Brands who sell products related to Disney have worked with Kait because they know her audience will be super responsive to what they are offering.
Kait is essentially a marketer's dream, and she's crushing the tiny Instagram niche method.
5. Skin Health Niche
If you follow the beauty niche on Instagram, you've probably heard about Kadeeja Khan, A.K.A. @emeraldxbeauty.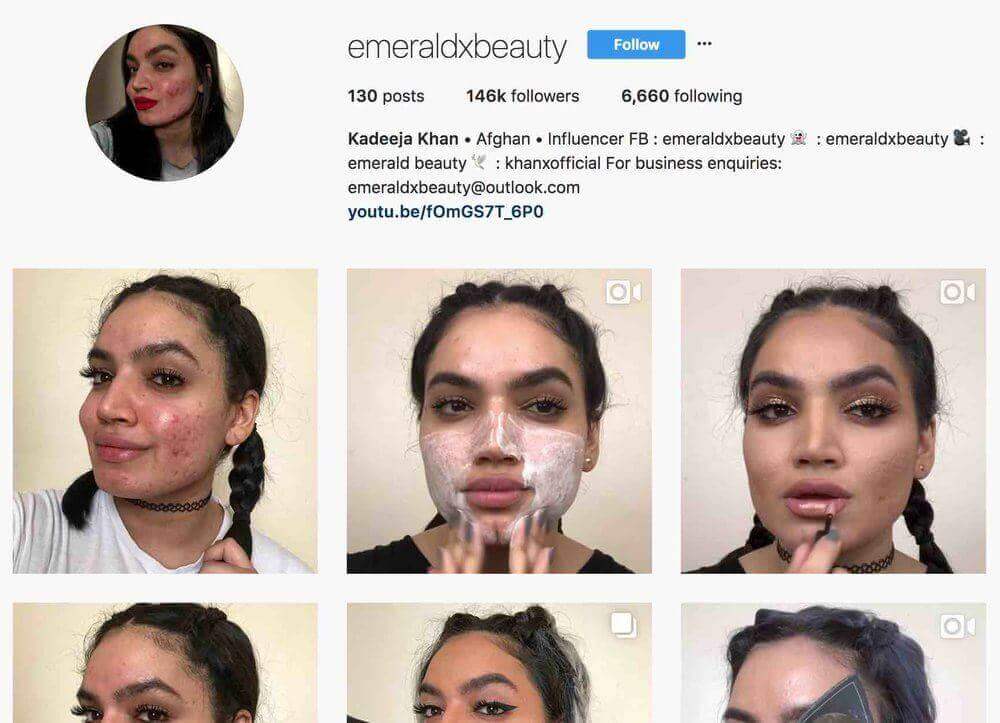 Kadeeja's Instagram skyrocketed to over 100K followers when it was revealed that a popular cosmetics brand asked her to a brand ambassador – and then promptly dropped her from the campaign due to her skin issues.
Since then, her followers have rallied around her saying that her content shows them how to look beautiful and feel confident, all while healing their acne.
Most teenagers and adults suffer from skin problems, and learning makeup or skincare tips that hide or heal those bumps is a major selling point for followers and beauty-related brands.
Her account shows that you don't need to fit a typical mould to be a successful influencer.
Think about what niche health angle you could cultivate a following around.
Maybe you're really into nootropics, cordyceps coffee, or the ketogenic diet.
Whatever it is, go deep into that tiny niche and start creating content that people (and brands) will love you for.
How To Find Niche Instagram Topics
None of these topics screaming "PICK ME"?
Hop onto Google Trends.
It's one of my favourite tools to dig deeper and find small niches that are on the rise.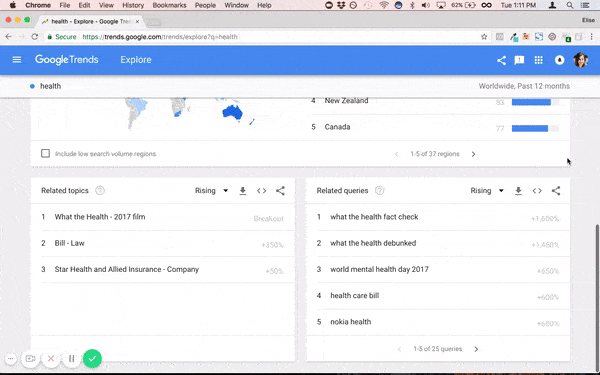 Start with a broad search and then zero in until you have a niche that is specific, one of your interests, and that people are searching for.
---
Sell more by doing less in my free Instagram workshop!
If you loved this blog post and want even more how-to tips on making sales through your Instagram account, join me for my FREE hands-on workshop.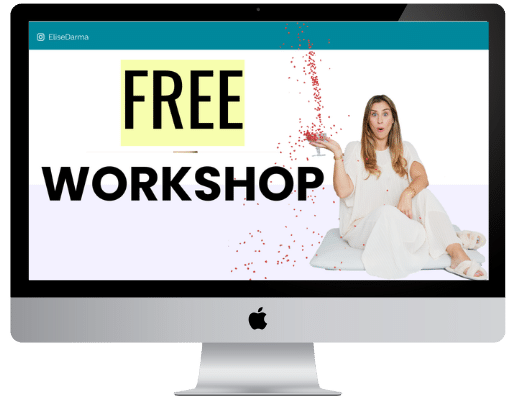 In this ~co-working~ style workshop, we'll check off:
What your best Instagram strategy is – even if you're new in business or are just starting to use Instagram for your business (PLUS, we'll give your profile and bio a total makeover)
What your current season of business is and which features you should focus on to get the most results for your efforts
How to navigate making reels for your business, especially if you feel silly pointing or dancing on camera (PLUS, we'll generate 80 content ideas for your next posts – yes, 80!)
Future-proofing your account for inevitable changes that are coming to Instagram (including an evergreen formula that'll never go out of style)
Join me at this FREE workshop now ⬇️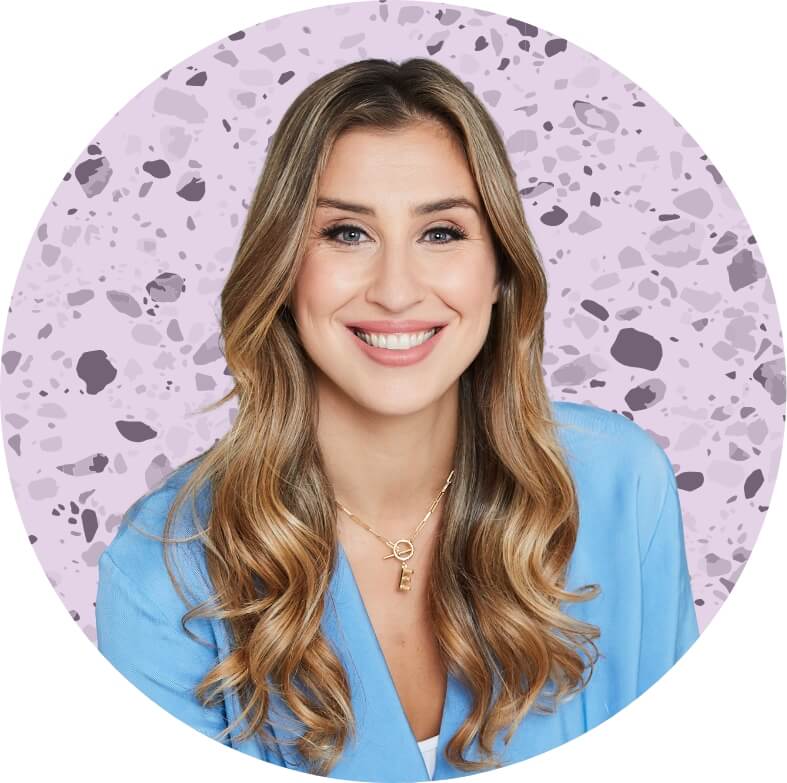 Hi, I'm Elise Darma!
I traded my 9-5 office cardigan for
that 7-figure entrepreneur life. But
I'm no overnight success. I've
experienced burnout, overwhelm
and ghosting Instagram for the
entire month of February 2019. I'm
probably the laziest Instagram
marketer you know, but if you want
to know how to sell more by doing
less – you're in the right place.
watch the free
Instagram Workshop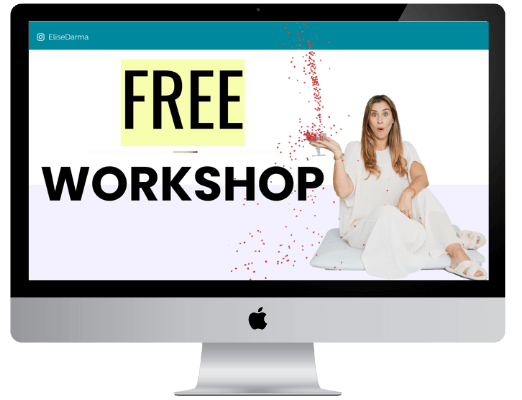 Get a weekly dose of what's
working in my business that you
can implement in yours.