Instagram Story analytics: how to analyze your performance like a pro
Share this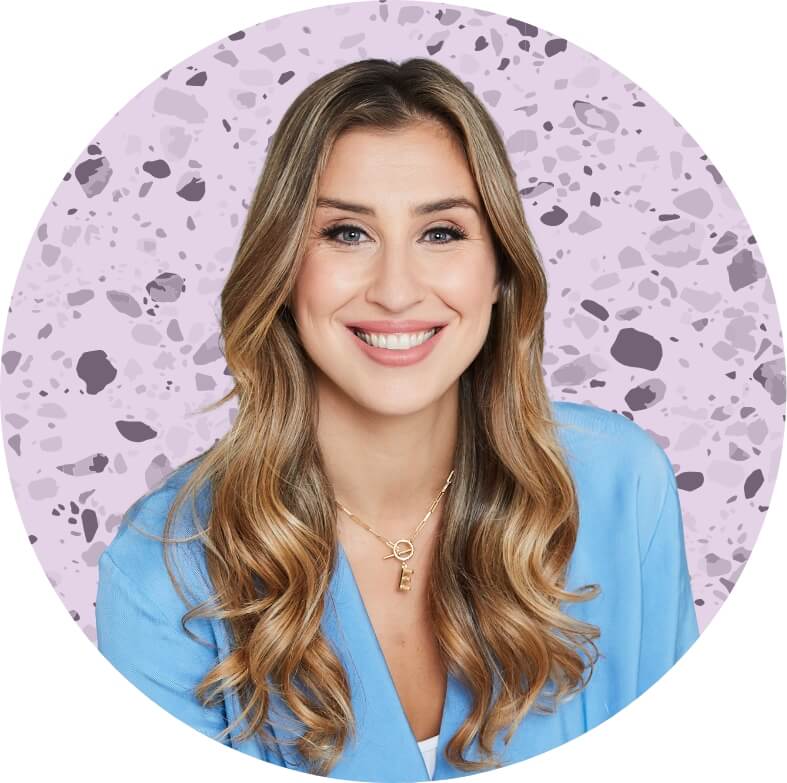 500 million people use Instagram Stories every day.
Let that sink in.
The entire population of the United States (plus some) is logging into the 'gram and tapping on Stories from their friends, celebrities AND businesses.
It's a golden opportunity to attract your ideal customer and start making sales.
And it won't cost you a cent.
(Unlike on Facebook, where your reach is limited to the size of your pockets. Yeah, Instagram is the real MVP.)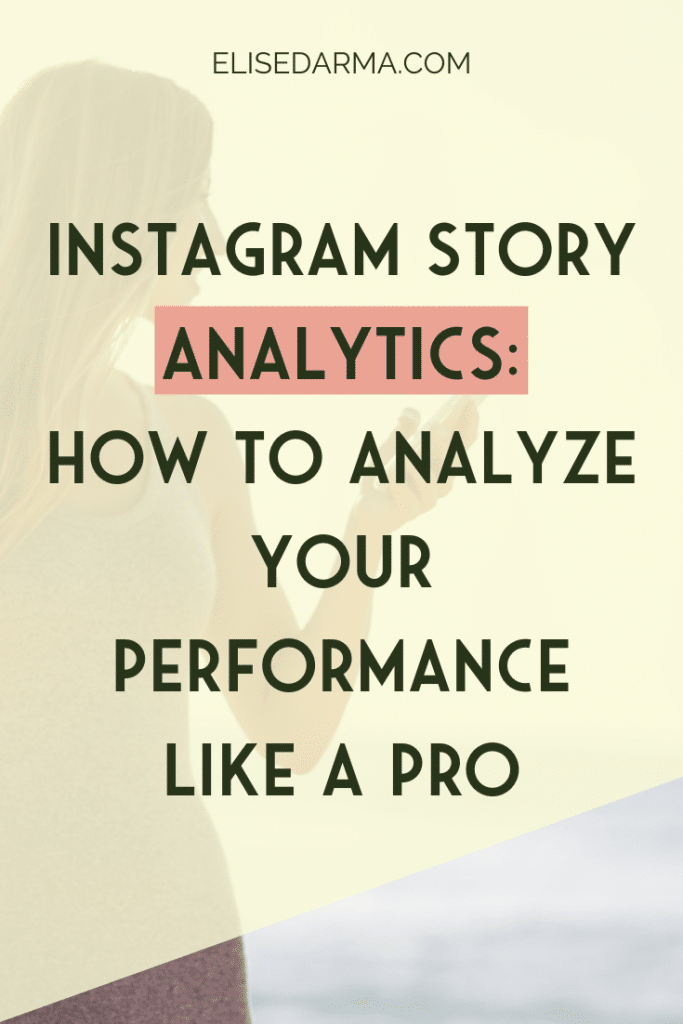 Instagram Stories is one of the best ways to grow your account, engage your followers and boost your business's bottom line.
But before you can start making it rain with dolla' dolla' bills, you need a solid Instagram Stories strategy.
Not sure where to start? The answer lies in your analytics.
I know numbers aren't the most exciting part of Instagram, but reviewing your efforts will pay off.
By carving out time each week to drill down into your performance, you'll have a clear idea of what's working and what has to go.
Here's everything you need to know about Instagram Stories analytics so you can craft a winning strategy.
Where to Find Your Instagram Stories Analytics
If you want to tap into the power of Instagram Stories analytics, you'll need to switch to a business account.
I know there are a lot of rumors out there that doing so will hurt your reach, but there is no actual proof that this happens.
And Instagram confirmed that there is zero impact on biz accounts.
If you're still concerned, here are two questions to ask yourself:
Would you rather suffer a slight drop in engagement (worst case scenario) and in return, receive juicy details on your audience that can skyrocket your growth and sales?
Or would you prefer to keep using guesswork when it comes to understanding what your followers really want?
Once you've made the switch, you'll be able to find your Instagram Stories analytics in two places.
1. THE INSIGHTS BUTTON
Go to your profile page and tap on the Insights button at the top right corner. Tap on the Content tab, and you'll see data for your Instagram Stories from the past 14 days and data on your regular Instagram posts from the last year.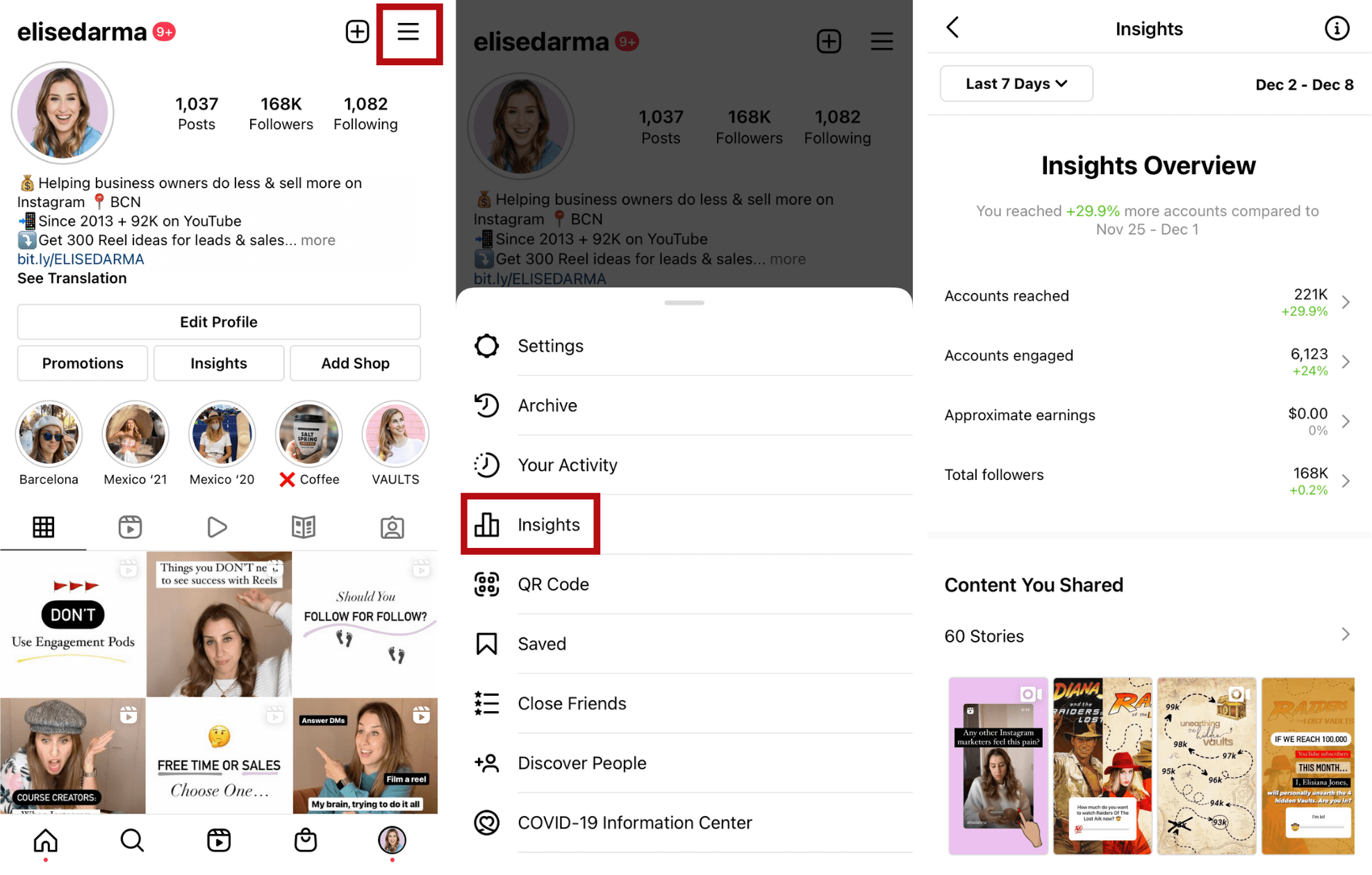 2. INSIDE YOUR STORIES
If you want a more in-depth look at what makes your audience tick, open up a story before it vanishes and swipe up for its insights. It's here where you'll find the Instagram Stories analytics that will help shape your strategy.
Pro tip: Did you miss checking out your Story's insights before it vanished? No worries!
Tap on the Archive button (located in the upper-left corner of your profile page) and view all your saved Stories.
Swipe up on any one of your saved Stories to see its data.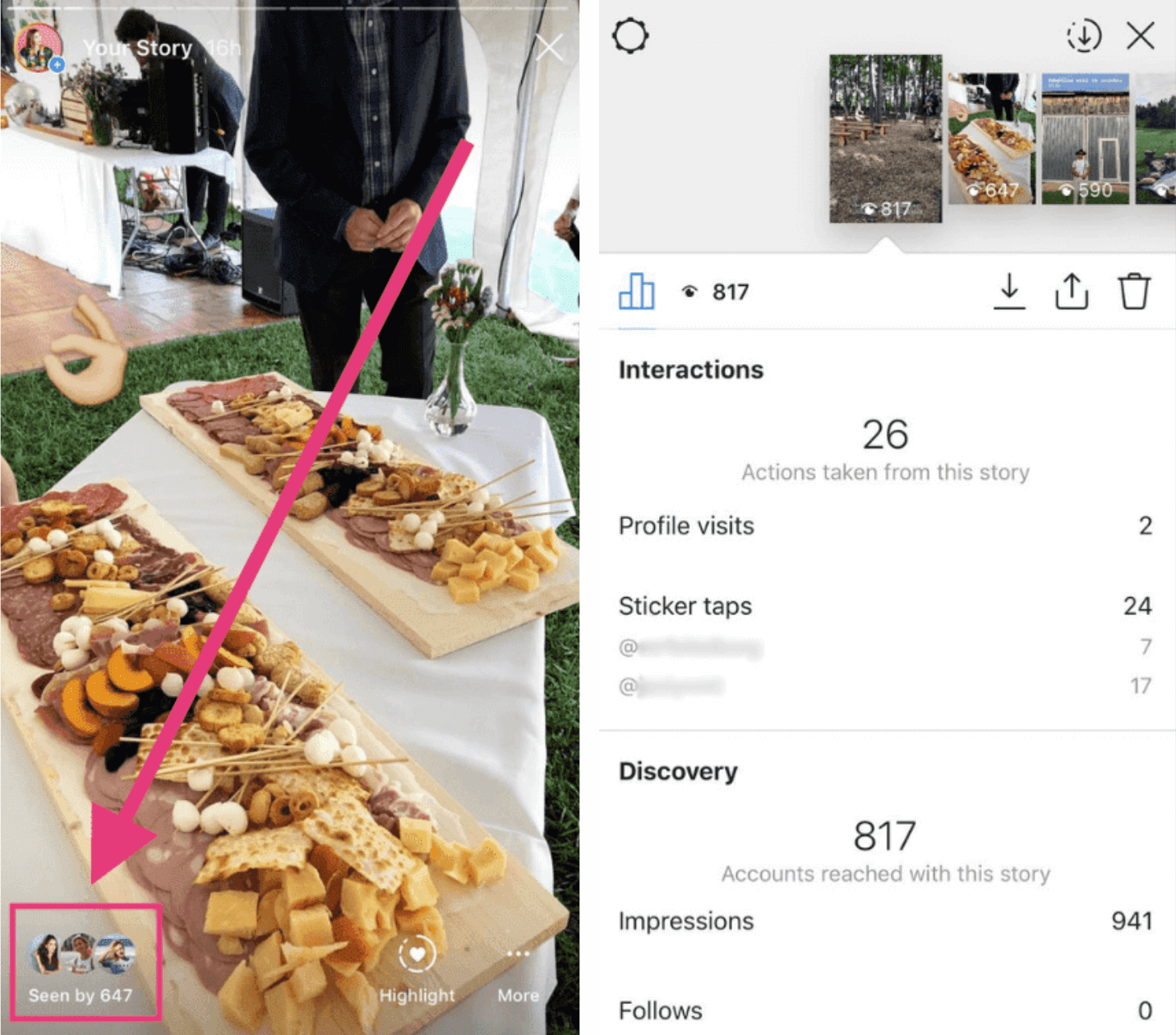 What Do Your Instagram Stories Analytics Mean?
Have you ever opened up your Google Analytics account for your website and felt completely overwhelmed by the amount of information available?
Luckily, Instagram isn't as complicated, but that doesn't mean their analytics lack a punch.
Here's a quick rundown on what the metrics mean and how you can use them to your advantage.
IMPRESSIONS
Impressions are the total number of views for that particular story.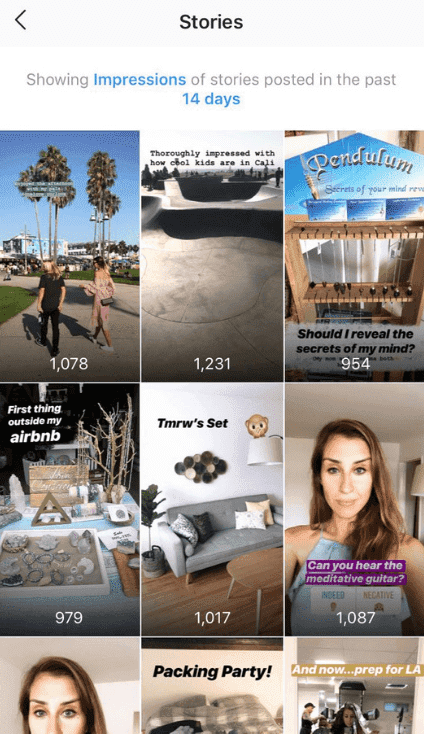 This metric will tell you if someone has watched your Instagram Story multiple times.
It's a good indicator to see if your audience is finding your content valuable and engaging.
REACH
Reach is the number of unique accounts that have viewed each story. This data tells you how many individuals are watching each piece of content you upload.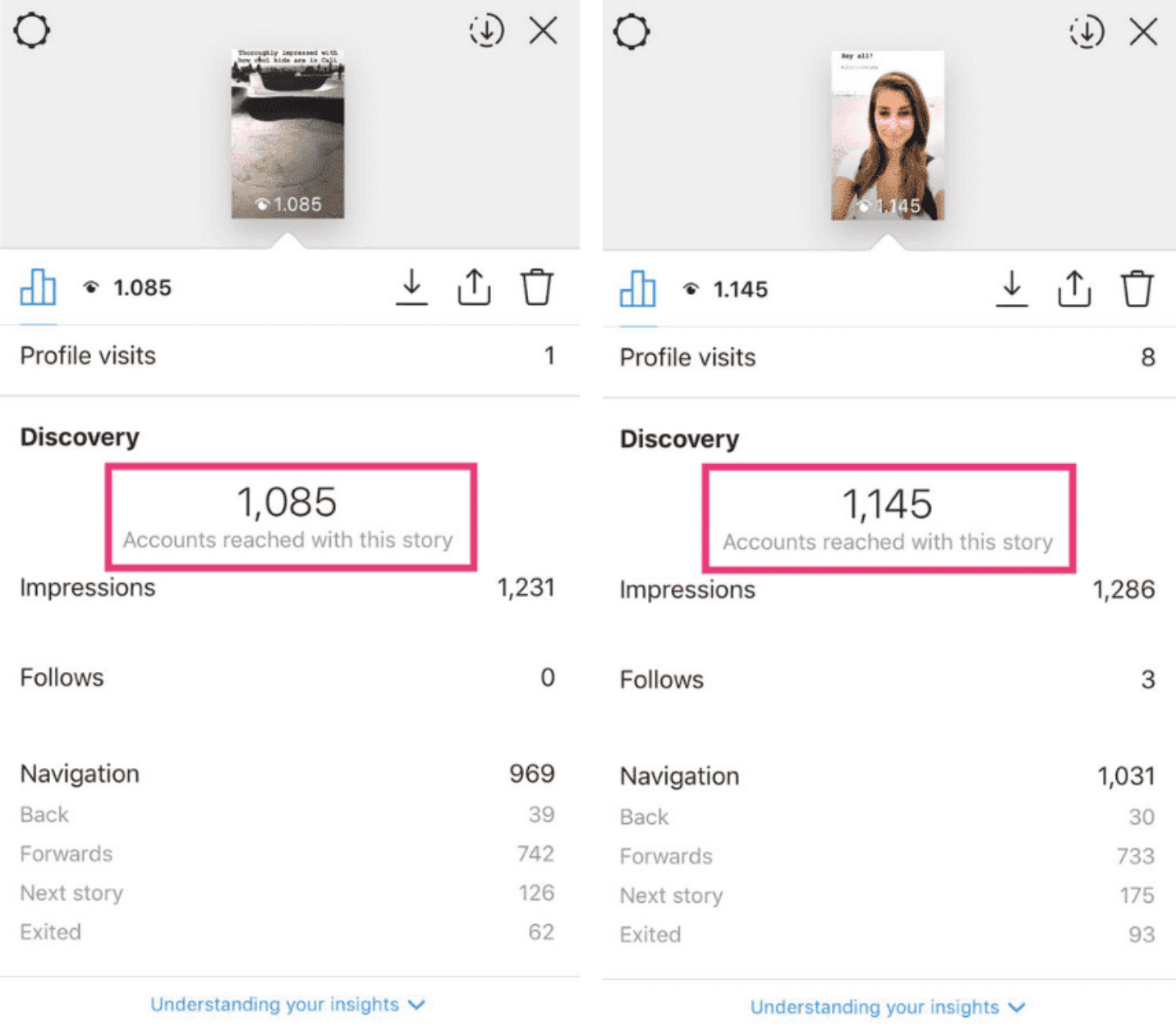 If your reach is declining, it's a sign that you need to rethink your content strategy.
Take a look at what you enjoy watching on Stories, do some competitor research and try new things to keep your audience engaged.
Here are some engaging story ideas that you can try:
Experiment. Play around with different apps that ~beautify~ your Instagram Stories. (My faves: Canva and Unfold!)
Use the features available at your fingertips. Luckily for you, I've written a guide on the best Instagram Stories features that can drive traffic and increase your sales!
Create high-quality video content. Instead of just uploading footage from the app or your phone, invest time into shooting and editing your videos. You might find that your audience prefers more cinematic content, and it could give you a competitive edge.
TAPS FORWARD
Taps forward are the number of times someone has tapped right to view your next story.
This metric can mean that users skipped to the next piece of media or finished reading/watching the story before the time was up (typically 15 seconds).
TAPS BACKWARD
Taps backward are the number of times someone has tapped left to rewatch your previous story.
This metric gives you an excellent idea of what content your audience finds useful.
If you notice a post has a lot of taps back, this is a great sign to keep this type of content in the mix.
NEXT STORY & EXITS
Next Story is the number of times users tapped to view the next account's story.
Exits, on the other hand, are the number of times someone swiped out of your story.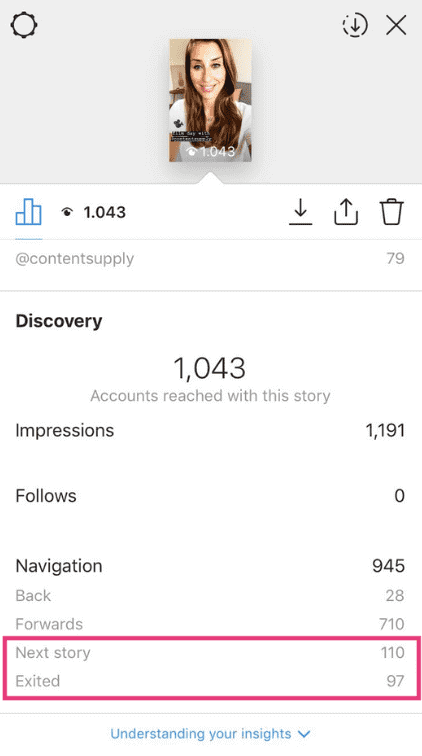 If a viewer is speed-tapping through your content, and hopping to the next account in their queue, it means they are not that engaged with your content.
It can indicate that you might need to reassess what you post or how long your Stories should be to capture a user's attention.
Similarly, exits can mean your audience is bored with your content.
But it can also be that users may have run out of time to watch all of your Stories, or they can click on a link sticker (yay!).
Use these two metrics to fine-tune your content strategy.
By keeping a close eye on your exits and next story taps, you can weed out your underperforming content, improve your engagement rate and turn casual tappers into paying customers.
How to Calculate Your Instagram Stories Engagement Rate
There are no likes, comments or saves on Instagram Story analytics.
ut you can use interactions like all sticker taps, and replies to calculate your engagement rate.
LINK STICKERS
"Swipe ups" used to be the reason everyone wanted to hit 10K followers on Instagram.
Why?
Because it was the only place other than your bio or in the description of an IGTV video where you can add a link.
During the summer of 2021, Instagram rolled out the Link Sticker.
It works exactly like Swipe Up, but BETTER.

Add the sticker to your Stories, and your followers can easily tap the link and get redirected to any website you want. If you need a link sticker strategy, I've written a guide on how to use it to maximize sales to your business.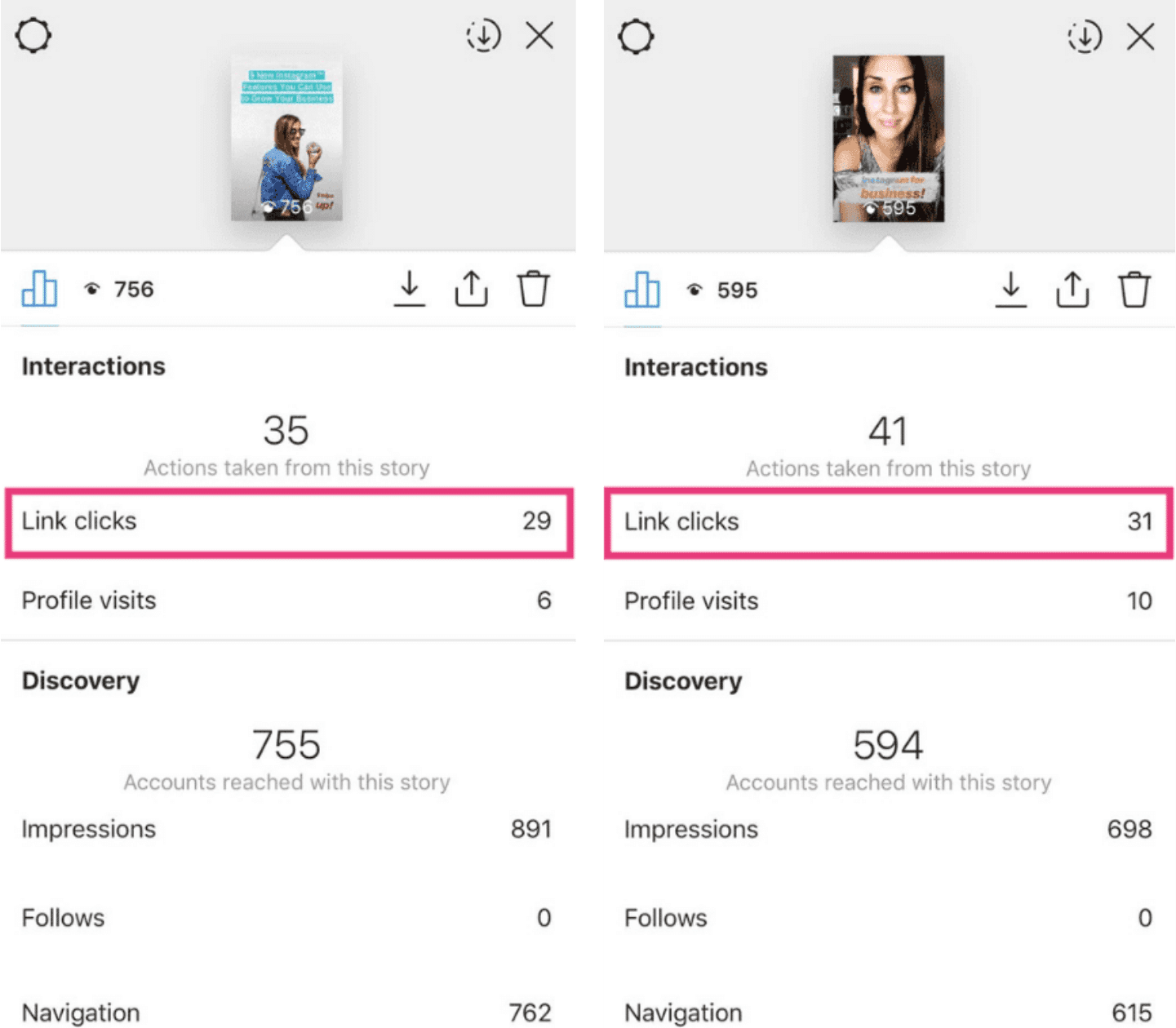 REPLIES
Instagram is all about creating a community.
If you want to build a successful one, you need to have conversations with your audience.
By posting Stories that encourage people to tap that reply button and send you a message, you'll boost your overall engagement.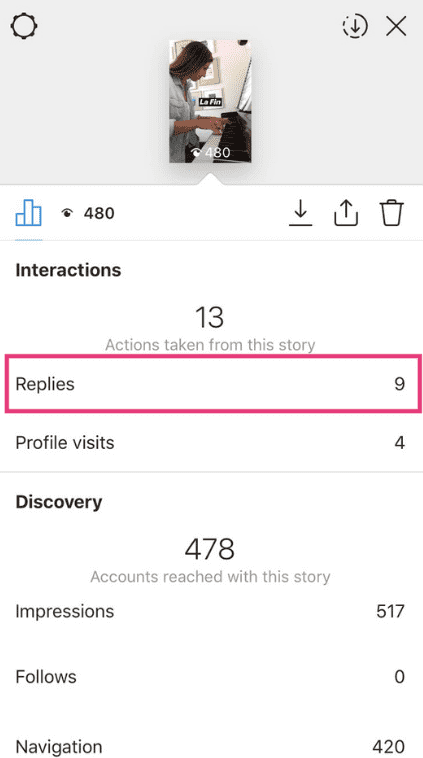 Make sure you keep track of what kind of content encourages your audience to reach out to you.
It's a powerful way to find out more about their problems, how your products or services can help them, and to form a community that appreciates how much you care.
STICKER TAPS
A sticker is a location tag, a hashtag or a tag mentioning another Instagram account.
In your Instagram Stories analytics, you will see the number of times users tapped on the stickers you used.
It's a quick way to see how good you are at directing your audience to take action.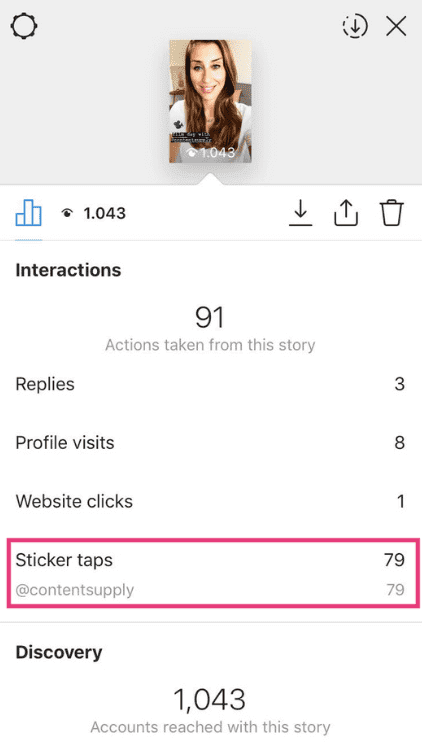 For example, if a brand pays you to mention them in an Insta Story, you can see how effective you are at driving traffic to their page. You can then use this data to show potential clients or brands the kind of results they can expect if they choose to work with you.
How to Boost Your Discoverability on Instagram Stories
Your Instagram Stories aren't just for your current followers. When done right, you can use the feature to attract new people to your account.
The best way to boost your Story discoverability is to use the hashtag and location stickers.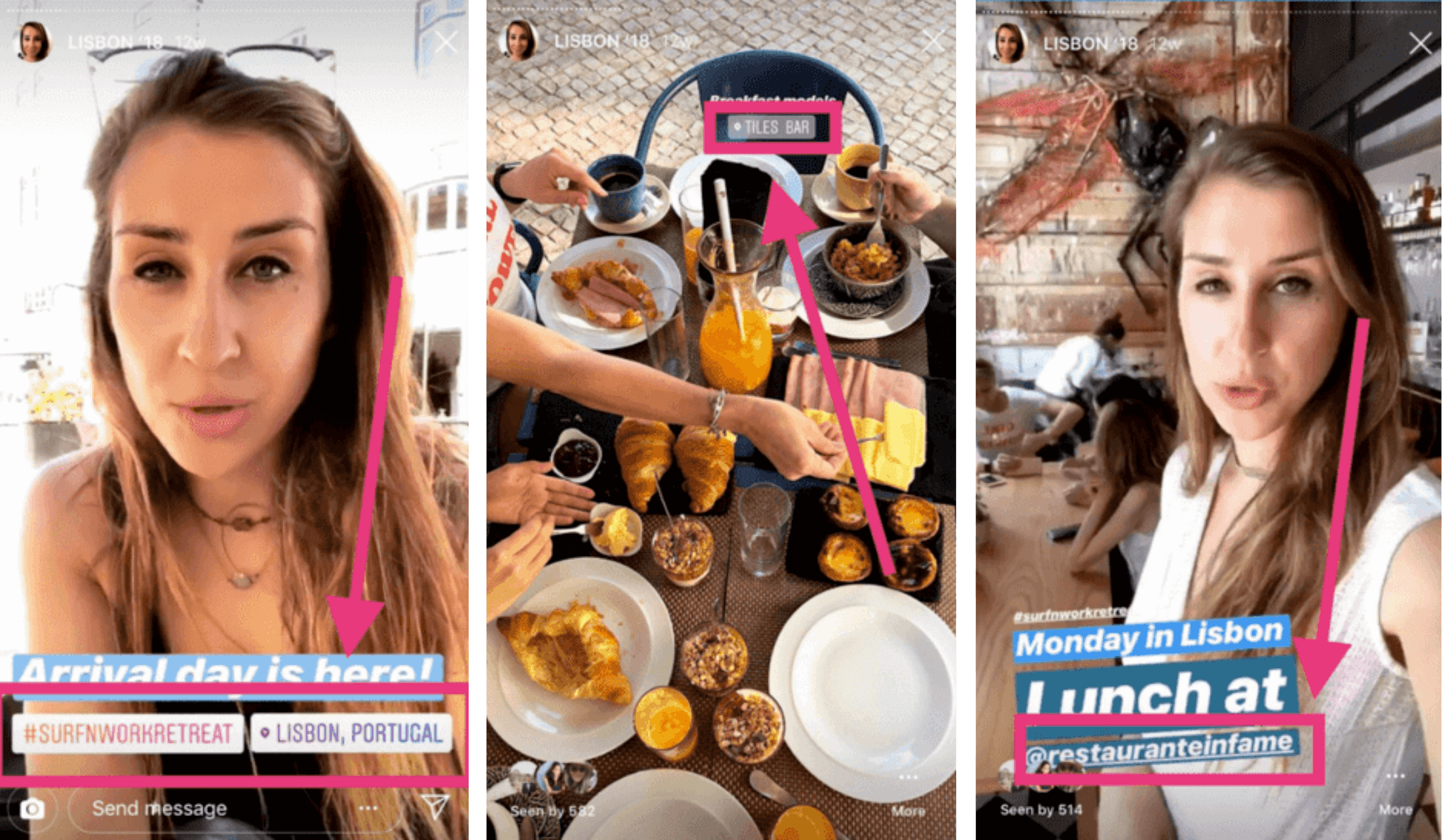 ➡️ When you add a location to your Story or use a hashtag, other users will find it if they search for it.
➡️ When someone watches your Story from one of these sources, you'll be able to see how many views you got in your analytics.
It's an easy way to reach new users with your content and once you've got their attention, turn them into new followers.
Spend time on Instagram's explore page and see which popular hashtags you can use in your Stories. Or simply add in your general location to your next Story ("Toronto, ON" location tag versus the exact cafe you're working from at this moment).
It's also a good idea to take advantage of any "timely" trends.
For example: if a huge football match is taking place and you can create relevant content around it, add the hashtag to your Instagram Story – and you'll get a boost in traffic.
How to Fine-Tune Your Instagram Stories Strategy
Woohoo! You made it through Instagram Story Analytics 101!
Now that you have a better understanding of what all the metrics mean, you can start working on your strategy.
I want you to open up a blank spreadsheet and start tracking your data over the next week. Keep a lookout for any trends, experiment with different content, and assess your performance.
Did your reach go up?
How many people sent you a private DM message?
What type of content kept your audience most engaged?
Once you've analyzed your content, start tweaking it and set benchmarks for yourself.
As the weeks go on, your Instagram Stories strategy will grow, and you'll have a better understanding of what makes your followers tap, like, and chat.
16 FREE Instagram Story Prompts for Your Online or Local business
…To get more Visibility on your profile, improve your Engagement, generate more Leads, and close more Sales.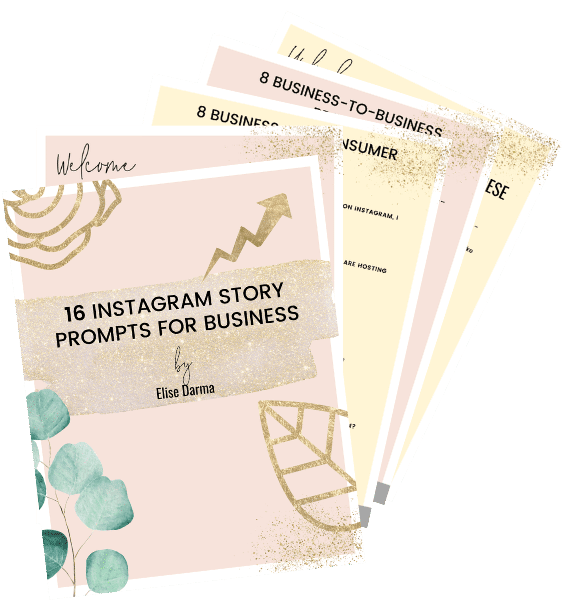 Here's A Sneak Peek At What's Inside This Free Resource:
8 Business-To-Consumer Prompts covering Visibility, Engagement, Leads & Sales
8 Business-To-Business Prompts covering Visibility, Engagement, Leads & Sales
4 Visibility prompts to get new eyeballs (and followers!) over to your IG profile
4 Engagement prompts to connect deeper with your current Instagram followers
4 Lead Generating prompts to see who of your followers is ready for your offers
4 Sales-Closing prompts to help your followers get off the fence & join your programs, services, products or offers
Download the FREE prompts to improve your Stories today! ⬇️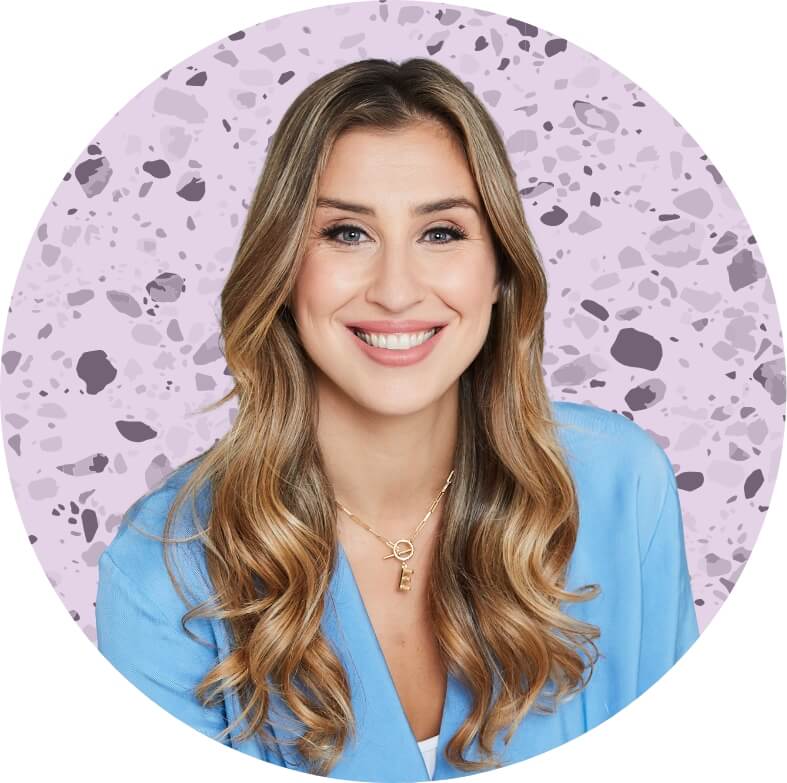 Hi, I'm Elise Darma!
I traded my 9-5 office cardigan for
that 7-figure entrepreneur life. But
I'm no overnight success. I've
experienced burnout, overwhelm
and ghosting Instagram for the
entire month of February 2019. I'm
probably the laziest Instagram
marketer you know, but if you want
to know how to sell more by doing
less – you're in the right place.
watch the free
Instagram Workshop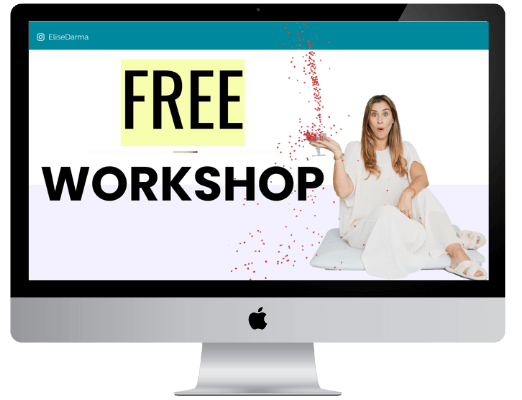 Get a weekly dose of what's
working in my business that you
can implement in yours.