My 2018 review (and what's changing for 2019)
Share this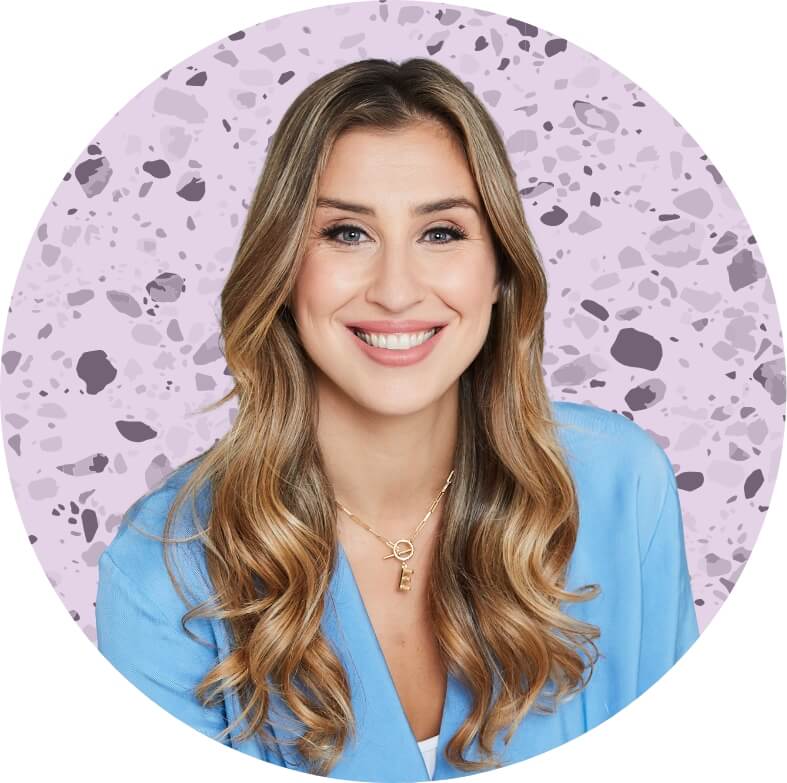 The Latin phrase "omne trium perfectum" suggests everything that comes in threes is perfect.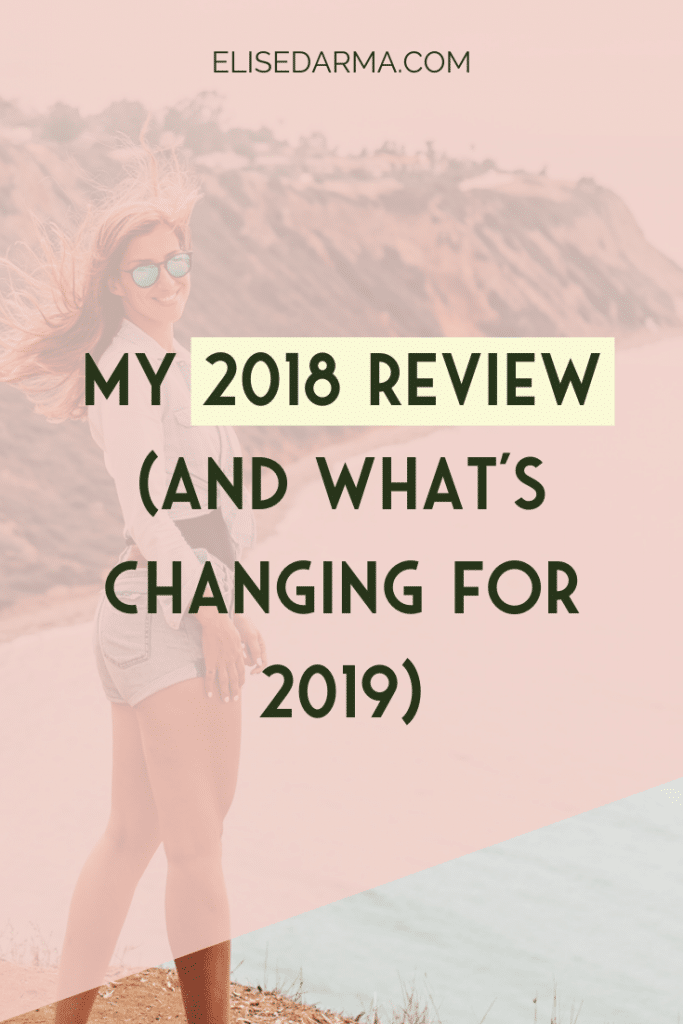 It's exhilarating and oddly satisfying to be sitting down and writing out my year in review – for the third consecutive time.
I started writing these reviews after my 2016 business year. Well, I just skimmed through my first review post and it's quite eye-opening to see where my head was at then… and where I'm at going into 2019.
If you're curious and want to get caught up on my previous business diaries, check out:
For my third business year review, as usual, I'm looking back on the last year and answering the following questions:
What did I do well last year?
What didn't I do so well last year?
What am I working towards this year?
What is this year's theme?
Let's get to it!
What went well in 2018:
1. Moved from live launching to an evergreen sales system (going from 150 students to 685)
It's safe to say that this one sentence here 👆 consumed the majority of my focus for the year. Kind of nuts, right?
But the impact of this switch? Well, you'll see in my next point…
2. Mega numbers growth
We all know that traffic, leads and conversions (TLC!) are the key drivers of an online business.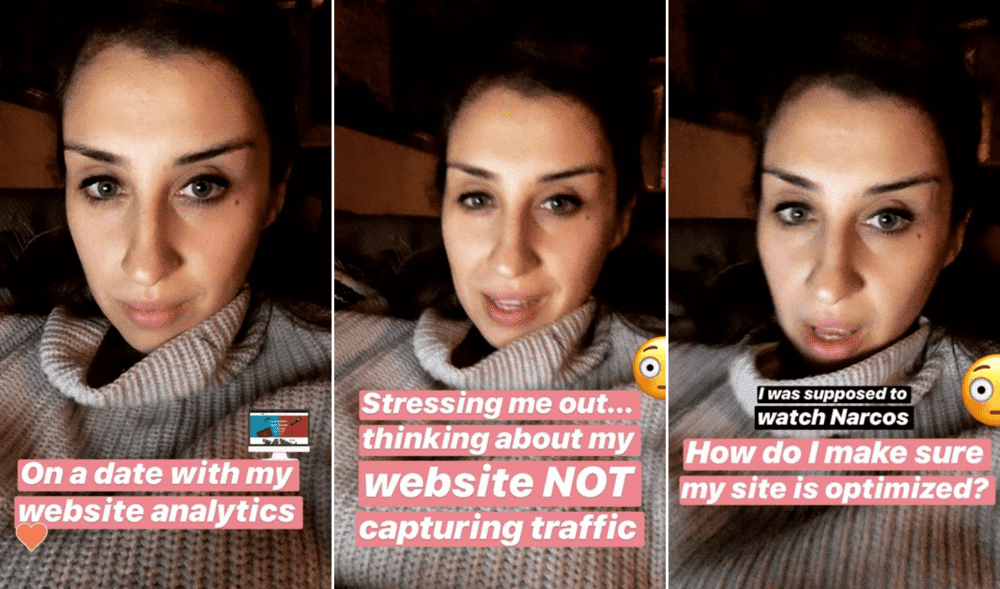 Not ashamed to admit I spent a few Friday nights alone with my Google Analytics 😁
So having a steady eye on the numbers of my business has become more and more addicting (hello, Friday nights spent with my Google Analytics).
Now that I see the direct correlation between numbers growth and business growth… I'm obsessed.
(It's also VERY cool to see that my goals from last year were met and exceeded.)
Here's a look at my final numbers from 2018:
Email subscribers: 17,000+ (up from 4,500)

This is a result of investing into Facebook ads and JV partnerships
Fun fact: the 17,000 email subscribers are just confirmed subscribers. There's actually 58,000 people who've opted into my goodies but never confirmed their address in the first welcome email – wild, right?

Website traffic: 60,000+ views a month (up from 4,000 views a month)

This is a result of committing to publishing at least one search engine optimized blog post a week

Revenue: $350,000+ (up from $125,000… that's a 3X rate of growth)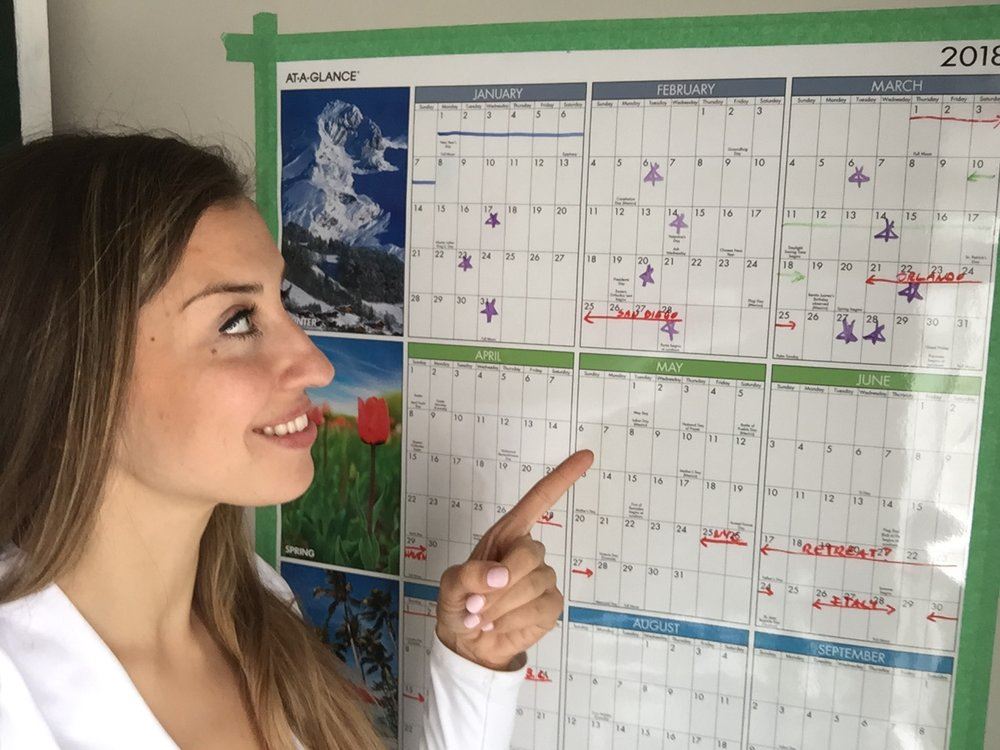 3. Students and clients killing it with their results
I remember when I launched my very first course Social Bank (formerly InstaGrowth Boss) back in April of 2017 and I was deathly afraid.
My biggest fear was that I'd do my best to teach and share all my knowledge on Instagram marketing… and my students wouldn't achieve the same results for themselves.
Almost two years later, I literally want to cry when I see and read the transformative results my students are making happen for themselves.
Like Cara Gray, whose Instagram agency hit $100,000 in revenue in just 10 months of being full-time
Like Kate Phillips, who signed a client from Instagram within weeks, bringing in $2,000 to her business
Or Bertha Villanueva, who landed 3 clients to her new marketing business, before even finishing the course
Now, I'm starting to clue in more even just to remember to share the results that my students are getting each and every day.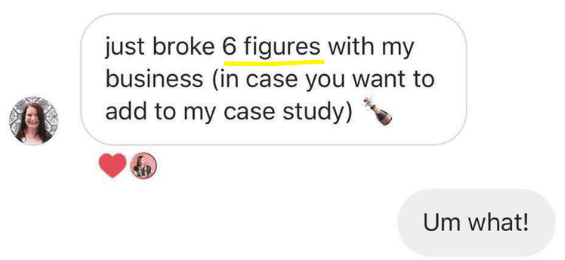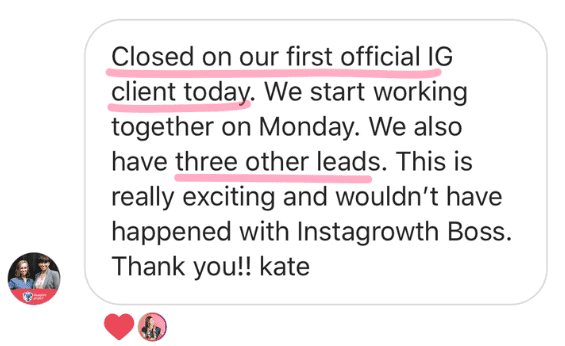 If you're wanting to dive deep into these student stories, here are Social Bank results, sharing what students have achieved through their Instagram marketing learnings. 👏
These results are not just validation for Social Bank, but for the Instagram marketing industry itself.
You might hear people downplaying the importance of Instagram or having an influential presence on the platform… but these results continue to prove that Instagram marketing is real – and it's fabulous.
4. First in-person retreat, hosted in Portugal
I'd be remiss to make it very far down this list without mentioning one of my favourite memories and accomplishments from 2018: hosting my first ever in-person digital nomad retreat in Lisbon, Portugal.
Want to know something crazy?
This retreat ONLY came to fruition because I mentioned in my 2017 review that it'd be cool to host my own digital nomad retreat one day (check out #5 under "what I'm working towards this year").
The number of emails and messages I got after sharing that little tidbit made me stop and think, hmm… this retreat thing might actually happen!
Fast-forward to June and I'm nervously awaiting the arrival of the first retreat guest.
5. One-on-one coaching program got booked out – and closed out
After launching my 4-month Mind The Gap coaching program about two years ago, I didn't publicly share or promote it much.
It just sat on my website and those who were curious enough would find it.
In the early part of 2018, as I was getting more booked out with clients, I even increased the investment for the program.
But still…. throughout 2018, I had a steady flow of 1-on-1 coaching clients. And I realized that in order to help my coaching clients as deeply as they deserved, I truly couldn't handle more than 3 or 4 clients at a time.
Towards the end of 2018, I knew that I couldn't sustain the program as is. So I shut it down in November.
If it resurrects as new version of 1-on-1 coaching or something entirely different… well, that remains to be seen for now. 😎
6. Key partnerships made with ballers in my field – like Teachable and Later
But first, a little backstory. I made such a rookie mistake in this aspect of my business.
Over a year ago, I had this thought: "Hmmm it'd be cool to partner with a company like Later. They're based in Vancouver. I'm from Vancouver. That'd be fun. Hmmm maybe one day." <shrugs> <does nothing more>
Then I go to work on my evergreen funnel, invest a ton of ca$h into Facebook ads and one day – out of the blue – I receive a DM from a marketing team member at Later (you know, the company that has over a MILLION people using their app to schedule out their Instagram posts).
I guess my ads had made an impression on her 😏… and the relationship began.
It's been an amazing and fruitful relationship ever since, BUT I do wish I had followed my intuition back before I ever started running ads to reach out to Later first.
In any case, you live and learn, right?
Another relationship that I've absolutely loved is my partnership with Teachable.
Teachable is the platform where I host all my online courses.
And the people at the NYC head office were super kind enough to let me host my first ever meet-up at their office. (I was thinking no one would show up, but even with less than a day's notice – people came! And they were all so very awesome to meet. 👇)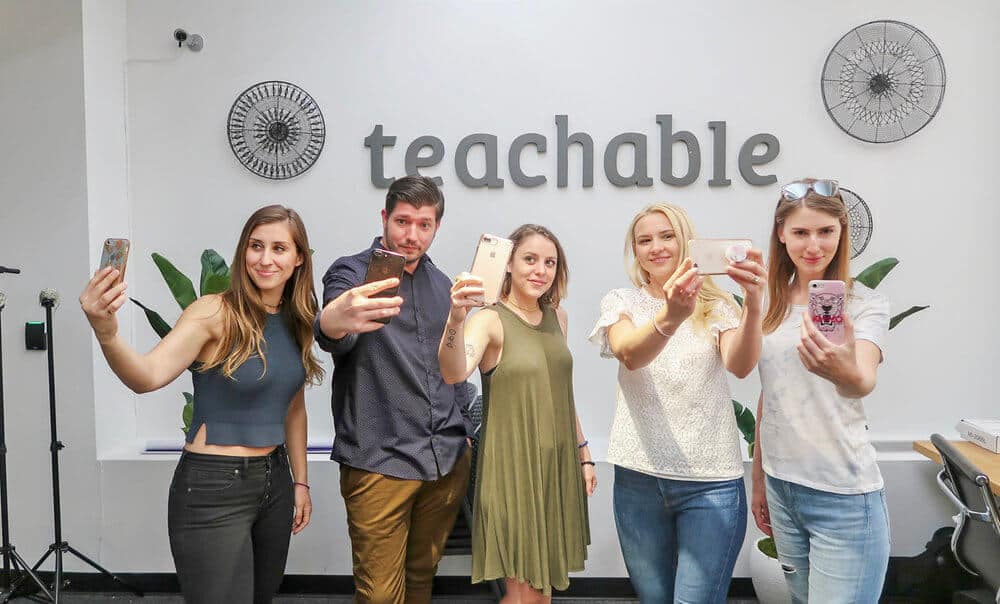 It probably goes without saying, but the benefits of these partnerships were impactful.
I'm talkin' new exposure, new customers and best yet… an external validation of my expertise and background as an Instagram marketer.
7. Team growth – cuz I don't run this ship alone
As my business scaled in 2018, so did my team.
I don't have employees at my company, but several contractors. And now I'm working with 3 contractors who help run my agency Canupy and 3 others who help me run EliseDarma.com.
As a team of 7, I think we're good now! 😂
But I do have new plans brewing for Canupy so it's too early to say whether 7 is enough or not… 🔮
8. Masterminding, events and networking
In 2018, I made it my goal to attend more business events. And boy, did I take this one to heart!
Traffic & Conversion
Funnel Hacking Live
Mastermind meet-ups in April and in October
Writing workshop in Italy with Laura Belgray and Italian Fix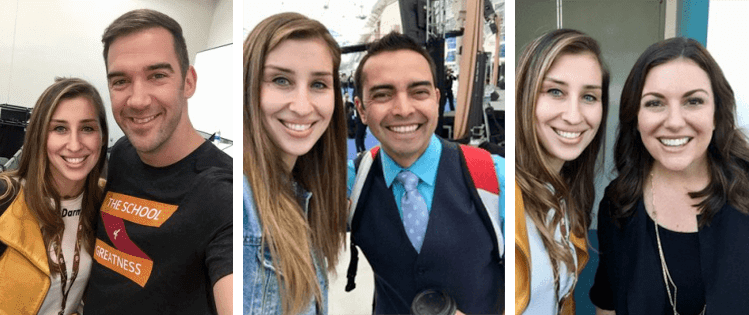 At this point, I'm ready for a break from in-person events. 🤣
Most were fun and informative, but man – traveling for business sure is draining compared to my simple digital nomad life I had going on before!
With that said, I made some *amazing* connections at most of these events and I can say that my business definitely grew as a result.
Plus, I just completed my very first year in a mastermind.
This is probably another post for another day, but working with Julie Stoian for the last twelve months certainly led to further business growth (hello 3X in revenue!), sales and more importantly… an ownership of being an "Instagram expert" for online business owners (there's that theme popping up again!).
That last realization alone is going to change the course of my business in 2019. I know it.
9. CLARITY
This is huge.
With this clarity in place… it's like I can ~feel it in my BONES~ that there's a ton of momentum built up for what's going to be an explosive 2019. 🎆
I now have greater clarity on what kind of business I want to have in 2 years and 5 years down the road.
Over the last few months, there has been lots of reflection on what needs to go (my YouTube vlogs will catch you up on the nitty-gritty), what needs to change and what needs to be brought in.
I'm excited to get moving on these plans in 2019.
Here are my final stats for 2018:
15 trips, including: Kenya, San Diego, Mexico, Orlando, Vancouver, Connecticut,  NYC, Portugal, Italy, Aruba, British Columbia, California, Holland, Connecticut again, and BC again
106 days working and traveling abroad
$350,000+ revenue with an overall 25% profit margin
$51,752.85 revenue in April (top month)
685 course students
16 coaching clients
17,000+ email subscribers
77,000+ Instagram followers
8,700 Facebook group members (now closed down)
4,658 Pinterest followers
3,415 Facebook page followers
2,514 Twitter followers
343 YouTube subscribers 🤣
3 contractors for Canupy + 3 contractors for Elise Darma
What didn't go so well in 2018:
1. Profit margin goals weren't hit
In 2018, I aimed for a 50% profit margin. The end result is more like 25%.
While I'm told this is normal with an online business (and while hiring and setting up new systems), I'm adamant on not having a repeat in 2019.
I'm all about investing back into the business (which I've clearly developed a knack for! 😅), but I'm ready for smarter investing. Meaning, the decisions are well thought out, thoroughly researched and less emotional. My feeling is that had I invested "smarter" in this last year, my margins would be higher.
At the same time, I do believe that many investments I made this year will pay off in the coming years – which I'm very excited about.
2. I didn't scale my 1-on-1 coaching program
As mentioned above, taking on more than 3 to 4 coaching clients at any given time was becoming less and less feasible.
As a result, I knew I wanted to create a group coaching program. But that project got pushed to the back burner time and time again.
Instead of waiting for that program to get developed (I stalled because I didn't have a clear vision of what I wanted it to be) I did what I could – and closed my 1-on-1 coaching program to give myself the space to dream up what's next.
Shutting down a revenue stream? Yup.
Worth it to create more white space in my business and planning? Very much yes.
3. Facebook ad spend was kind of bananas
A quick disclaimer right off the bat: a return WAS generated from my investment into Facebook ads. In general, for every $1 I put towards ads, $2 was returned in sales. Not too shabby when you start doing the math…
But, I know my spend wasn't optimized as much as it could have been.
With me managing the ads myself (everything from landing pages to campaign setup to copy to graphics), plus switching between 3 different contractors throughout the year, I felt like I never really got into a flow with this aspect of my business.
And this is a pretty big deal – considering Facebook ads was *the* biggest expense of the year.
The month I had my highest revenue (April) was also the month I spent the most on ads. The strategy and funnel worked – but I think something about it all freaked me out (I only realized this later in December after reading The Big Leap). I pulled back on ad spend, decided to hire out this aspect of my biz, and it's just felt clunky since then.
As a result, my profit margin was impacted too.
In 2019, I vow to hit my stride here – whether it's me running the ads myself or working with an agency or contractor who can improve the return I'm currently getting.
4. Chasing distractions – in the name of scaling
2018 was a banner year in that I hadn't scaled like this before (I mean, in my 2016 review, I wasn't entirely sure what scaling even was. The word itself brought to mind fish and bathroom accessories…)
While I thought I was making smart decisions all in the name of scaling, in retrospect, I see some of them were just major distractions.
Did I put my revenue towards things that didn't have an immediate impact on the bottom line? Yes…
Could there be a return in the future? Maybe…
But either way, in 2019 I'll be making smarter, better researched decisions when it comes to adding in yet another project, contractor or arm of my business 🐙 (sorry octopus – I'm gonna have to make some cuts).
5. BURNOUT…
OMG.
I think this year, I might have actually burned out.
My 2016 review also notes that I felt burned out by December, so maybe this is normal for a lot of businesses and entrepreneurs?
This year, I definitely felt mentally drained by December but I think my burnout actually happened mid-year.
I don't have a dramatic hospital story to share, but I definitely reached a point where I felt like I wanted to burn my business down – just for a bit. 😬
Luckily, I didn't.
And instead, I took some time off to do something NOT related to business at all; two personal retreats. One that was an all-women's yoga retreat led by Holistic Lacey and one that was a personal development retreat led by Ingo Rauth.
What am I working towards this year?
DOING LESS, BETTER. 
This sums it up best for me.
The last 4 months or so have been quite reflective versus reactive, and this is where I landed: I'm cutting things down to just the essentials.
This means that I'm trimming the fat on activities or offers that don't really move the needle in the business.
This means that I'm removing offers that don't really scale (meaning, if I added in 100 new 1-on-1 coaching clients overnight, would I be able to sustain that influx or would the whole program break?)
And this means I'm pivoting my messaging slightly to be less about that digital nomad life, and more about the power of Instagram marketing for small businesses and freelancers
When it comes to in-person retreat and 1-on-1 coaching, I've realized offers like these are SUPER valuable, but are not scalable in the long term.
With that said, this doesn't mean they are going away forever. They're just going away in the way they've been run for the last two years. 
"Doing less, better" also means staying focused on what has generated proven results in the business.
With many years of foundational groundwork laid, plus results and validation coming in more than ever before… I can feel now more than ever before that this little business of mine is PRIMED for mega growth – but only IF I keep a steady stream of fuel over the aspects of the business that are scalable and actually bring substantial profit in.
So this year, I'm going *all in* as an expert on Instagram marketing. I love working with my students inside of Social Bank (formerly InstaGrowth Boss) and I LOVE working 1-on-1 with businesses that are ready to scale with a tight Instagram strategy brought to their biz.
The other main arms of my business – freelance training, online skills training and my agency Canupy – are still running, but I acknowledge that I can't run these all on my own.
This year, my aim is to turn myself into a 3-headed goddess (sounds better than beast), possibly bringing on two team members to continue running the arms of my business that have already proven to work… but I just can't keep going with them on my own.
Today more than ever, I can literally FEEL that this business is headed for unprecedented growth.
While a revenue goal isn't the end goal, I know that if done right, this business could be hitting $1M for the first time ever in 2019.
What is this year's theme?
My word or theme for 2019 is Essentialism. 
"The way of the Essentialist is the pursuit of less but better… It's living by design not by default."
This idea comes from the book Essentialism: The Disciplined Pursuit of Less by Greg McKeown.
After 5+ years of running a business, it's what I feel I need the most for my business in 2019.
Because at this point in my biz?
❌ It's NOT about more strategies.
❌ It's NOT about more courses.
❌ It's not even about more coaching.
What I know my business 100% needs is for me, as the leader, to stay focused on just the essentials: lead generations, sales and operations.
It doesn't sound super sexy, I know, but once these aspects are dialled in… the benefits are quite sexy, indeed.
---
Hire me as your coach for $0.00!
If you loved this blog post and want even more how-to tips on making sales through your Instagram account, join me for my FREE hands-on workshop.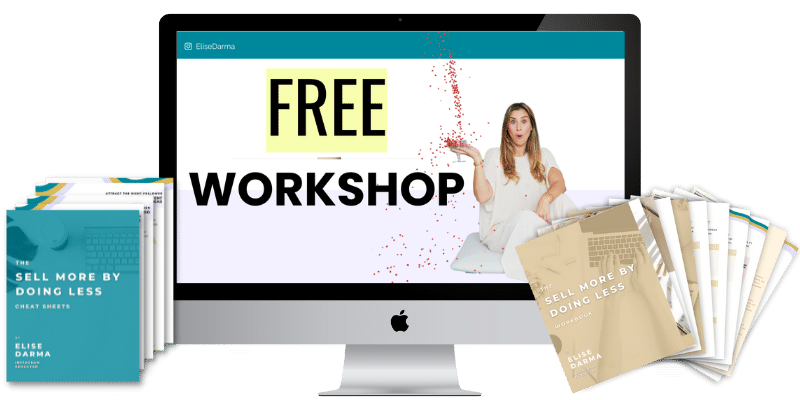 In this ~co-working~ style workshop, we'll check off:
What your best Instagram strategy is – even if you're new in business or are just starting to use Instagram for your business (PLUS, we'll give your profile and bio a total makeover)

What your current season of business is and which features you should focus on to get the most results for your efforts

How to navigate making reels for your business, especially if you feel silly pointing or dancing on camera (PLUS, we'll generate 80 content ideas for your next posts – yes, 80!)

Future-proofing your account for inevitable changes that are coming to Instagram (including an evergreen formula that'll never go out of style)
Join me at this FREE workshop now ⬇️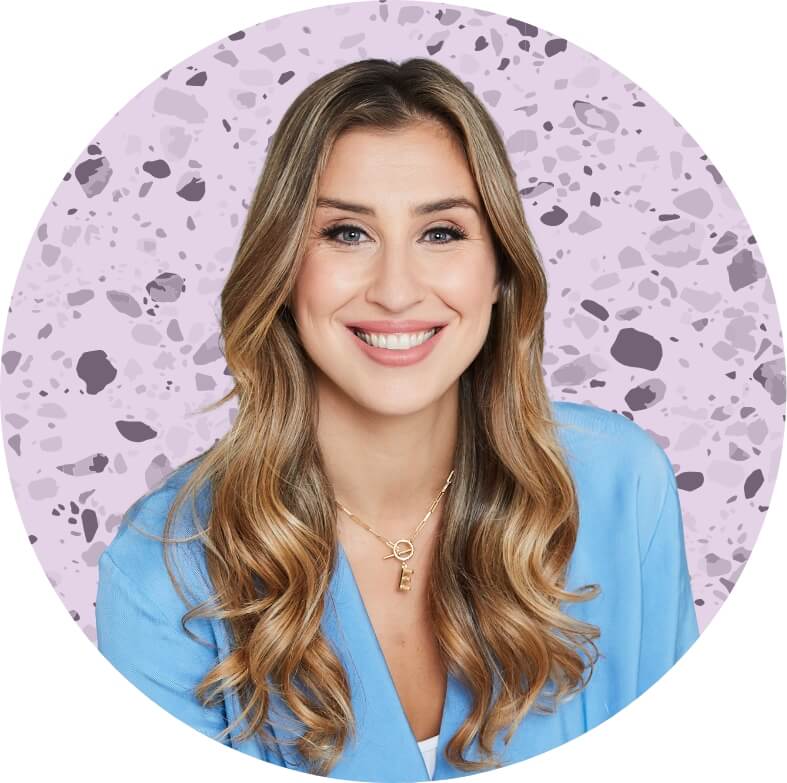 Hi, I'm Elise Darma!
I traded my 9-5 office cardigan for
that 7-figure entrepreneur life. But
I'm no overnight success. I've
experienced burnout, overwhelm
and ghosting Instagram for the
entire month of February 2019. I'm
probably the laziest Instagram
marketer you know, but if you want
to know how to sell more by doing
less – you're in the right place.
watch the free
Instagram Workshop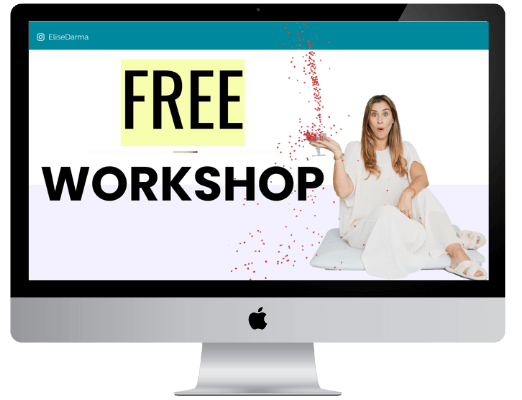 Get a weekly dose of what's
working in my business that you
can implement in yours.