How to host a successful Instagram Stories takeover
Share this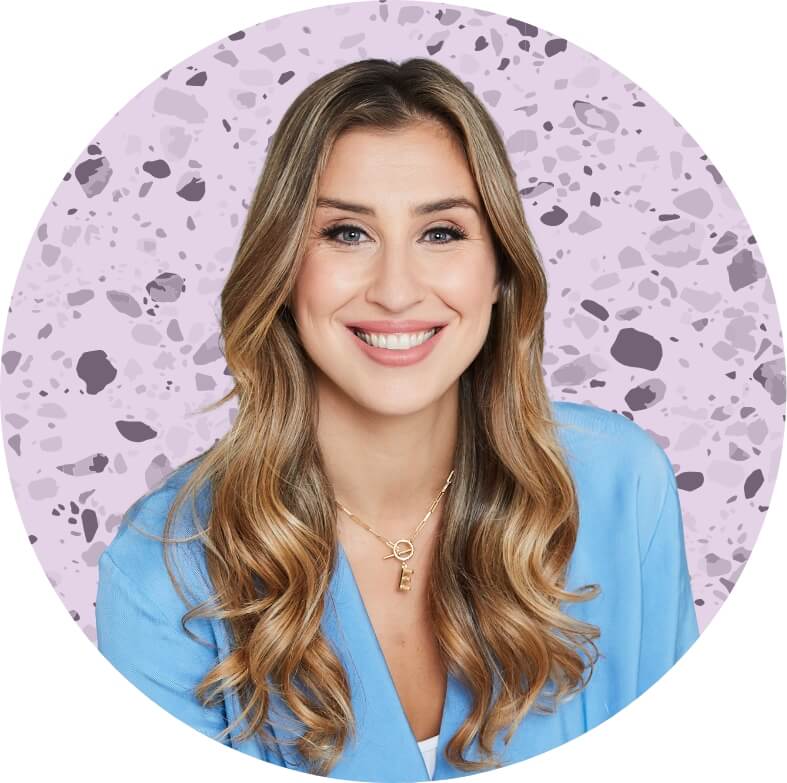 Is your growth on Instagram feeling stagnant?
Give your account a much-needed boost with an Instagram Stories takeover!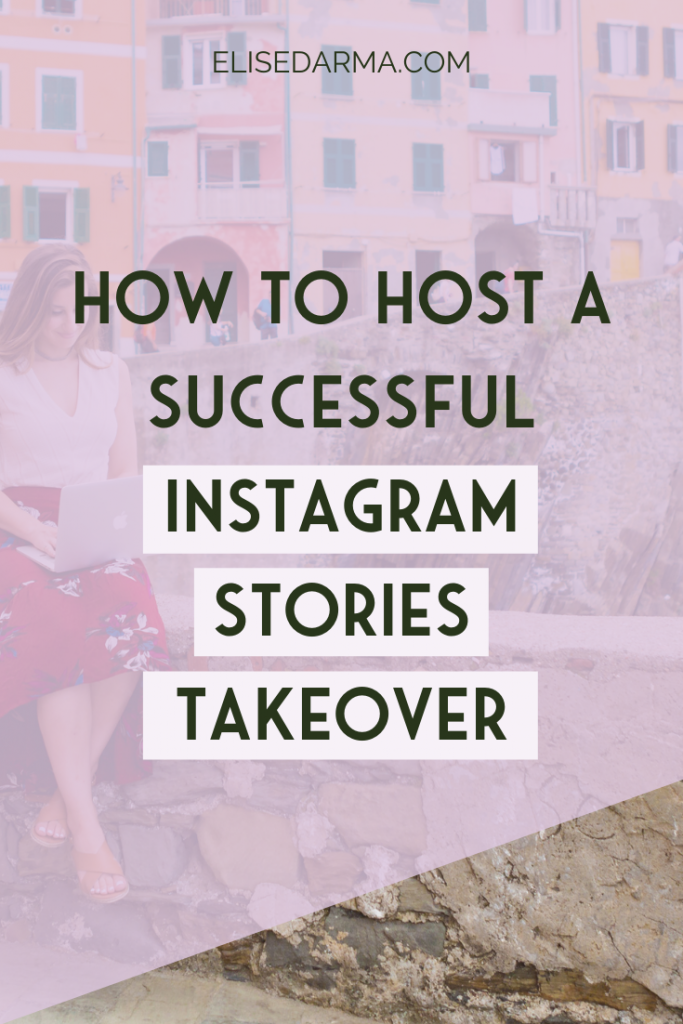 It's a fun and easy way to collaborate with other influencers in your niche and create a mutually beneficial relationship with your favourite brands.
Not sure where to start?
I've got you covered.
In my foolproof guide, I'll teach you everything you need to know to run a successful Instagram Stories takeover.
No prior experience required.
But First… What's an Instagram Stories Takeover?
An Instagram Stories takeover is the process of temporarily taking over someone else's Instagram Stories. Or vice versa – someone takes over your account. 
You can invite an influencer, brand, customer or even an employee to give your followers a unique behind-the-scenes from their fresh perspective.
Yep, this means that you'll be sharing your login information with them.
All so that they can sign into your account and jump on your Stories. Just like I did here with Outsite's Stories: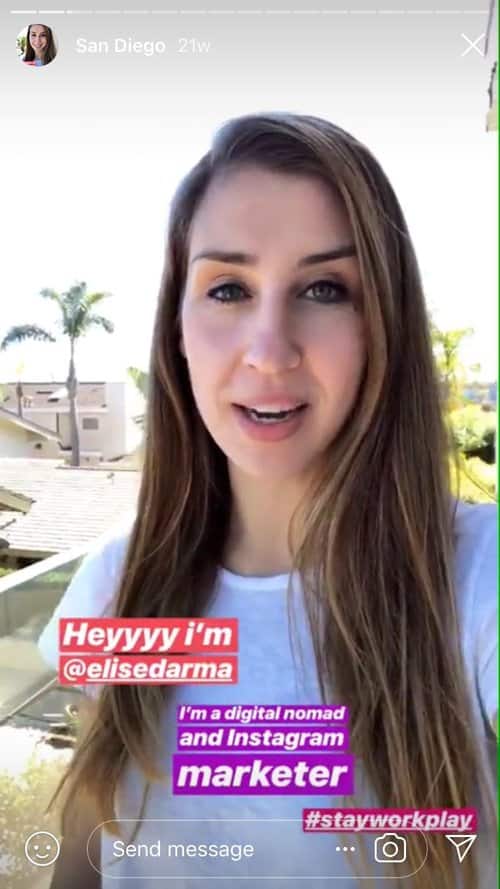 Or you can approach your favourite accounts and pitch to take over their Instagram Stories for the day! This is a win-win way to get your face and message in front of their audience.
How Will a Successful Instagram Takeover Boost Your Business?
A strategic Instagram takeover is an opportunity for you to share your content with a whole new audience – and gain new followers and customers at the same time.
"Instagram Story takeovers are a backdoor approach to accessing new demographics." – Gary Vee on the value of IG Stories Takeovers
Plus, it's a win-win for both parties.
With you as the guest, the host account gets fresh, valuable content that their followers will love –– without having to do much themselves.
And if everything goes well, an Instagram Stories takeover can lead to developing even STRONGER relationships in your niche.
You never know what future collaboration projects you could work on together.
But don't offer to guest host or invite just ANYONE to take over your Instagram Stories.
You want the partnership to feel authentic, and the person or company needs to be an extension of your brand's values.
The Types of Instagram Stories Takeovers
There are loads of ways to run an Instagram Stories takeover, so don't be scared to let your creative juices run wild!
Spend time crafting a game plan that will create a unique experience for your audience.
Here are a few ideas you can choose from:
1. THE DAILY VLOG
Are you a travel blogger? Approach one of the feature accounts for your next destination and pitch the idea of sharing a day of your travels with their audience.
But try think of an angle that hasn't been done before.
Instead of the top 10 attractions of Rome, find something more off the beaten track.
For example: you could take their followers along on a ghost hunting tour or track down and try the city's most Instagrammable desserts!
2. THE EDUCATIONAL TAKEOVER
Are your followers struggling with something that isn't your forte?
Find an influencer that has the answers to all of their questions and invite them to host a Q&A on your Stories.
You could make it a live video or ask your followers to submit their questions through Instagram's new question feature for Stories.
3. THE BEHIND-THE-SCENES GLIMPSE
Build a deeper connection with your audience by taking them along on your journey.
Did you hire a new team member? Introduce your latest recruit with a takeover.
Shooting for your new product launch or getting new brand photos taken? Ask the photographer to take over your 'gram.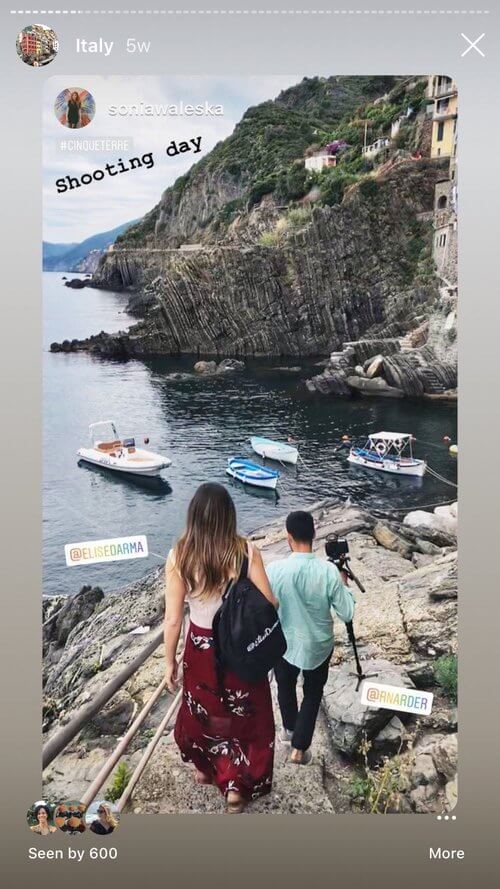 4. THE EVENT
Going somewhere cool like an industry event or a launch party? Don't leave your followers behind.
Pitch to the brand hosting the event if you can take over their Stories.
It's a fun way to make their followers and yours feel included from the comfort of their couch.
How to Host or Be a Guest in a Successful Instagram Stories Takeover
STEP 1: START PITCHING
Make a list of the brands, influencers and accounts in your niche that you would love to collaborate with.
Now give each person or company a rating based on how likely their audience will resonate with your content.
Next, start writing up your pitch.
Think about what value you can bring to their audience and use that as your USP (unique selling point) to make your Instagram Stories takeover irresistible.
STEP 2: SET CLEAR GOALS
You won't know if your Instagram Stories takeover is successful unless you have clear goals that you can track.
Chat with your host or guest and decide what you want to accomplish by the end of the takeover.
Here are a few things you can track:
Brand awareness: Do you want to gain X amount of followers, views or reach?
Product promotion: Is there a particular link you are directing traffic to? You can track traffic to your website, the number of sales, etc.
Engagement: How many people do you want to be watching and replying to your Stories?
STEP 3: PROMOTE THE TAKEOVER
Promotion is essential for a successful Instagram Stories takeover.
If you skimp on this step, it will show in your analytics. No one will tune in, and you won't achieve the goals you outlined in Step 2.
Here are some ways you can create a buzz around your takeover:
>> Announce it on your Instagram Stories and feed
Why your feed? Because chances are, not everyone who follows you or the host will see the announcement in your Stories.
>> Cross-promote the takeover on other platforms
You might have users on Twitter, Facebook or YouTube that aren't following you on the 'gram. Takeovers provide valuable content and are a great way to incentivize people to hit that follow button.
STEP 4: IT'S STORY TIME!
There are two ways you can share content for Instagram takeovers:
The host logs into your account and posts directly to your Stories.
The host creates the content and sends it to you to post.
Worried about giving someone the password to your account for their Instagram takeover?
Use One Time Secret.
All you need to do is type your password in, and it will create a secret link. The link only works once and then it disappears forever, keeping your login information safe.
>> Use The Tools Instagram Gives You
During your takeover, unleash your creativity with the 'gram's features.
Get the audience to ask you questions or answer a poll. It's an easy way to keep people entertained and to let them guide the type of content they want to see.
Make your Stories more engaging. Use GIFs, facial filters, boomerangs, superzoom and emojis to make your Stories fun, light-hearted and authentic.
Increase your reach by adding a location tag and up to six hashtags. Use popular ones that have more traffic to increase the number of people watching your story.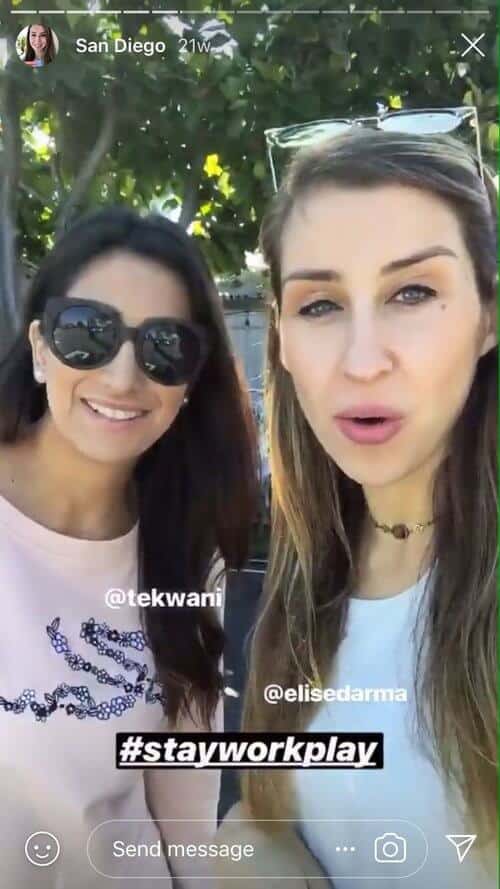 >> End With a Call-to-Action
Once it's time to hand your host's account back over, end your Instagram Story with a strong call-to-action.
You can:
Use the "swipe up" feature and include a link to your blog, online shop or a downloadable incentive.
Create a discount code for a service or product that you're offering.
Ask the audience to send you a DM and stay connected with you.
Tag your Instagram account and invite their followers to join your tribe.
STEP 5: ANALYZE THE RESULTS
The more often you host or be a guest for someone else's account, the more data you'll have to fine-tune your Insta strategy.
how many views did you get in your first Instagram Story takeover post?
what percentage of viewers watched until the last Story in the takeover?
how many people 'swiped up' in your Story takeover?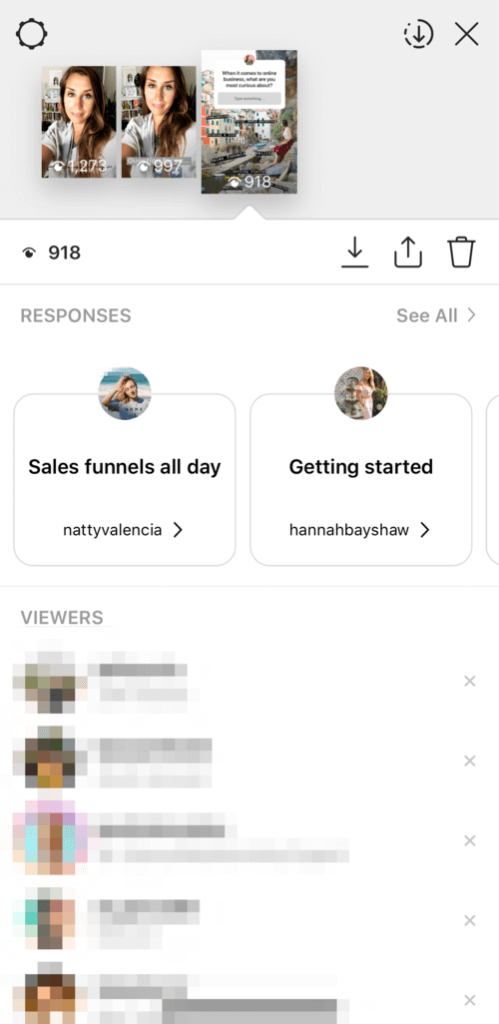 Track and screenshot these stats from your very first takeover, and you'll have a much easier time pitching the value of an Insta Story takeover in the future.
STEP 6: SHARE YOUR INSTAGRAM STORIES CONTENT
Don't let your Instagram takeover expire after 24 hours.
Keep the fresh content you've created for your audience alive!
>> Use the Highlight Feature
It's an easy way to keep your takeover evergreen. Plus, new and old followers can engage with the content as much as they want – without a time limit.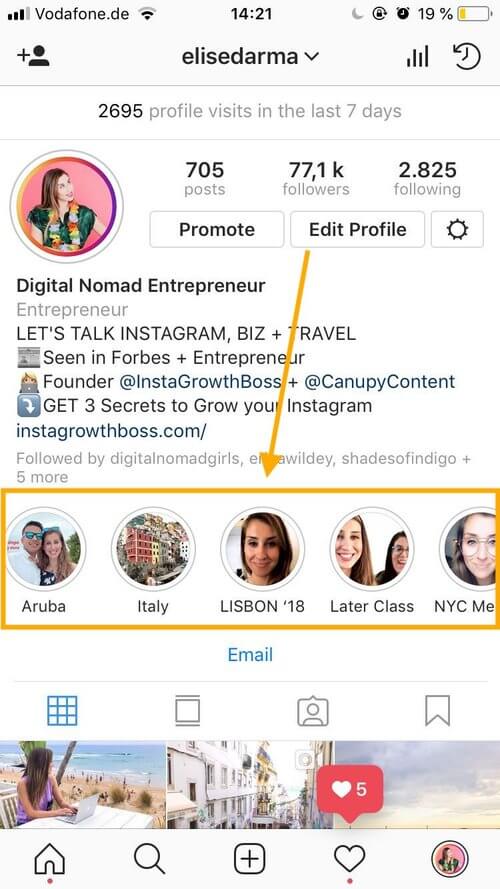 >> Post Your Takeover to Facebook
Don't underestimate the power of cross-promotion.
Upload your takeovers to your fan page and YouTube account.
With 2.19 billion monthly active users on Facebook and over 1 billion users on YouTube, both are powerful platforms to reach more potential customers.
---
Hire me as your coach for $0.00!
If you loved this blog post and want even more how-to tips on making sales through your Instagram account, join me for my FREE hands-on workshop.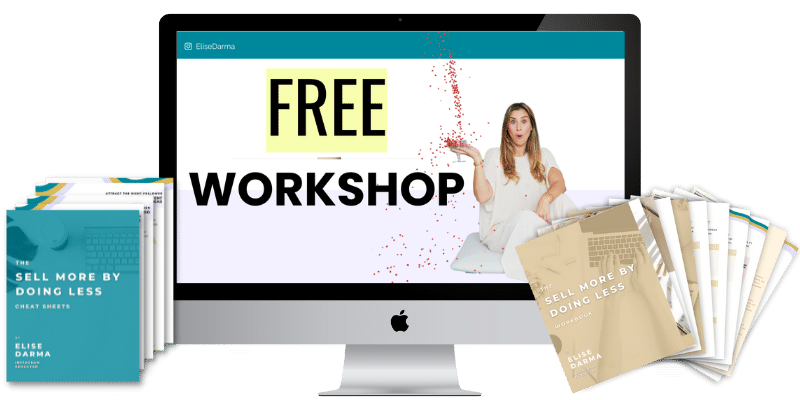 In this ~co-working~ style workshop, we'll check off:
What your best Instagram strategy is – even if you're new in business or are just starting to use Instagram for your business (PLUS, we'll give your profile and bio a total makeover)

What your current season of business is and which features you should focus on to get the most results for your efforts

How to navigate making reels for your business, especially if you feel silly pointing or dancing on camera (PLUS, we'll generate 80 content ideas for your next posts – yes, 80!)

Future-proofing your account for inevitable changes that are coming to Instagram (including an evergreen formula that'll never go out of style)
Join me at this FREE workshop now ⬇️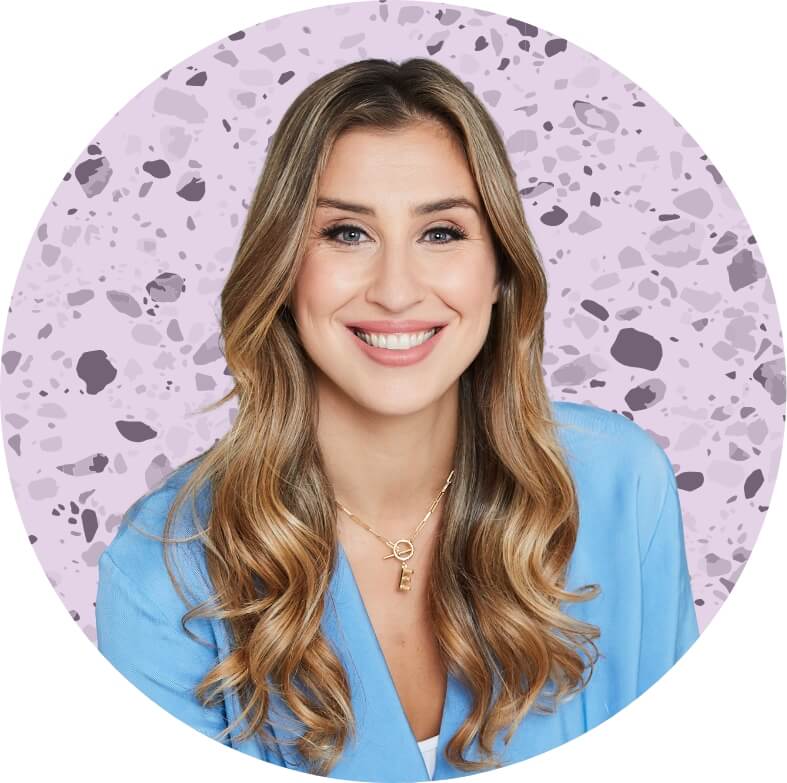 Hi, I'm Elise Darma!
I traded my 9-5 office cardigan for
that 7-figure entrepreneur life. But
I'm no overnight success. I've
experienced burnout, overwhelm
and ghosting Instagram for the
entire month of February 2019. I'm
probably the laziest Instagram
marketer you know, but if you want
to know how to sell more by doing
less – you're in the right place.
watch the free
Instagram Workshop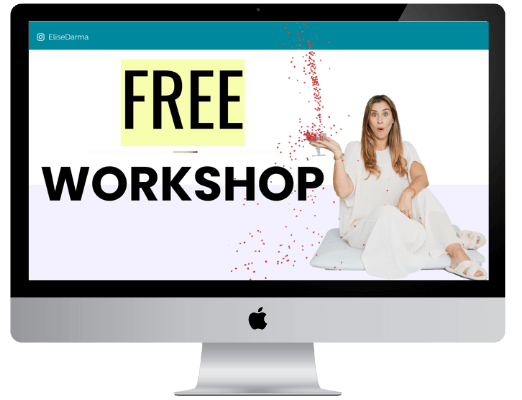 Get a weekly dose of what's
working in my business that you
can implement in yours.