How to use Hashtags on Instagram for Business
Share this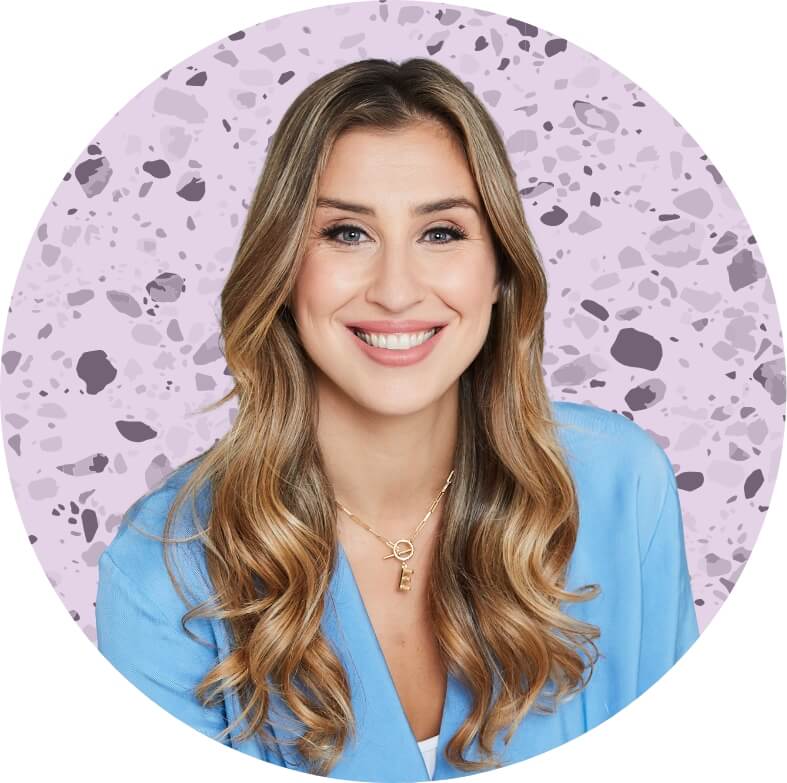 If you've ever struggled with using hashtags on Instagram for business, you're not alone. 
In this post, I'm going to cover all the do's and don'ts of using hashtags to grow your business's Instagram account.
I've put my own tips to the test, and one recent post of mine got 12,000 impressions just from the hashtags alone. 📈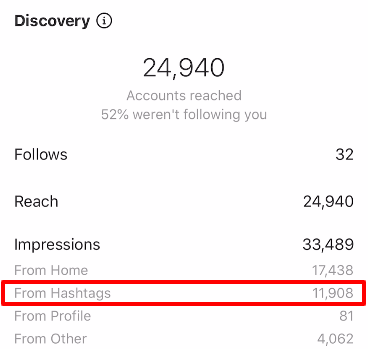 How many hashtags should I use on Instagram for business?
When you think about what hashtags are, they are essentially a tagging or categorization system built into Instagram.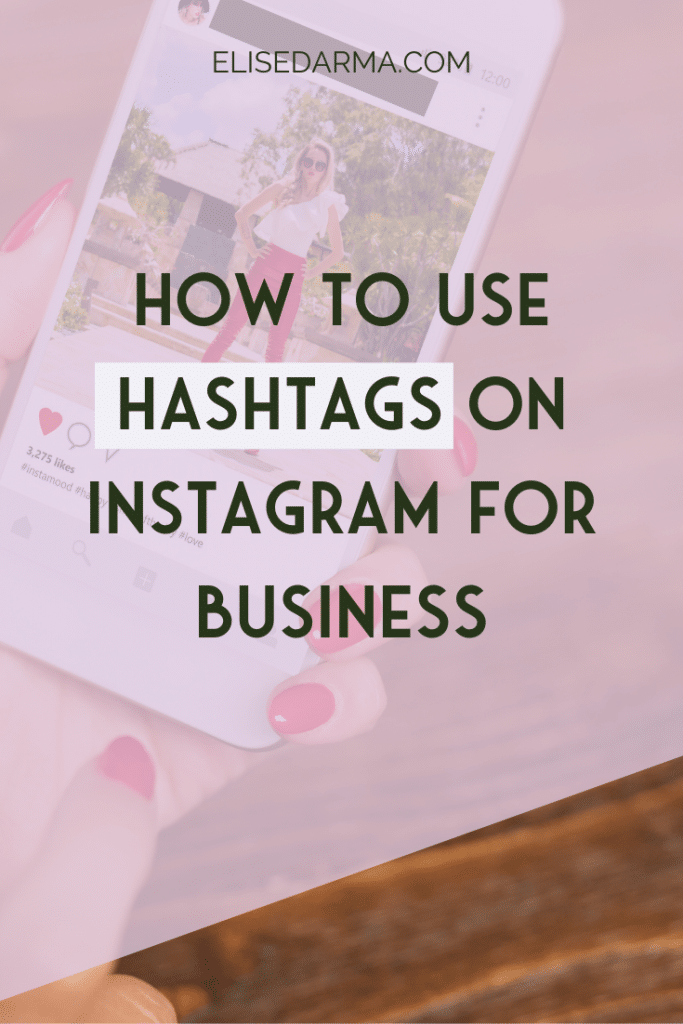 There aren't a lot of search-friendly tools or aspects of Instagram aside from your username and your name field (check out a post I did on optimizing your profile here). 
So when it comes to having your posts and your profile rank in search, that is where the power of hashtags really comes into play. Hashtags are the SEO of Instagram. 
Instagram allows you to use up to maximum thirty hashtags on every single post. 
There are some experts out there who say thirty hashtags look spammy. They would recommend focusing on 3 to 5 really niche hashtags rather than using all thirty hashtags that Instagram allows. I've tried using only 3 to 5 hashtags, and you can try it too, but I still find I get the best reach when I use thirty really good hashtags. 
Every hashtag is a new way for your target follower to find you. So why wouldn't you use all 30 opportunities you have? That's my take on hashtags. 
I recommend you put it to the test: Use thirty hashtags for one post, and use five niche hashtags for another post, and see if there's a difference for you.
Where should I put hashtags on Instagram?
 "Elise, should I put hashtags in my caption, or do they go in the first comment?" 
The answer to this question is: it's totally up to you.
According to Instagram, it doesn't affect your post reach whether you put the hashtags in your caption or in the first comment. 
For a long time, I used to put my hashtags in the first comment because I liked to separate them from the story I was sharing in my caption. The key with putting your hashtags in a comment is you have to publish the hashtags in a comment immediately after publishing your post. Ideally within 10-15 seconds of publishing your post. That way, Instagram knows to associate those hashtags in the first comment with this post.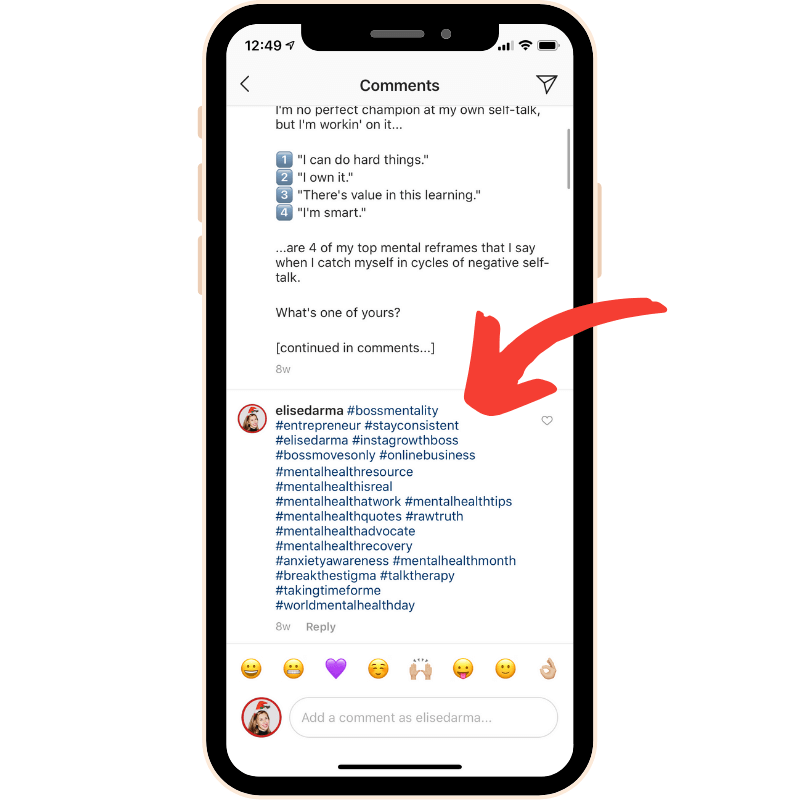 ❗️Pro Tip: Later is an Instagram scheduler that allows you to schedule your first comment on a post. Use this as a time-saver to schedule your hashtags in your first comment! 
If you don't want to worry about timing and acting really fast like this, the easier route is to just put your hashtags in your caption. 
How to find good hashtags for Instagram
I recommend starting with a brainstorming session to come up with the best hashtags for your post.
Here's how you do this: 
Look at the subject matter of your image or your video, and what's in it. Start to brainstorm words, even enter them into instagram.com as a hashtag and look to see if they populate. When you're on instagram.com, check out the suggested hashtags that Instagram populates under your search.

Brainstorm keywords based on: 
Subject matter in your post
Location of your post
Caption topic
Brands featured in your post
Emotion you're sharing in the post
Lifestyle you're talking about in your post
Your industry and niche
The second place where I like to look at hashtags for ideas is on the Explore page.
The Explore page is catered to you based on your history as a user on Instagram. So Instagram is going to show you posts that it thinks you're going to like. Look at those posts. They're probably related to your business, your industry, your niche, and check out what hashtags those posts are using. So that's a great way to get some ideas rolling as well.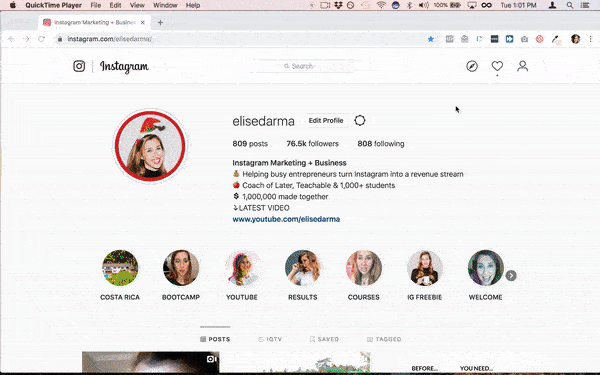 How to pick hashtags for Instagram
Now that you have hashtag ideas, it's time to pick which ones you're going to use. 
If you tap into a hashtag, you're going to see a bunch of information about the hashtag and one of the things you'll see is the number of posts that use that hashtag.
This is what defines how big a hashtag is. Some hashtags are really popular and have millions of posts associated with them. Some are really small and niche and don't have many posts. 
The answer to the question of what size of hashtag you should be using depends on how big your account is. 
If your account has a lot of followers, you can use bigger hashtags and reasonably be found for those hashtags. 
If you're a smaller account and are using really big hashtags, your account's posts just won't be seen for that hashtag, because you're going to be drowned out by accounts that are bigger than yours. 
Generally, on average, most of my students have between 500-1000 followers. If you're in that range, what I recommend is to look at hashtags that have about 10,000 to 200,000 posts associated with them. 
This is a good range to hang out in because the hashtag is not too small that they're not even being used anymore, and the hashtag is also not too big that your posts are just going to be drowned out by the rest. So as you're doing your hashtag research, make sure there's anywhere between 10,000 and 200-300,000 posts for that hashtag. 
You can break the rules a little bit and choose a few of the bigger hashtags if it's beyond 200-300,000 posts just so you get your niche in there. I would only do maybe three or four of those bigger hashtags.
You can do some super niche ones if you really want, if they're hyper-targeted to your community. But for the majority of your hashtags, they should be between 10,000 and 200,000 posts per hashtag.
One caveat here is to make sure that your hashtags are still active and not banned.
Banned hashtags are what happens when enough Instagram users report a hashtag for indecent or abusive content. Even if the hashtag sounds innocent enough, sometimes people take them over and use them for not-so-appropriate things. When there are enough posts that have been used with that hashtag and enough people have reported it, Instagram will ban that hashtag.
So double-check as you're doing your research! Scroll down the page a little bit when you're doing your research and you'll see a little message from Instagram if it's been banned, telling you it's no longer in use.
How to use hashtags in Instagram Stories
Yes – you can use hashtags in Stories!

You can use up to 10 hashtags in Instagram Stories. This means your Stories can actually be found through targeted hashtags. 
When it comes to using hashtags in your Stories, you don't want them to be niche. You want to choose the bigger industry-related, overarching terms related to your business. You want to go bigger for your hashtags in your Stories. This is because Stories only stick around for 24 hours.
Now, some people aren't jazzed about adding 10 hashtags to their beautiful Stories, so I'm going to share a couple of ways you can hide your hashtags in Stories: 
How to hide hashtags in your Instagram Stories
Eyedropper tool
Use the eyedropper tool to blend your hashtags into the background of your Story. Make your hashtag text match a color in your story so they're totally hidden.
Minimize your hashtags
Shrink your hashtags down, but not too small. You want to shrink them down and then choose a GIF to cover up over the hashtags. The reason why you should not minimize them too small is if you completely shrink them down and they're illegible, Instagram won't even pick them up as a hashtag that you can trend for. 
Best tools for hashtag research
Instagram.com
My favorite tip to find relevant hashtags is to go into instagram.com, type in your niche or keyword and underneath that list is going to be a populated list of suggestions. Instagram is doing a lot of the work for you to give you a whole list of ideas for relevant hashtags.

Later
Later actually has a hashtag analytics tool and you can go into your account, check out your hashtags from the last week to the last month and Later will show you and rank which hashtags got the highest number of impressions or reach. 

So using Later will give you a really good indication of which hashtags got you the most exposure and that you should continue using them. 
Flick
Lastly, my favorite tool that I love to use to find the best hashtags quickly is called Flick. 
Flick is sort of like the suggested hashtag feature built into instagram.com, except it's a lot faster. I just pop in my topic based on my caption or my posts and Flick right away recommends a ton of related hashtags. 

The other cool thing about Flick is I've actually connected my Instagram account to Flick so it can analyze my typical insights to understand what hashtags I can reasonably trend for.
Flick is just acting in a smarter way because its recommendations are catered to the history of my account and how likely my account can really trend for a hashtag. Back in the day, it used to take me maybe 20 minutes to do hashtag research for a post. Now I can literally do it in three to five minutes because Flick is so good at recommending suggested and related hashtags. 
---
Free, hands-on workshop – you and me. Meet ya there? 
If you loved this blog post and want even more how-to tips on making sales through your Instagram account, join me for my FREE hands-on workshop.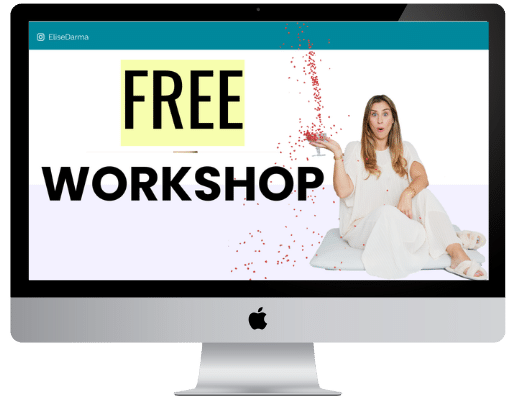 In this ~co-working~ style workshop, we'll check off:
What your best Instagram strategy is – even if you're new in business or are just starting to use Instagram for your business (PLUS, we'll give your profile and bio a total makeover)
What your current season of business is and which features you should focus on to get the most results for your efforts
How to navigate making reels for your business, especially if you feel silly pointing or dancing on camera (PLUS, we'll generate 80 content ideas for your next posts – yes, 80!)
Future-proofing your account for inevitable changes that are coming to Instagram (including an evergreen formula that'll never go out of style)
Join me at this FREE workshop now ⬇️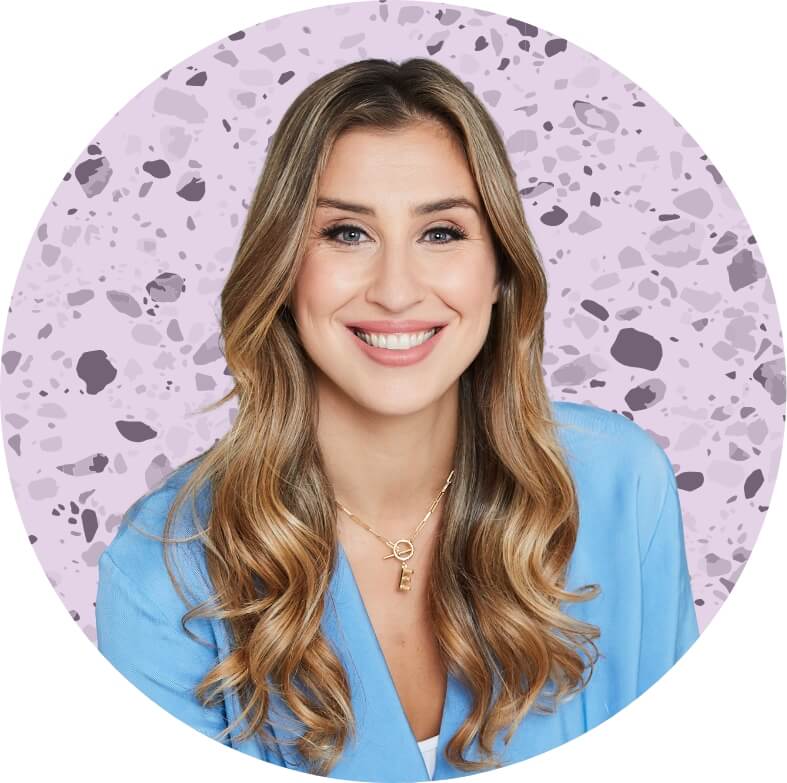 Hi, I'm Elise Darma!
I traded my 9-5 office cardigan for
that 7-figure entrepreneur life. But
I'm no overnight success. I've
experienced burnout, overwhelm
and ghosting Instagram for the
entire month of February 2019. I'm
probably the laziest Instagram
marketer you know, but if you want
to know how to sell more by doing
less – you're in the right place.
watch the free
Instagram Workshop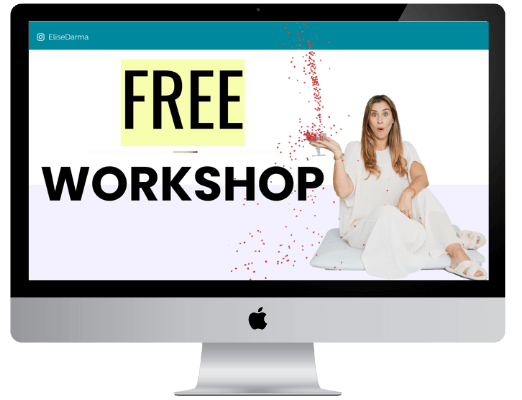 Get a weekly dose of what's
working in my business that you
can implement in yours.