How to run a contest on Instagram to boost your followers and business
Share this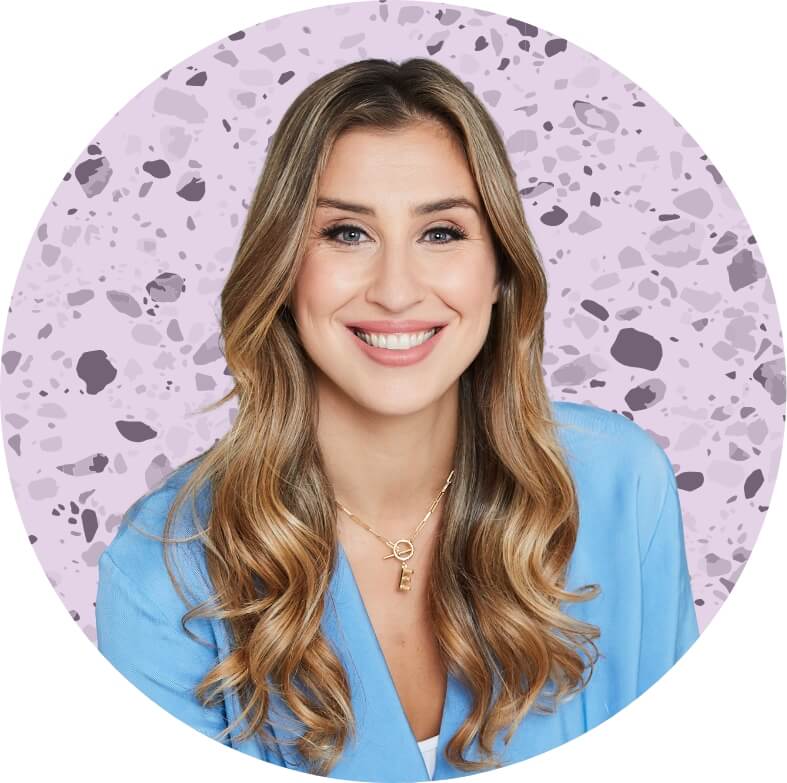 There are hotdog eating contests, sand castle building contests and even knitting contests…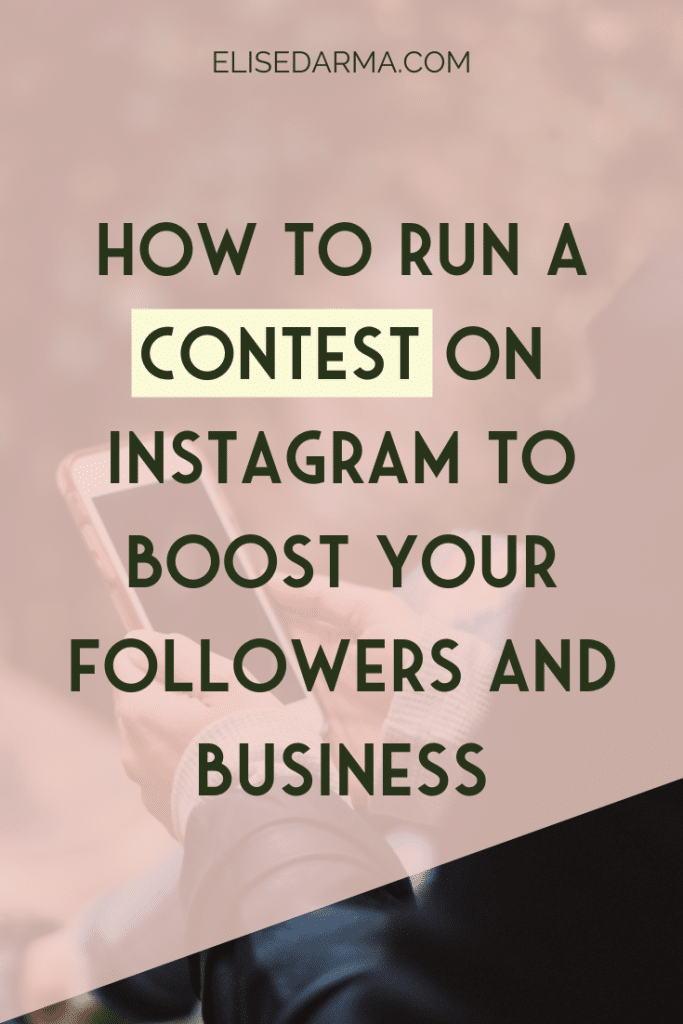 I'm sure those contests can get you some recognition on the 'gram, but can they guarantee an influx of new followers?
I mean, maybe a handful of people that were super impressed with your competitive eating skills but move along hotdog eating contest — Instagram contests are the new thing in town.
Running a contest on Instagram brings in new followers and brings recognition to your brand with one single Instagram post.
I'm serious. One post can bring a whole new wave of followers (I'm talking 500+) when done correctly and strategically.
Looking for a guaranteed way to boost your followers with just one post? Look no further than running an Instagram contest.
Keep on reading for all the reasons you should run a contest, the types of Instagram contests and the recipe to running a successful follower-boosting Instagram contest!
Why you should run a contest on Instagram
You've seen them on your own Instagram feed, you've entered a few (especially the one for that automatic cat feeder for your favorite four-legged pal) and you've been tagged in them by friends — but should you run your own?
I say "YES" and here are three reasons why:
1. RAISE AWARENESS FOR YOUR BRAND ON INSTAGRAM
Say it with me: visibility.
As a biz owner, it's what we want. It's what we need. Lookingfor a quick and easy way to get your name out there? Run an Instagram contest.
People love winning free stuff.
Your followers will tag their friends, old teachers, neighbors, hair stylists and babysitters in order to have a chance to win your contest.
The ultimate domino effect — next thing you know, entire social circles are made aware of your brand because of a notification on their phone, triggered by a friend tagging them in your contest post.
The tagged friend's interest has now been sparked. They want to enter the contest — so they begin sharing and tagging other friends on the contest post to increase their own chances to win free stuff.
2. INCREASE YOUR INSTAGRAM'S ENGAGEMENT
Instagram contests will cause your notifications to blow up, so prepare yourself. With a contest comes a wave of double-taps and a flood of comments. A tsunami of engagement, if you will.
Soak it up.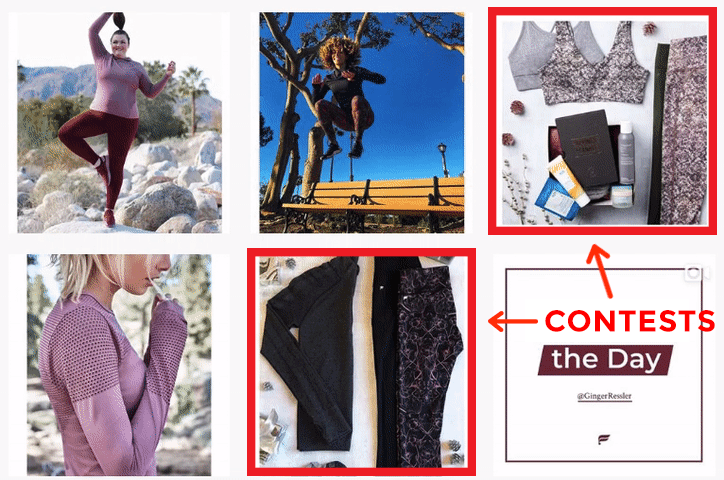 The increase in engagement on your post will cause the Instagram algorithm to give your post extra love by showing the post to more people which in turn means more contest entries, more followers and more brand awareness. Ooooh yeah, just ride this engagement wave!
3. BOOST YOUR FOLLOWERS
Increase your follower count by running an Instagram contest that requires everyone to be following your account in order to be eligible to win.
Take it a step further and partner with a brand or influencer, and cross-post the contest which now opens both you and the brand/influencer to a new audience!
It all goes back to wanting the free stuff. They'll do what's required! Set up a contest prize they can't refuse and watch your follower count rise. So many new friends!
The 6 types of Instagram contests
Okay, so you understand the hype surrounding Instagram contests and you've got some curiosity as to what type of Instagram contest would work best for you and your brand? Try these on for size:
1. LIKE-TO-WIN INSTAGRAM CONTEST
The most basic of the Instagram contests: simply have your followers "double-tap" on the contest post to enter themselves into the contest.
This method ensures that all your followers have a fair shot as it guarantees one entry per person!
2. COMMENT-TO-WIN INSTAGRAM CONTEST
Have your followers comment on the post to enter your contest. Maybe it's a "photo captioning" contest and the best caption wins! Or you want your followers to comment their favorite emoji to enter the contest; the options are endless!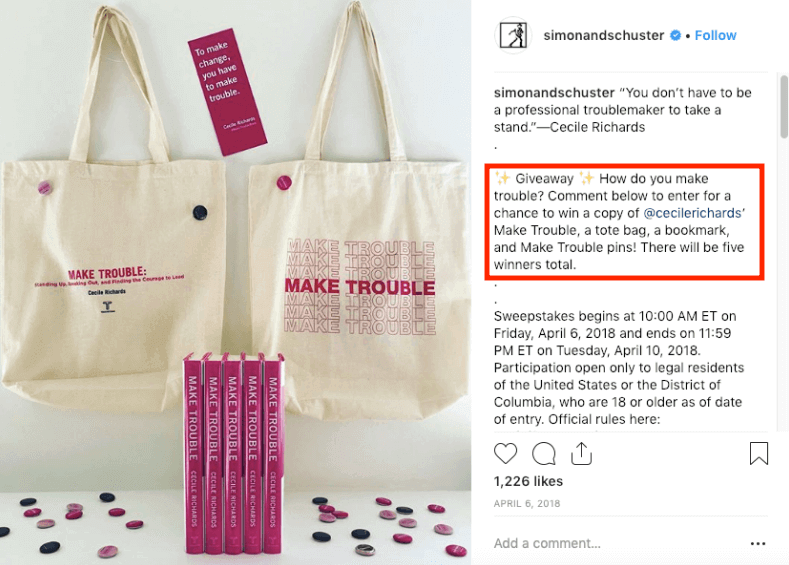 Be sure to limit your followers to only one comment per account or specify entries can be unlimited!
3. TAG-TO-WIN INSTAGRAM CONTEST
A very popular Instagram contest method and the best way to increase your brand awareness — have your existing followers "tag a friend" to enter the contest. From there, it's a domino effect!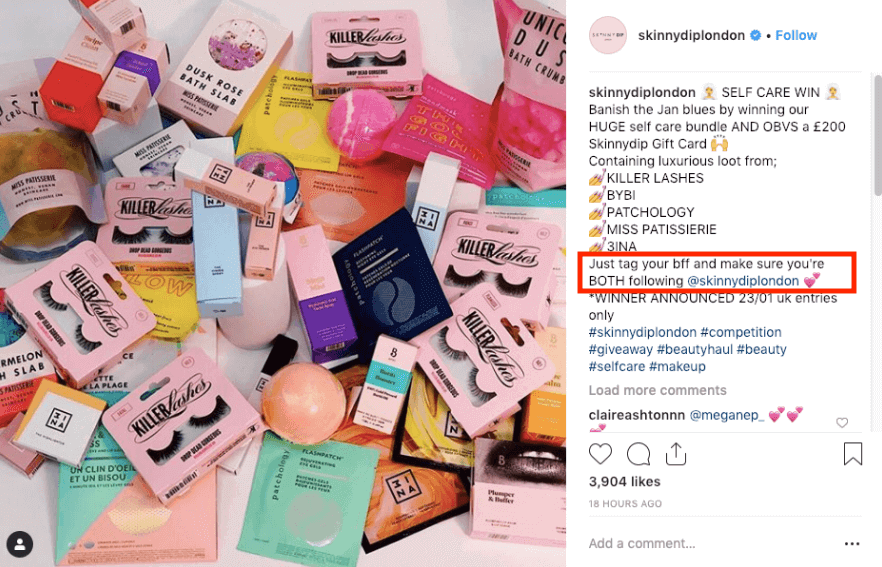 That tagged friend tags new friends. Those newly tagged friends tag even more friends and before you know it, their entire friend group is entering into your contest!
4. PHOTO CHALLENGE INSTAGRAM CONTEST
This Instagram contest method involves your followers posting a photo on their personal Instagram. They're able to enter the contest by tagging your account in the photo and/or using a special contest hashtag that you provide.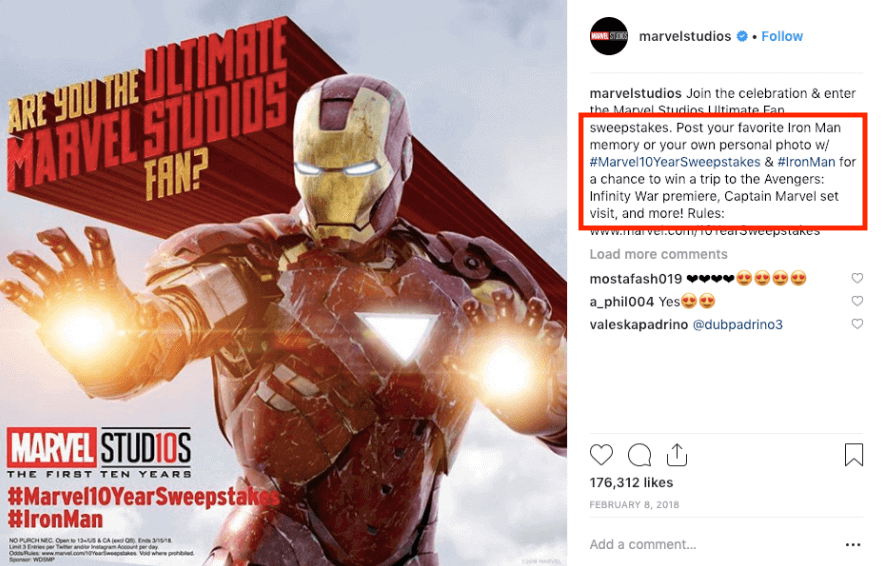 Another example of the Instagram contest domino effect: now the followers of the accounts who participated are curious and interested, which results in visiting your account and entering your contest on their personal account.
Spreads like a wildfire!
5. REPOST-TO-WIN INSTAGRAM CONTEST
Fabletics is a big lover of the repost-to-win contest format as you can see!
Similar to the photo challenge, the repost-to-win contest requires your followers to post on their personal accounts but you provide the specific image they need to repost.
This specific image usually includes your branding and contest info so others can check out your account and enter the contest for themselves. Don't forget to ask your followers to use a specific hashtag so you can see all the entries!
This is a great way to spread your contest, your brand and showcase your product directly through your audience!
6. "FOLLOW ME" INSTAGRAM CONTEST
The best way to increase followers, boost engagement and brand awareness?
Using a mixture of the entry methods above PLUS requiring anyone who wants to enter the contest to follow you.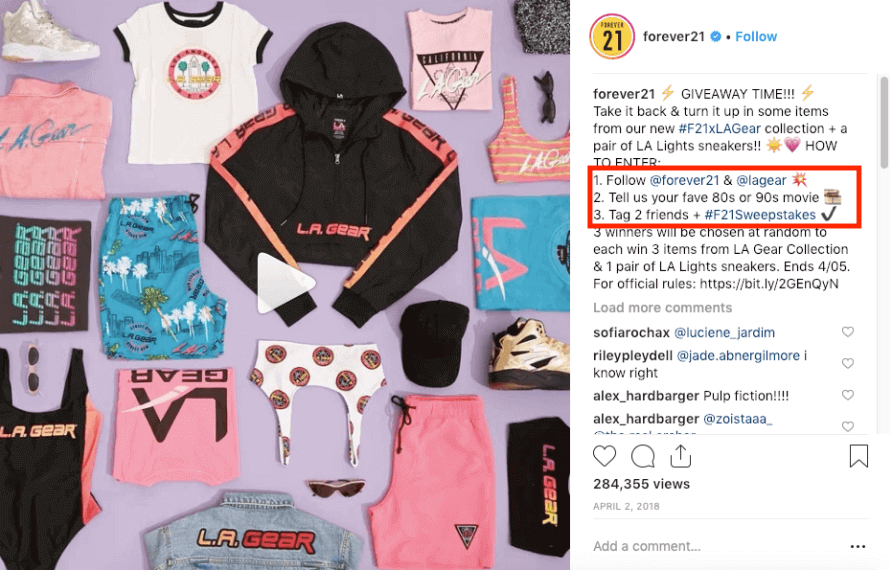 By following, liking and tagging a friend — you've increased your following, boosted your engagement and increased brand awareness with that one single post. That's the secret sauce, in my opinion.
How to run a contest on Instagram
Ready to run a contest on Instagram to raise your brand awareness, boost your followers and increase your engagement?
Here's the recipe so you can serve up a successful contest on Instagram:
1. CHOOSE THE BEST TIME TO RUN YOUR CONTEST
Check out your Instagram analytics to see when your audience is most active. Don't run your contest over the weekend if those are your lowest engagement days.
Pay attention to the times of year.
Can you theme it as a "back to school" contest or "12 Days of Christmas" mega-giveaway campaign?
Maybe you're about to launch a new product? Create hype around the launch and raise brand awareness by running an Instagram contest!
2. PARTNER WITH A BRAND OR INFLUENCER
A surefire way to grow your following is to partner with a brand or influencer and run the contest together. Teamwork makes the dream work, people.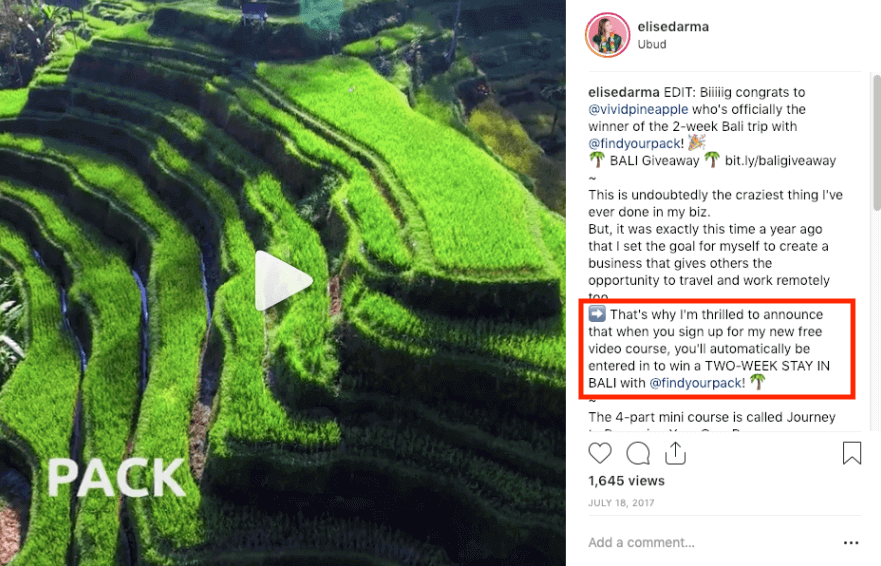 Be intentional when choosing which brands and influencers to partner with. Make sure that they're aligned with your business, and that they're a company or person whose followers will be interested in you and your biz, too.
3. PICK A PRIZE
Your contest will only be as successful as what you're offering. Give it some thought: what would your followers be interested in?
If you're running an account based on holistic nutrition, don't make the prize a lifetime supply of synthetic whey protein powder. You get the idea.
Make the prize valuable — something your followers can't resist.
4. CREATE RULES
Congrats! If you've made it this far, you're about to be running your own Instagram contest.
But first, you need to set some ground rules. Like…
How should your followers enter the contest (one of the 6 methods from above)?
How many times can they enter the contest?
Any age restrictions?
Which countries are eligible for entry?
What's the end date?
When will the winner be announced?
Don't forget to also abide by Instagram's Promotion Guidelines, because a contest that gets the boot won't exactly help your 'gram.
5. LAUNCH
Time to blast your contest all over the internet!
Announce it in your Instagram Stories, publish it on your website in a blog post, and create posts for your Facebook page, LinkedIn, online dating profile — whatever it takes to get those entries!
6. ANNOUNCE YOUR WINNER
After the contest comes to an end, it's time to select and announce the winner! If it's a caption contest, choose your favorite. If it's a comment or tag-to-enter contest, use this website to generate a winner. Create a new post announcing the winner and don't forget to thank everyone for entering!
Congrats — you're well on your way to reaping the benefits of running a successful Instagram contest.
Have you ever hosted an Instagram contest before? Have you ever won one? Tell me below!
---
Sell more by doing less in my free Instagram workshop!
If you loved this blog post and want even more how-to tips on making sales through your Instagram account, join me for my FREE hands-on workshop.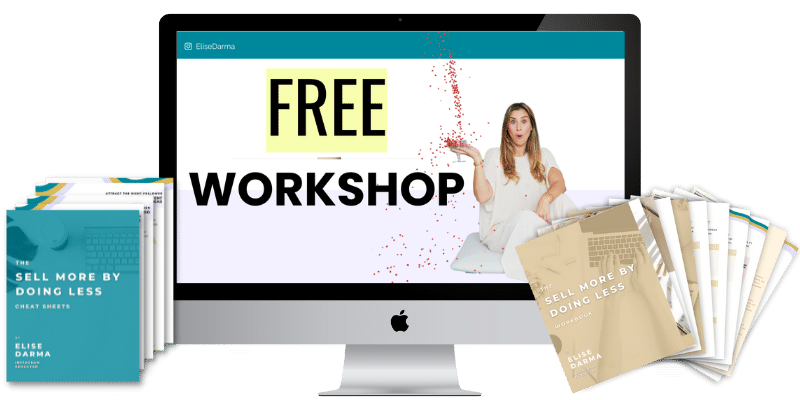 In this ~co-working~ style workshop, we'll check off:
What your best Instagram strategy is – even if you're new in business or are just starting to use Instagram for your business (PLUS, we'll give your profile and bio a total makeover)

What your current season of business is and which features you should focus on to get the most results for your efforts

How to navigate making reels for your business, especially if you feel silly pointing or dancing on camera (PLUS, we'll generate 80 content ideas for your next posts – yes, 80!)

Future-proofing your account for inevitable changes that are coming to Instagram (including an evergreen formula that'll never go out of style)
Join me at this FREE workshop now ⬇️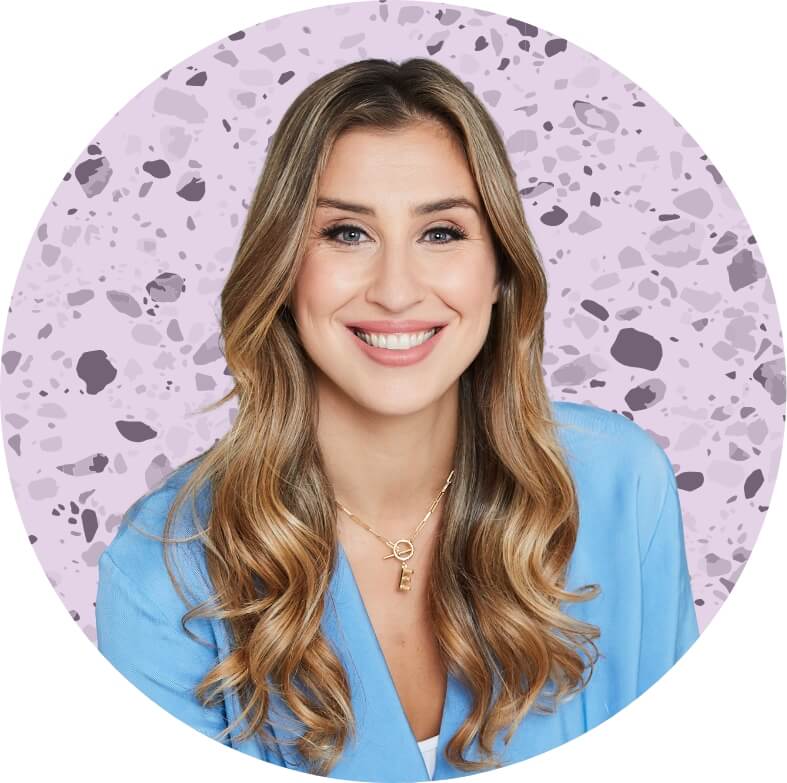 Hi, I'm Elise Darma!
I traded my 9-5 office cardigan for
that 7-figure entrepreneur life. But
I'm no overnight success. I've
experienced burnout, overwhelm
and ghosting Instagram for the
entire month of February 2019. I'm
probably the laziest Instagram
marketer you know, but if you want
to know how to sell more by doing
less – you're in the right place.
watch the free
Instagram Workshop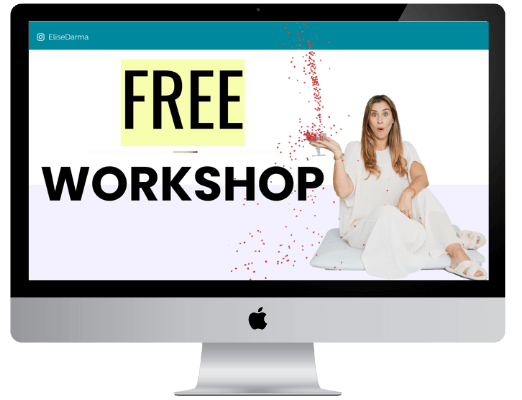 Get a weekly dose of what's
working in my business that you
can implement in yours.