How to find the hashtags that your ideal customer is using
Share this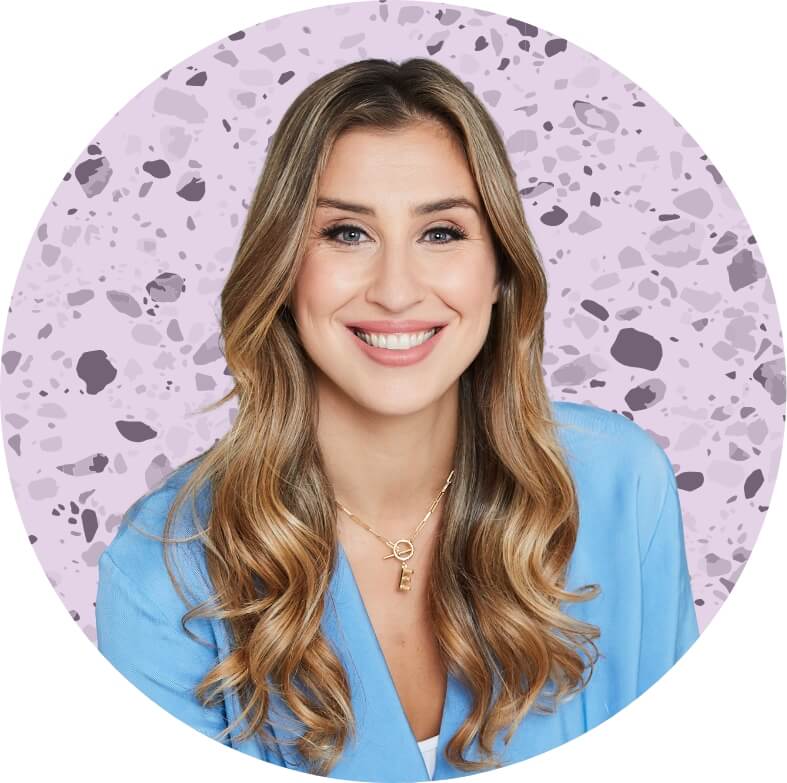 When I started my side hustle back in 2013, I didn't have 70,000 followers on Instagram. The only people that liked my posts were my friends, my coworkers and my mom.
But that all changed once I started learning more about Instagram marketing and the serious, serious power of hashtags.
Flash forward one year: I was able to grow my personal Instagram account from 3,000 to 60,000 followers.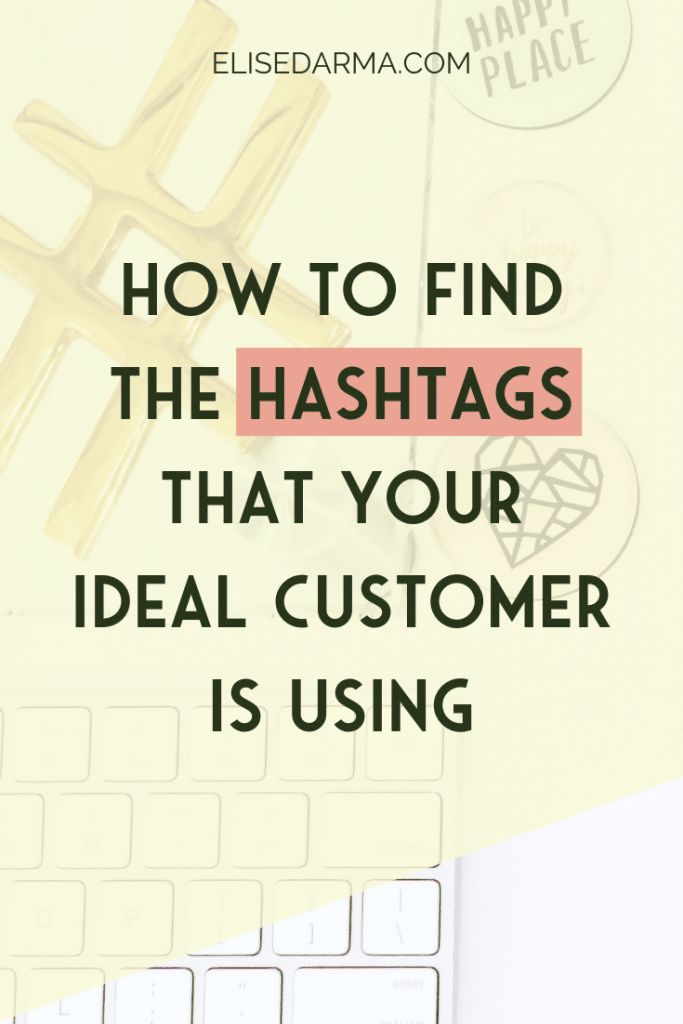 The best part? I had created an engaged following that wasn't just double-tapping on my posts and commenting heart eye emojis.
😍😍😍
They were clicking on the link in my bio, sending me direct messages (DMs) wanting to know how to work with me and buying my services.
Before long, my client list went from one or two social media clients I helped out with on the weekends to a fully fledged and fully legit business.
I had enough leads coming in, and I was confident enough in my abilities to quit my job and take this baby full-time.
Since then, I have fine-tuned my hashtag strategy and launched my Instagram marketing course for business owners, Social Bank. I've helped thousands of people grow their accounts, connect with their customers and grow their businesses.
All it took was a couple of hours researching hashtags and getting my content smack dab in front of my target market.
So, first things first: What are hashtags?
Hashtags are Instagram's SEO tool.
What's SEO? Great question!
SEO stands for 'Search Engine Optimization', and having search engine optimized Instagram profiles and posts helps your content get free, organic exposure (aka you don't have to pay for people to find you!) 😍
Your Instagram bio and captions aren't searchable, but by adding #savvybusinessowner at the end of your posts, you instantly boost the discoverability of your content.
It's a simple tool that accounted for much of my growth in 2016. While it can seem overwhelming at first (especially if you've never #DoneItForTheGram before), it's super easy to learn and can give your business a much-needed boost.
Some articles report that Instagram only shows your content to 10% of your audience.
If you want more people to see your posts and attract your ideal followers, you need to use the hashtags they are searching for on the daily.
Circling back to my earlier example of #savvybusinessowner, that hashtag has over 1 million posts! It's a super active hashtag that's used by business owners all over the world to share their projects.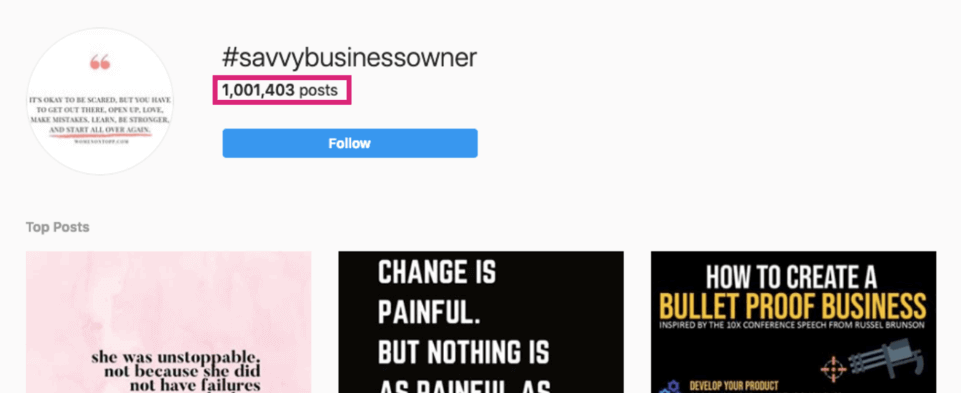 If your target market includes entrepreneurs (like myself), that's where you want to be hanging out. It's where you want your content to be found, and it's a community you want to be a part of.
Not sure where to start when it comes to finding the hashtags that your ideal customers are using?
No worries, I've got your back.
Here are my best tips on how to find the right hashtags to share your Instagram posts far and wide!
How to research hashtags for your business
STEP 1: SELECT HASHTAGS RELATED TO YOUR BUSINESS & CUSTOMER
The hardest part about hashtag research for Instagram is starting.
When I freelanced as a social media manager, hashtag research was always a daunting feat when it came to a product or service that was in an industry that I knew nothing about.
The solution? I started as broad as possible.
Let's use the cosmetics brand, Lush, as an example. First, I'd start out by writing down words that describe their business, industry or product, like:
#GreenBeauty
#Handmade
#ShampooBar
#BathBomb
Next, I'd write down words that describe their ideal customer. The people that use Lush like their environmental sustainability and anti-animal testing ethos.
Hashtags such as #ZeroWaste, #Vegan and #PlasticFreeBathroom would expose their posts to people that hold the same value system.
Lastly, I research relevant feature pages and write down their hashtags.
What's a feature page? It's an account that curates content around a specific niche, and then posts those images or videos in their own feed — giving credit to the creator in the caption, of course.
The account usually asks people to use a specific hashtag and tag their account in posts for a chance to be featured.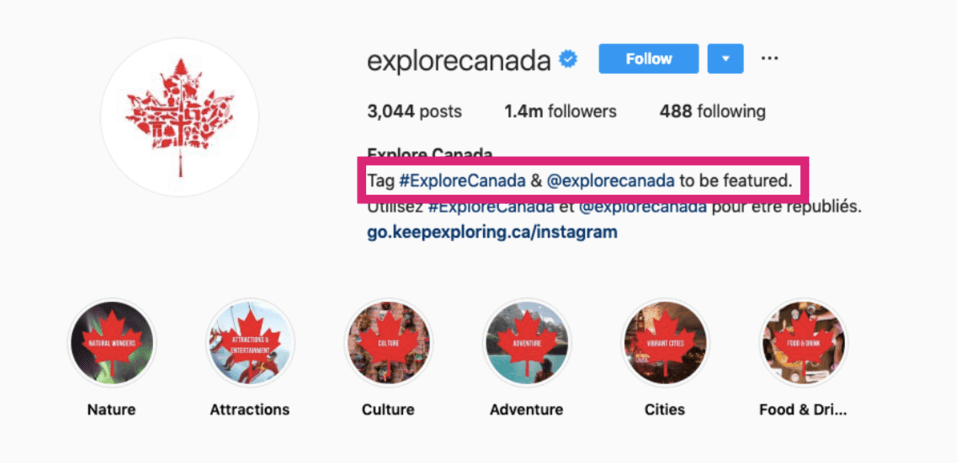 Keep in mind that if you're running a product page like Lush, you might not find pages curating content around your topic.
However, if your profile is more personable and you post lifestyle content, you'll have an easier time finding accounts and getting featured.
As a rule of thumb, I recommend using a minimum of 10 hashtags per post. You can use up to 30, and if you can find that many that are relevant to your niche — hashtag away, my friend!
Tips for successful hashtag research
> USE HASHTAGS THAT HAVE BETWEEN 10,000 TO 500,000 POSTS
The key to solid Instagram hashtag strategy is spending that extra hour finding hashtags that are highly relevant to your niche.
If you stick with the super popular (and oversaturated) hashtags like #travel and #bossbabe, your post will be buried in a couple of minutes.
You might get a few extra likes, but your post isn't going to trend in the "Top Posts" section.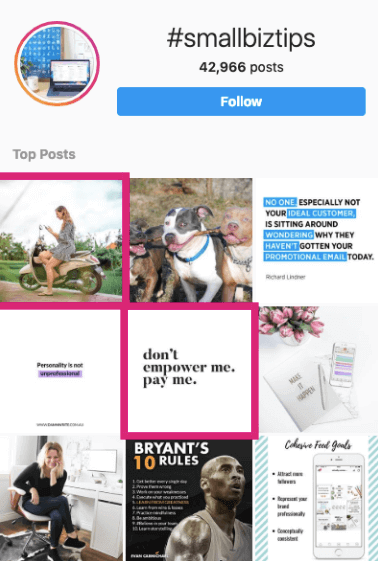 The "Top Posts" section is the nine most popular posts for a hashtag in a 24-hour to 48-hour period. Your goal is to get your post up in the "Top Posts" section of the hashtag.
If you can get your post to trend, your reach will go up, and you'll get more eyeballs 👀 on your posts without paying for a single ad.
It's an opportunity to capture the attention of your ideal customer *for free* and create a highly engaged, targeted following.
The sweet spot is finding tags that are used frequently but give you the opportunity to trend for a few hours.
It's an easy way to make sure the hashtag you want to use isn't so saturated that your posts have no chance of being discovered.
> DON'T USE THE SAME HASHTAGS FOR EVERY POST
The Instagram algorithm might see your content as spam and suppress the visibility of your posts. Avoid offending the IG gods by switching up your hashtags for each photo.
How do you avoid posting the same ones? Use an app like Later that lets you save groups of hashtags. You can select the group you want to use, and Later will paste the tags into your caption.
When you put your hashtag groups together, make sure you have a good mix of small (under 10K posts), medium (10K to 100K posts) and high volume content (100K to 1M posts).
You'll trend for longer on the less popular tags, and more people will see your post on the higher volume tags.
> USE THE MAXIMUM ALLOWED NUMBER OF HASHTAGS
If you can find 30 relevant hashtags for your target audience — use them all!
It may seem like a lot, but it gives your content more chances of being discovered without using ads.
You can choose to use your 30 hashtags directly in your post caption or paste them as the first comment of your post.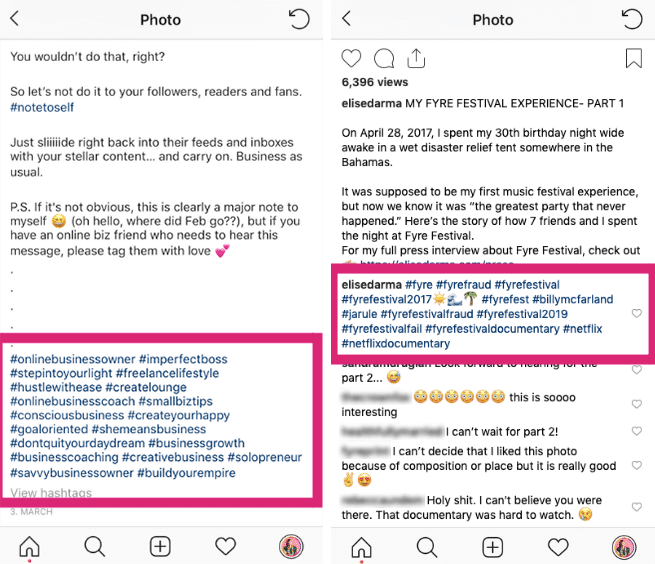 > DON'T USE HASHTAGS THAT AREN'T RELEVANT TO YOUR POST
Instagram has recently rolled out a new reporting feature. If a user comes across your post in their feed from a hashtag, and it's not relevant, they can mark your content as something they don't want to see.
As a result, your posts won't come up in their feed for that tag.
While it is a way for the algorithm to serve better content, having too many of your posts marked in this way could negatively impact your reach and flag your account as spam.
STEP 2: FOLLOW HASHTAGS
One of Instagram's latest new features is the ability to follow hashtags.
It's an excellent way to keep tabs on your competition. You can find your competitors' branded hashtag, follow it and see who's posting about their product/service and what they are saying.
It can give you an insider look into what they love, what they hate and how you can better align your marketing messaging to fill in any gaps in the market.
So how does it work?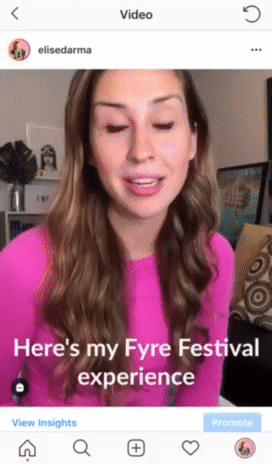 You can follow hashtags by simply searching for a hashtag and hitting the 'Follow' button next to it.
Or… another way to follow hashtags is to just pop on over to an Instagram post (any post will do!), scroll down and hit "View Hashtags".
You can follow all the hashtags that that post used from there! 👉
To find the hashtags that you are following, head to your profile page. Tap on "Following" and toggle from users to hashtags you follow.
On this page, Instagram will suggest related hashtags for you to follow, too.
I love this feature as it's helped cut down on my hashtag research time.
I can quickly see what other hashtags people in my niche are using and add them to my list of tags to use in my future posts!
STEP 3: TRACK YOUR INSTAGRAM HASHTAG SUCCESS
If you have a business profile on IG, you can delve deep into your profile's analytics.
One of my favorite new features is the ability to drill down into your hashtags for each post.
You can see exactly which ones brought you the most views and how people are finding your content.
Use it as a guideline to cull low traffic hashtags and focus on the ones that are the most effective for attracting your target audience and growing your business.
To access this information, all you need to do is select a post and hit the "View Insights" icon on the bottom left.
Swipe up, and you'll get an amazing page of analytics like your reach, impressions, follows and top hashtags. Fancy, right?
---
Free, hands-on workshop – you and me. Meet ya there?
If you loved this blog post and want even more how-to tips on making sales through your Instagram account, join me for my FREE hands-on workshop.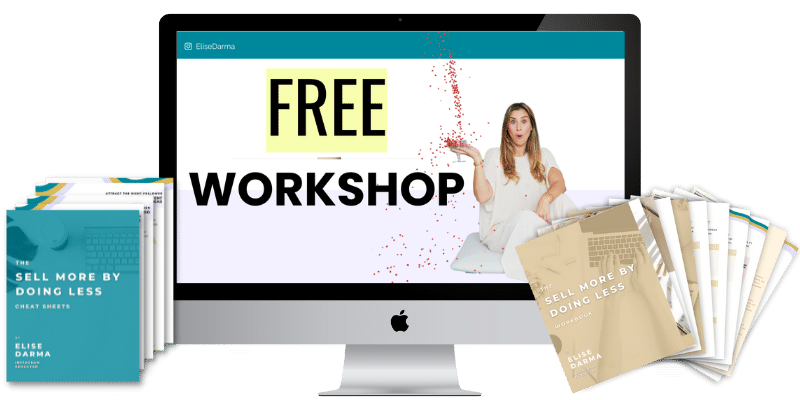 In this ~co-working~ style workshop, we'll check off:
What your best Instagram strategy is – even if you're new in business or are just starting to use Instagram for your business (PLUS, we'll give your profile and bio a total makeover)

What your current season of business is and which features you should focus on to get the most results for your efforts

How to navigate making reels for your business, especially if you feel silly pointing or dancing on camera (PLUS, we'll generate 80 content ideas for your next posts – yes, 80!)

Future-proofing your account for inevitable changes that are coming to Instagram (including an evergreen formula that'll never go out of style)
Join me at this FREE workshop now ⬇️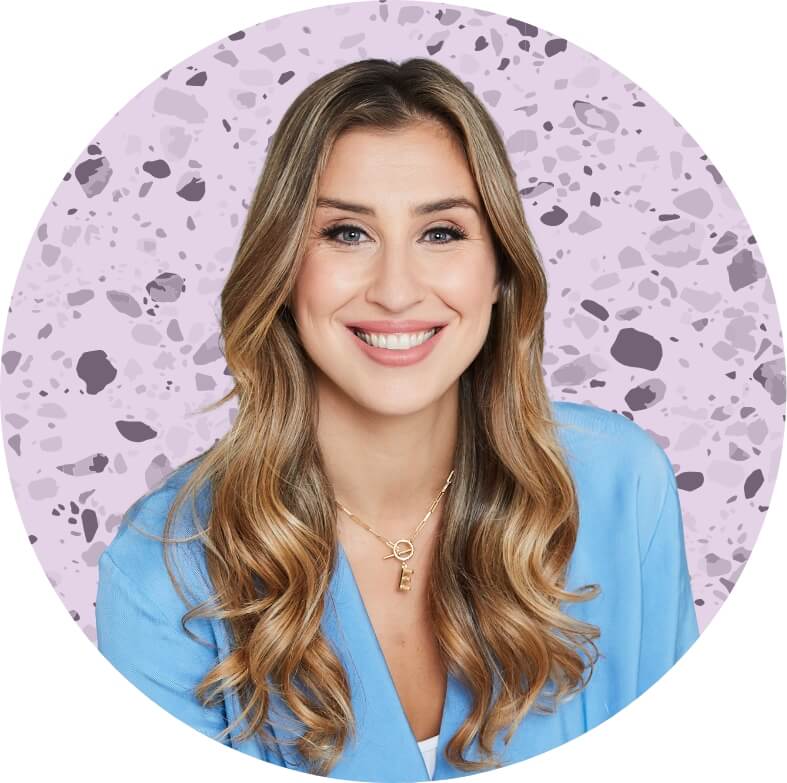 Hi, I'm Elise Darma!
I traded my 9-5 office cardigan for
that 7-figure entrepreneur life. But
I'm no overnight success. I've
experienced burnout, overwhelm
and ghosting Instagram for the
entire month of February 2019. I'm
probably the laziest Instagram
marketer you know, but if you want
to know how to sell more by doing
less – you're in the right place.
watch the free
Instagram Workshop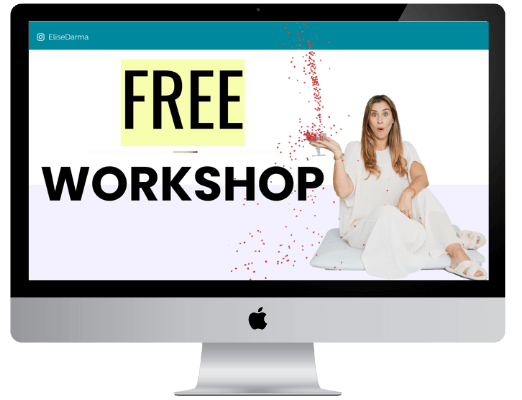 Get a weekly dose of what's
working in my business that you
can implement in yours.