The best 8 apps for Instagram Story videos that convert
Share this
Once upon a time, in a land far, far away, there was a mobile app called Instagram.
All the millennials and cool Gen Xers flocked to this magical app to share…
Photos. Heavily filtered snaps of snow-covered streets and cappuccino art.
The end.
Imagine Instagram's story (no pun intended) ended there?
Ha. Little did we know back in 2010 that photos were the mere beginning.
In 2013, Instagram made it possible to share videos and blew our minds.
Now, with the addition of Instagram Stories and Reels, video content has become a huge part of Instagram as evidenced by these Instagram video truths:
Video content receives up to 21% more interactions than images on Instagram
Time users spend watching videos on Instagram has increased 80% year-over-year since video launched
70% of Instagram users watch video content in the form of Instagram Stories every day
Video posts receive 38% more engagement than image posts and 2.1x the number of comments
It's stats like that, along with my own experiences, that make me a big believer in Instagram video.
Check out my Instagram feed for evidence; eight of my last 12 posts are videos. Nearly all of them have outperformed my image posts.
And that's just the videos in my feed. I'm posting Instagram stories at least three times a day, and the majority of that is video. Why?
Because I know my Instagram Story video content gets noticeably more engagement than my Instagram Story photos.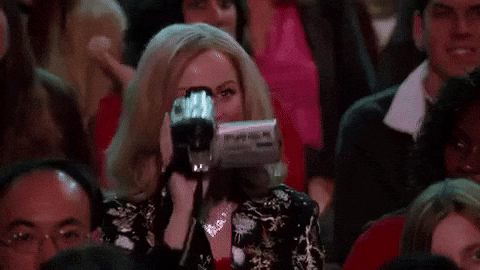 But high-performing Instagram videos aren't a guarantee. To get the kind of engagement I'm talking about here, your videos need to be on point.
By 'on point' I mean they need to immediately grab a viewer's attention. They need to be entertaining, or inspiring, or thought-provoking, or totally out there. They need to look good and sound good. They need to represent you and your brand.
In short, they need to stand out.
Cool, Elise. But I'm not a pro video editor, maker, whatever.
No prob, Bob. That's where apps come in.
There's a whole world of apps for creating Instagram video content that looks awesome and helps your biz.
The eight tools below are the best apps for Instagram videos that convert — my personal favorites that I've used to increase engagement, grow my audience and land new leads.
Top Instagram Video Apps for Business Owners
VIDEOBOOST
For creating standout Instagram Stories — and Instagram ads
You're gonna want to sit up and pay close attention to this one: VideoBoost is a video maker app that's specifically for business owners.
It has every tool you could possibly need to create impressive-looking Instagram Stories — templates, professionally designed color palettes, animation tools, tons of music options, all kinds of fonts and a big library of stock footage.
VideoBoost is my favorite app for creating ads for Instagram Stories that really do generate traffic for my biz.
Keep in mind, this app is for iOS users only.
UNFOLD
For boosting Instagram Story engagement
Ever watch someone's Instagram Stories and think: "Um, do they have access to super secret Instagram Story features that I don't?"
The answer is no. They're probably using Unfold.
Unfold provides iOS and Android users with more than 150 seriously beautiful templates that make Instagram Stories look more like magazine content.
You can use multiple photos for a collage effect, edit with filters and effects and add text and stickers.
The final product is so good that your followers won't be skipping over any of your Stories, and your odds of receiving direct messages will go way, way up.
INSHOT
For increasing video views
IGTV really shook things up when it came along in June 2018. Suddenly we could break free from time constraints and start creating really juicy, in-depth videos.
The challenge: how to get people to watch and keep watching these longer vids.
InShot is my favorite answer to that challenge. It has all the tools you need to turn your raw footage into a can't-turn-away video that looks like it was produced by a professional.
You can combine and trim clips, add music and voice-overs, apply visual effects and text, speed it up or slow it down, and make sure it's perfectly sized and optimized for your feed.
It's a one-stop video shop.
CLIPS
For captioning Instagram Stories
There are two very good reasons why you should be captioning your Instagram Stories:
It makes them accessible for members of the deaf community
It engages viewers who can't watch with their volume on (because they're at work, for example)
Of course, manually adding captions using Instagram Stories built-in text feature would be painful. That's why I use Apple's Clips app.
All you gotta do is hit the record button and start talking. The text transcription of your words will automatically pop up on the screen, synced with your voice. You can make edits by tapping the text.
Being an Apple app, Clips is only available for iOS users. For Android users, I'd recommend using the web-based tool Kapwing.
LIFELAPSE
For creating stop-motion videos
Creating videos for Instagram takes work, with or without apps like the ones on the list.
When I want to create a video for my feed or my Stories without actually filming and editing, I use LifeLapse to turn my photos into cool stop-motion videos. Like this one 👇
View this post on Instagram
I love it because it's ridiculously simple. And fast.
Select photos from your phone, customize the speed they move at, add filters and music if you wish and voila.
Bonus: you can use LifeLapse to create vertical videos that work perfectly for Instagram Stories. Oh, and it's available for iOS and Android users.
KIRAKIRA+
For adding pizzazz to Instagram Stories
Kirakira+ is straight-up fun.
There's no fancy business-boosting features here — just a glitter effect that makes your Instagram videos a little more sparkly. And a little more interesting to watch.
Hello bling!
I like to use Kirakira+ to dress up my Instagram Stories. A video of me hanging out in my home office and talking to my followers is a little more engaging once I use the app to add some visual excitement.
HYPE TYPE
For animating Instagram Stories
Be prepared for DMs asking "How did you do that?" when you use Hype Type to add animated text to your Instagram Stories.
You can use an existing photo or video from your camera roll, or shoot something with the app. Then choose the animation style, text and color that works best. Place the text wherever you want or have it appear at a certain point in your video.
The effect is way more eye-catching than the standard text options provided by Instagram Stories — perfect for really getting your point across.
VIDEO MEME MAKER
For creating feed videos with special features
Two words: Progress. Bar.
That's one of the coolest features that comes with the Video Meme Maker app for iOS. I love adding progress bars to my feed videos. They add visual interest and they engage viewers.
The other thing I love about the Video Meme Maker app is that it lets me create headlines for my videos.
The headline text immediately tells the viewer what my video is about so that even if they don't bother reading the caption, they know what they're in for.
---
Ready to create Instagram videos that convert?
Then it's time to load your toolkit with apps that will help you out — like VideoBoost.
When it comes to turning my footage into engaging videos that actually captivate my audience and generate traffic for my biz, VideoBoost is one of my favourite apps on this list.
I think it will be one of yours, too.
Try it out (it's free to download 👏) and tell me what you think!
Hi, I'm Elise Darma!
I traded my 9-5 office cardigan for
that 7-figure entrepreneur life. But
I'm no overnight success. I've
experienced burnout, overwhelm
and ghosting Instagram for the
entire month of February 2019. I'm
probably the laziest Instagram
marketer you know, but if you want
to know how to sell more by doing
less – you're in the right place.
watch the free
Instagram Workshop
Get a weekly dose of what's
working in my business that you
can implement in yours.